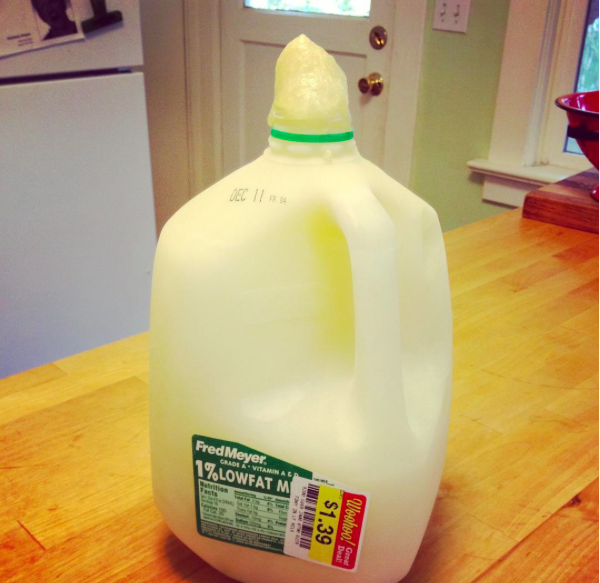 I called my pharmacy to renew my inhaler prescription so I would have a fresh one for my upcoming NYC trip. (Any asthmatic knows how important this is!) I was told that my doctor wouldn't renew the prescription until I'd made a appointment to come see him. I called his office and explained that there was no change in my condition, and asked if it was possible to renew the prescription without being seen in person. And sure enough, I got a robot-call from Walgreen's within the hour telling me that my "prescription was ready for pick up." I saved both the $20 co-pay and the annoyance of fitting in an unnecessary appointment. Yay!
I brought up the extra cheap-o gallon of milk from my chest freezer to find that although I'd poured some milk off to make room for expansion, it wasn't enough. Luckily I'd removed the lid in case of this possibility. I'm currently defrosting this milk in the sink!
I mended a spot on my son's shirt where the seam had come apart.
My husband is out of town with the Prius, which leaves me with our minivan, which I haven't driven for months. I started up to car this morning to find that the gas tank was on empty with the light on. I gently drove my son to school and then bought exactly $5 of gasoline at the local gas station. I can go to Costco later this week and fill up the 21-gallon tank. The difference in price is usually around 30¢-per-gallon, which will save me $6.30 for a full tank of gasoline.
I renewed my Craigslist posts, my son and I watched the Wallace & Gromit shorts using my mother's Amazon Prime account, I wrote another blog post for Clark Howard, I batched errands this morning and I didn't buy a Lear Jet.
Now your turn. What frugal things have you been up to?
Katy Wolk-Stanley
"Use it up, wear it out, make it do or do without."
Click HERE to follow The Non-Consumer Advocate on Twitter.
Click HERE to follow The Non-Consumer Advocate on Instagram.
Click HERE to join The Non-Consumer Advocate Facebook group.
Click HERE to follow The Non-Consumer Advocate on Pinterest.