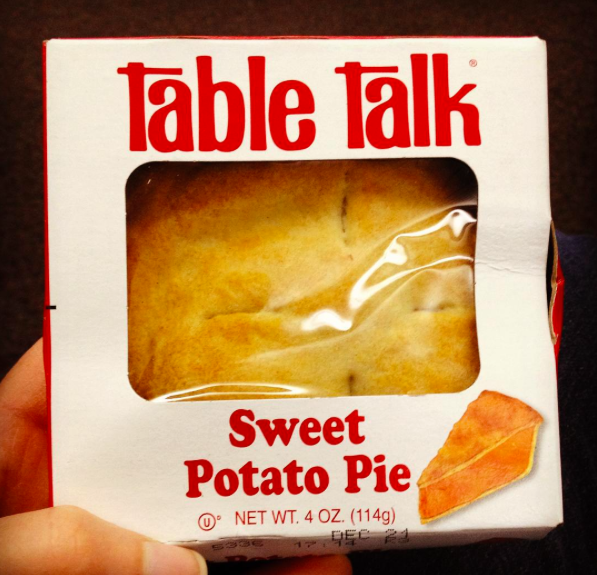 I found myself wandering aimlessly around Safeway this afternoon, when I suddenly remembered that I was packing a "free turkey or ham" coupon from work. (My Christmas bonus.) I bought an enormous spiral cut ham, which I presented as tonight's dinner and will serve for multiple meals. Of course, I immediately put the bone into the crock pot with some split peas. Soup!
I went to the grocery store near my sister's house before hitting Laguardia airport. I bought three bagels with cream cheese, three bananas and an adorable sweet potato pie. Thus fortified, I was able to avoid paying for airplane or airport food, despite missing my connecting flight in Chicago which gained me an unexpected four hour layover.
I made sure to arrange for my older son to renew his lifeguarding license over winter break so he can work next summer. Last year this important detail got missed and he had to get licensed from scratch. This process is the work of a few hours versus a four (five?) day process. Not only does the renewal cost less, but the peace of mind is priceless.
I was able to score a wonderful big Christmas tree for a mere $22. It's from an otherwise out of the way location that's close my the house of my son's best friend. I was picking my son up anyway, so there was no extra driving involved. I popped that bad boy into the back of my Prius and drove sloooowly home.
I figured out that I could spend my thousands of worthless Verizon Points to bid on a gift card through their auctions. The points are otherwise essentially useless, (think Groupon-style discounts on overpriced stuff) so I had no qualms about spending them all in one fell swoop. I was able to win an auction for a $100 Verizon gift card, which I'll use to buy new earphones for the boys. Hooray for a decent Christmas present without spending any money. Well . . . except for the thousands of dollars we've spent on our cell phone service, but I'm going to ignore that aspect of the transaction for now. 🙁
Now your turn. What frugal things have you been up to? 
Katy Wolk-Stanley
"Use it up, wear it out, make it do or do without."
Click HERE to follow The Non-Consumer Advocate on Twitter.
Click HERE to follow The Non-Consumer Advocate on Instagram.
Click HERE to join The Non-Consumer Advocate Facebook group.
Click HERE to follow The Non-Consumer Advocate on Pinterest.