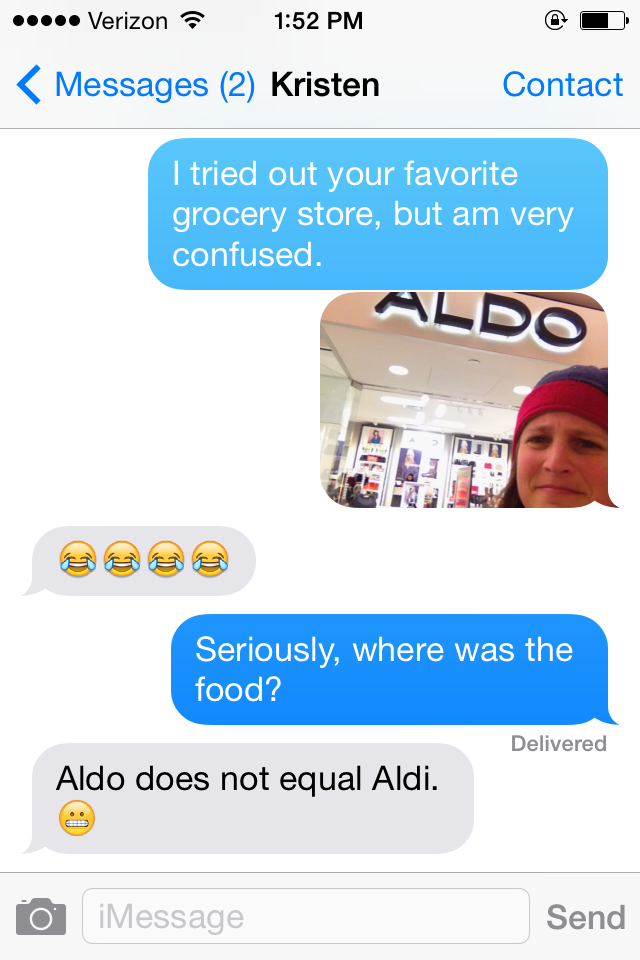 My 17-year-old son wanted to go downtown yesterday to spend his Christmas bonus on a new pair of Nikes. (He doesn't do the buy-nothing-new Compact, and is free to spend his money as he wishes, although he certainly receives much input from his dear mother. Lucky guy.) We took the city bus, which was free with my work pass and his school pass. Although we window shopped a tiny bit, nothing was bought other than the shoes. He independently refused a bag and was very deliberate with his purchase. While downtown, I texted my friend Kristen from The Frugal Girl about Aldi, her favorite grocery store.
This same son got very sick from eating at Chipotle back in October, and was sent six free burrito cards as an apology from the company. I knew they were about to expire, so we stopped by the closest location and had them assemble four enormous burritos as our dinner. We won't be able to use the other two burrito cards before they expire tonight, so I e-mailed our contact at corporate to have them send new ones. (They'd said to do this if they expired before we could use them.) So far, no one's been sick, so . . . yay!
I'm assembling all our financial information today so I can update our FAFSA financial aid application at the stroke of midnight. I'm crossing my fingers that having two kids in college will award us even the tiniest amount of non-loan financial aid!
I poured a jar of navy beans into the crock pot so I can serve a batch of The Prudent Homemaker's white bean-rosemary soup for tonight's dinner. I'm hoping to avoid any grocery shopping today as we went a hundred dollars over our $400 grocery budget for the month. Tomorrow is a new start!
I went spelunking into my mother's basement the other night looking for a ream of paper. I didn't find any, (it turns out she'd donated it to a teacher friend) but I did score two enormous Mason jars that fit the large mouth lid. I brought them home and have added them to my arsenal of kitchen storage.
Now your turn. What frugal things have you been up to?
Katy Wolk-Stanley
"Use it up, wear it out, make it do or do without."
Click HERE to follow The Non-Consumer Advocate on Twitter.
Click HERE to follow The Non-Consumer Advocate on Instagram.
Click HERE to join The Non-Consumer Advocate Facebook group.
Click HERE to follow The Non-Consumer Advocate on Pinterest.