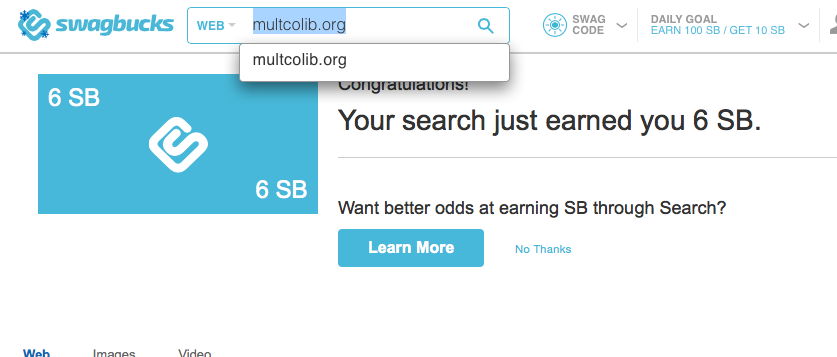 I stopped into the Verizon store on my way home from dropping my son at school. I ran this errand to have them apply my $100 gift card towards this month's cell phone bill. (This was the card that I won from using my points in one of their auctions.) I'd unsuccessfully attempted this transaction online, and needed to do this in person. They scanned the card and sent me on my way! Of course I did no other shopping while at the mall.
My mother and I went to go see Book of Mormon last night, (so hilarious!) which was her Christmas gift from my step-father. (Seriously, so hilarious!) Afterwards we sat in the historic bar at Jake's and ordered food from their happy hour menu. $2.95 cheeseburger with steak fries? Yes, please! I forget what bargains you can get from happy hour menus!
I needed to renew my library books, and went through the extra step of clicking through Swagbucks. Six swagbucks is directly 6¢ towards a $25 Paypal giftcard. Free money, people!
My friend's Airbnb guests asked about renting bicycles during their stay, which means I'll rent her our unused bikes for half of what she'd otherwise pay. Bargain for her, extra income for us!
I used the last of our free Chipotle burrito cards to cover last night's dinner. Two of their whale-sized burritos fed the three of us and I didn't have to worry about making dinner, while also making it across town for the play. (My son and I were wholly absorbed with completing a program specific college application, so making dinner was simply not going to happen!)
Now your turn, What frugal things have you been up to?
Katy Wolk-Stanley
"Use it up, wear it out, make it do or do without."
Click HERE to follow The Non-Consumer Advocate on Twitter.
Click HERE to follow The Non-Consumer Advocate on Instagram.
Click HERE to join The Non-Consumer Advocate Facebook group.
Click HERE to follow The Non-Consumer Advocate on Pinterest.