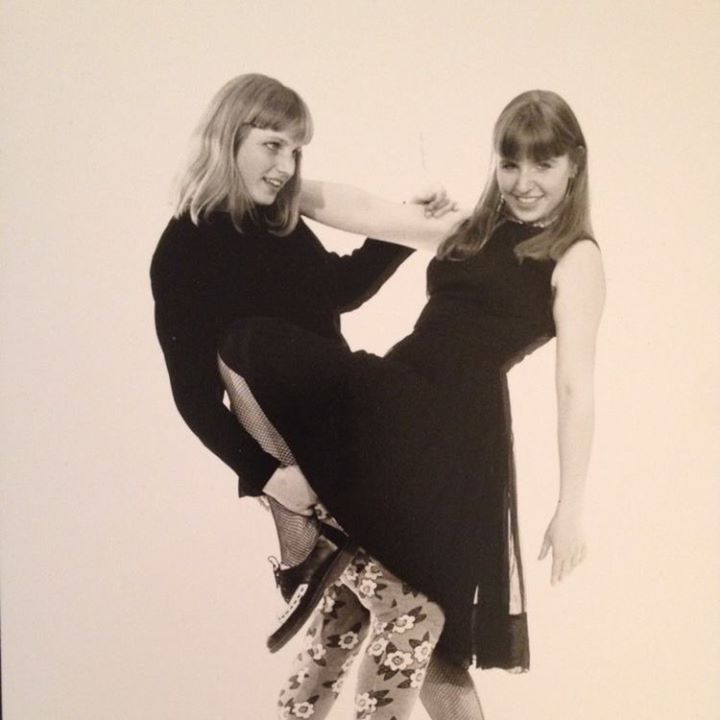 My former coworker brought zucchini to work for me, and my family has since feasted on zucchini pizza, zucchini brownies and straightforward sautéed zucchini. (My 16-year-old son was extremely doubtful about the brownies, and even yelled out to his father to "watch out, it's a trap!" when I tried to get my husband to unknowingly try a brownie.)
I saw a dollar bill on the ground at the grocery store today and asked the women standing over it if she'd dropped the money. She answered that she knew it wasn't hers and handed it to me to keep. Why yes, I think I will. (I also found a dime and a penny in the store!)
I've spent probably at least four hours over the past few days leafing through old photos. (My husband studied photography in college, so we have a buttload of pre-children photos!) There's nothing more frugal than reminiscence. Please enjoy the photo of my sister and I circa 1988. Join in the fun.
Although we spent a fair amount of money hosting my NYC nephew, we're now balancing it out. I've been putting an effort into frugal home cooked meals, and we've been watching library and free Redbox movies and pretty much just laying about doing not much at all. Sometimes, less is more.
My 18-year-old son is taking a Cross Fit class, yet it's costing us no money. How? My younger son took martial arts classes for a few years, for which we had to sign a 12-month contract. However, his classic soccer schedule ended up conflicting with the martial arts and we ended up paying $300 for three months of nothing at all. I talked to the management, and arranged for my other son to use the credit which should get him throughout to the point of whether he decides to continue with Cross-Fit.
Now your turn. What frugal things have you been up to?
Katy Wolk-Stanley