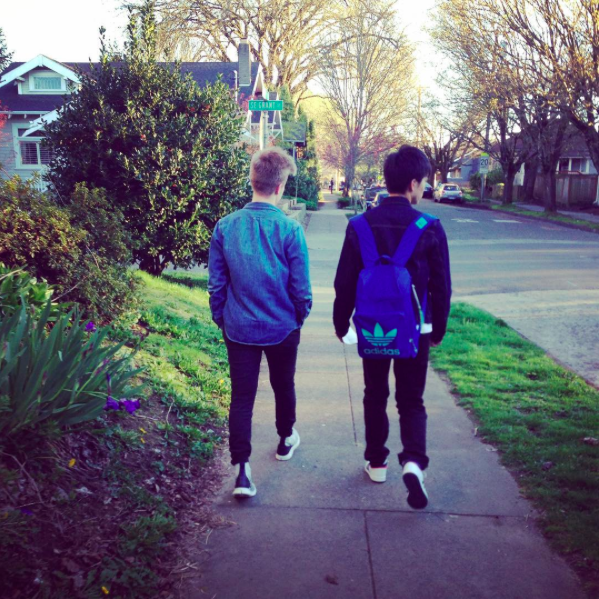 My family treated our Japanese exchange student to the Portland Timbers soccer game last night, which was a hit. Kentaro wore the Timbers T-shirt that we'd gifted to him and he picked out a scarf to borrow for the game. My son later told him to keep the scarf as a gift, which was much appreciated.
I spent a satisfying hour pruning our hydrangea hedge yesterday, which completely filled our yard debris can. I'm taking care of the neighbor's cats while they're out of town, so I rolled the can to their curb, which is a nice perk of this arrangement. (I share garbage/recycling/yard debris services with a different neighbor, which is only a problem when it comes to yard debris.)
It's very easy to spend a ton of money when hosting exchange students, and so far we've been very deliberate with the budget. I assembled a lunch of tasty tapas yesterday, even though it was tempting to eat in a restaurant. However, I did spontaneously drive through Burgerville for my older son and Kentaro last night, which set me back $20. (They're delicious, but so expensive!) I kept things under control by eating the leftover tapas as my dinner. I took one for the team, because man-o-man did those cheeseburgers smell amazing!
My older son is home from college for spring break, which is wonderful. His luxurious blond hair is longer than ever, and I'm always reminded of the hundreds of dollars we've saved through the years by his refusal to get haircuts. I've never been particularly bothered by his long hair, even when he was an elementary school student, as I always figured "it's just hair." My younger son likes a haircut every six weeks or so, which becomes less financially painful when balanced with his brother.
I relisted my curbside rocking chair on Craigslist, I've been cooking from the pantry, I got paid for a Clark Howard piece, I listened to free podcasts on my hand-me down iPhone, I kept up with my Every Dollar budget, I wore my ancient clothing and I didn't buy a Lear Jet.
Now your turn. What frugal things have you been up to?
Katy Wolk-Stanley
"Use it up, wear it out, make it do or do without."