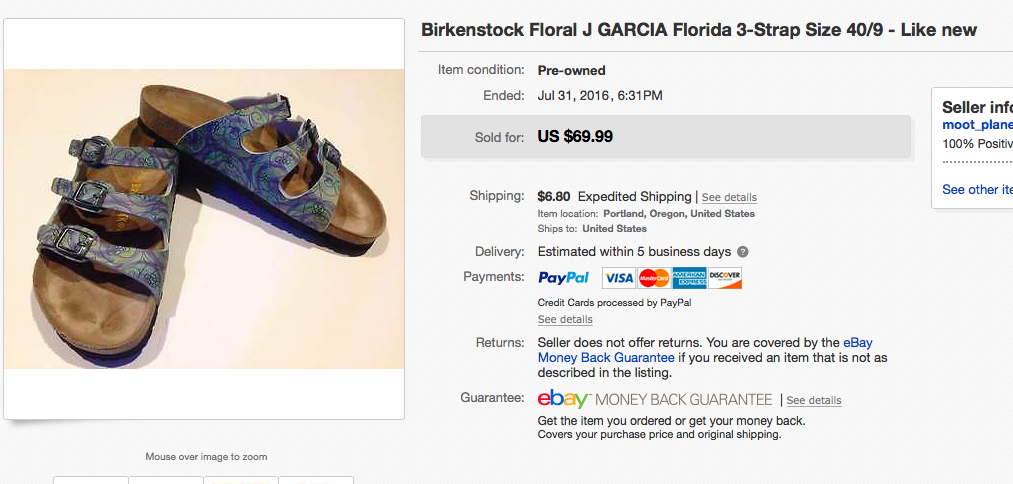 I finally used a paint repair kit that I bought over a year ago to touch up some tiny chips on our Toyota Prius. (Seriously, I blogged about it in March of 2015!) The previous owner had a tight parking spot in her apartment complex which resulted in her neighbor repeatedly opening his door into the driver side of her car. The chippy condition of the paint brought down the price of the car, so my husband and I were fine with it. We immediately bought the $18 repair kit and then set in on top of the piano where its sat ever since. The painting process took maybe 15 minutes, and the car now looks a million times better.
I had to drive out to the suburbs yesterday to pick up my son from a friend's house. People were feeling a bit hungry on the way back, so I treated everyone to $1.50 Costco Polish dogs. Costco was directly on our route, so it was just a matter of exiting the freeway. You simply can't beat that buck-fifty price!
I sold a pair of thrifted $20 Birkenstocks on eBay for $70.
I'm arranging for someone to come by and take a vintage armchair that we no longer have room for. I posted it in the "Free" section of Craigslist as I simply want it gone. It got replaced by my $14 Goodwill Lane recliner, and its been cluttering up my living room ever since. I'm happy for it to go to a new home.
I found a penny on the ground at Fred Meyer, put together August's budget, hung two loads of laundry, stopped into a Goodwill but bought nothing, grabbed a half-price gallon of milk and I didn't even buy a Lear Jet.
Now your turn. What frugal things have you been up to?
Katy Wolk-Stanley