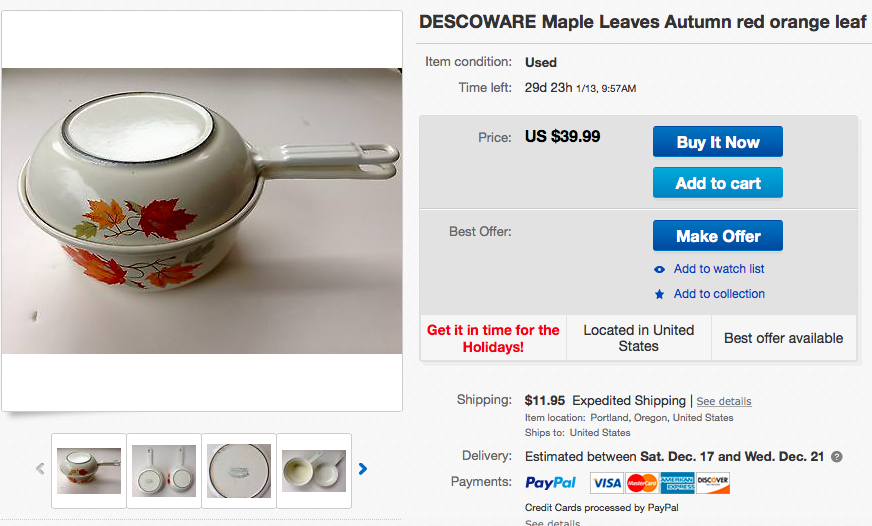 My sister's eBay listings are starting to sell, so I borrowed from her enthusiasm to get a couple listings going for myself. (What I currently have up isn't generating much interest, but things can only sell if I get off my tuchus to list them.) It only takes a few minutes to throw together a listing, so I'm going to scour the house for more stuff. Remember . . . the alternate tagline for The Non-Consumer Advocate is "Crap out of the house, money in!"
My younger son and I met up with my mother to clean one of her rental cottages, although we first stopped at a local Goodwill. I bought a vintage Ball canning jar, and my son bought a pair of Balenciaga sneakers that can sell for as much as $400 on eBay. However, we need to research them first to ensure that they aren't knockoffs. If they are, we'll return them.
Last night's dinner was straight up leftovers from the previous day. Luckily, I'd made a pot roast with mashed potatoes, gravy, carrots and onions, so it was amazingly delicious. I usually make much more food than needed for a single meal in order to stock the fridge with indulgent leftovers.
Portland is expecting a snowstorm this afternoon with cold temperatures lasting for days. I'm going to take it as an opportunity to cook up multiple meals for the boys to eat, as both my husband and I will be working long hours later in the week. My hospital is at a higher elevation, so there's a possibility that I'll be stuck there for days. I am sure missing my Subaru Outback this week.
I didn't buy a Lear Jet or a ridiculous gold plated apartment in the sky.
Now your turn. What frugal things have you been up to?
Katy Wolk-Stanley