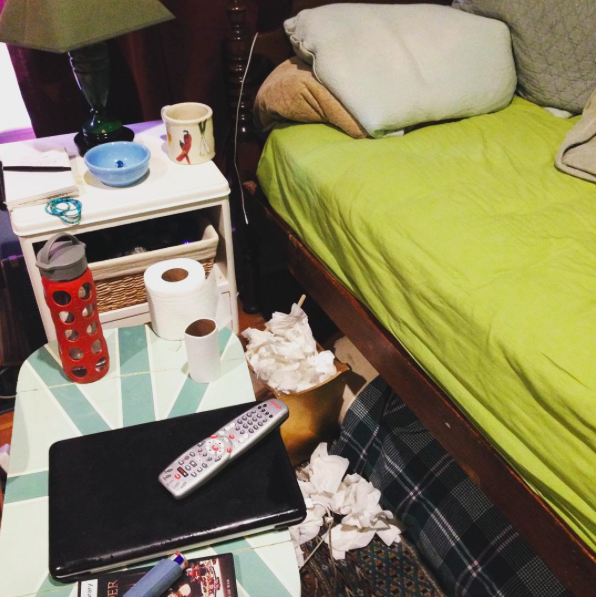 Day one of being sick was all adorable, with nicely organized (and zero waste) supplies, but this plague has now hit day six, and honey, it ain't pretty. I've run through all my washable hankies/rags/napkins for the endless blowing of my nose and coughing, and have moved onto rolls of toilet paper. (Trader Joe's, which is manufactured using 100% recycled content.) I've watched approximately 752 episodes of Buffy The Vampire Slayer/Firefly/Girls/Angel and am finally taking antibiotics to deal with a delightful ear infection that hopped along for the ride. (It did give me the opportunity to joke to the doctor that "That makes sense, since I've been really cranky and want to nurse all the time.") Needless to say, very little money has been spent.
I went through my inbox and deleted over 1,500 e-mails this morning. This reminded me to repost three Craigslist ads that never sold from a few months ago. (Okay, maybe not actually "this morning," as I slept until 12:46 P.M.)
I didn't use lying in bed as an excuse to do any online shopping, even though there was much hubbub about $7-off ($9?) if you spent $50 with Amazon yesterday. (Or the day before? The days are swimming together for me.) I deserve extra props for this as I have an unspent Amazon gift card, but I couldn't think of even one thing I truly needed.
I picked up an extra hospital shift next month, as a co-worker needed it covered and I was only signed up to work a single 12-hour shift that week. Our next double college tuition/room/board payment is on April first, which looms closer and closer. Luckily, March will be another five paycheck month for my husband and I.
I didn't buy a Lear Jet or a vulgar gold-plated apartment in the sky.
Now your turn. What frugal things have you been up to?
Katy Wolk-Stanley