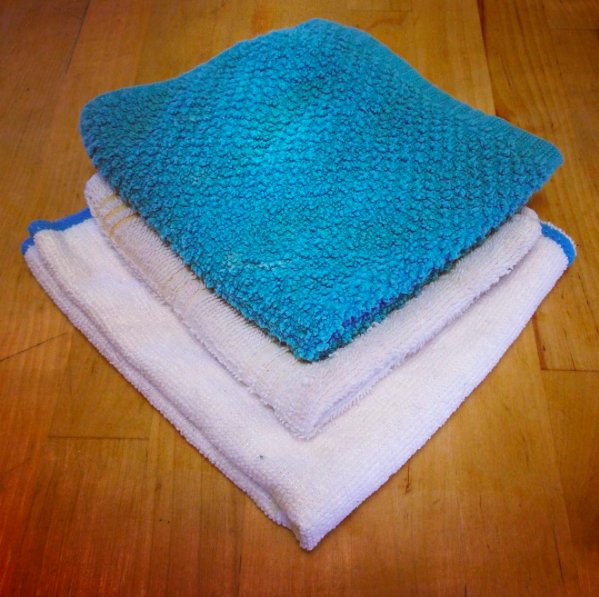 I found a sodden lump of washcloths on the ground when I was dropping my son off at school the other day. They were wet, but only from the ever present Oregon rain. I threw them in the back of the car and then laundered them with a load that included terry cloth rags that I'd used to clean up my cat pee mattress. (In other words, they were not the grossest thing in that load of laundry!) I just took them from the dryer and am pleased to see that one is a pretty washcloth, the second is a microfiber cloth and the third is a washcloth/scrubby hybrid with much potential. These items would have certainly been send to the landfill if I hadn't picked them up. Even if I didn't want to keep them, I could have given them to someone who could get use from these still functional items.
I didn't bring my lunch to work yesterday, but I did wait to go to the hospital cafeteria until after 2 P.M. when the salad bar is 25% off. I chose poached salmon and roasted asparagus with mushrooms for a grand total of $2.48. Better than a lot of restaurant meals I've had in my day, and certainly a lot cheaper!
I had my son swipe me in for a dining hall meal while I was on campus. Not exactly frugal as the university's meal plan is insanely expensive, but it's money smart to make the most of it.
I'm finishing up a library book that's due today, I'm wearing 100% thrifted clothing, (okay, maybe not the underwear) my mother's taking me to lunch as a thank you for borrowing my minivan and brute strength to pick up a mattress, my husband and I shared a $7 taco truck burrito and I'm still using the same menstrual cup that I bought nine years ago.
I didn't buy a Lear Jet or a vulgar gold-plated apartment in the sky.
Now your turn. What frugal things have you been up to?
Katy Wolk-Stanley
"Use it up, wear it out, make it do or do without."