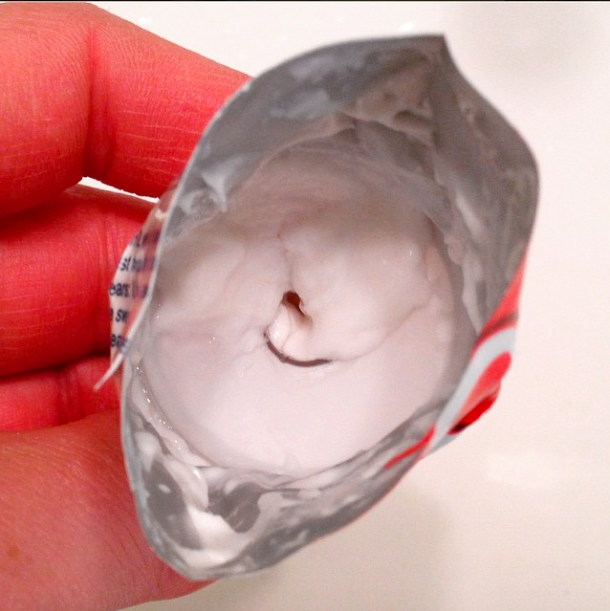 I stopped at the credit union today to put some random cash into our checking account. I swept my hand under the coin counting machine and was rewarded with $1.50 in quarters. People may have noticed my odd behavior, but I'm okay with that. It pays to not be easily embarrassed. Literally.
I did my big monthly stock-up grocery shopping at Safeway using a $10-off-$50 coupon. I matched their e-coupons with paper coupons and made the most of my dollars. Most non-consumery? I bought a 2-pound bag of carrots for 79¢, but I grabbed four different bags to weigh and buy the heaviest, which was a full 2-1/2 pounds. Why yes, I am a cheap date!
After squeezing every last bit from my toothpaste tube, I went ahead and cut it open. There was easily another four days' product left in the top bit.
I had an afternoon appointment and spent at least ten minutes looking for a parking spot. I finally gave up and parked in a 15-minute spot even though I knew I would be gone for around an hour. I somehow lucked out and came back to a ticket-free car. Not a good plan, but in the moment it was a necessary one. (This story could easily have ended not so frugally.)
I'm wearing thrifted clothing, batching all errands, drinking tea or tap water, washing clothes in cold water using small amounts of detergent, viewing the computer through my Dollar Tree reading glasses, not planning any new purchases, eating simple homemade meals and generally content with an extremely frugal life. (I only write "generally" because I'm craving another NYC trip, and am bummed that it isn't in the current budget.)
Now your turn. What frugal things have you been up to?
Katy Wolk-Stanley