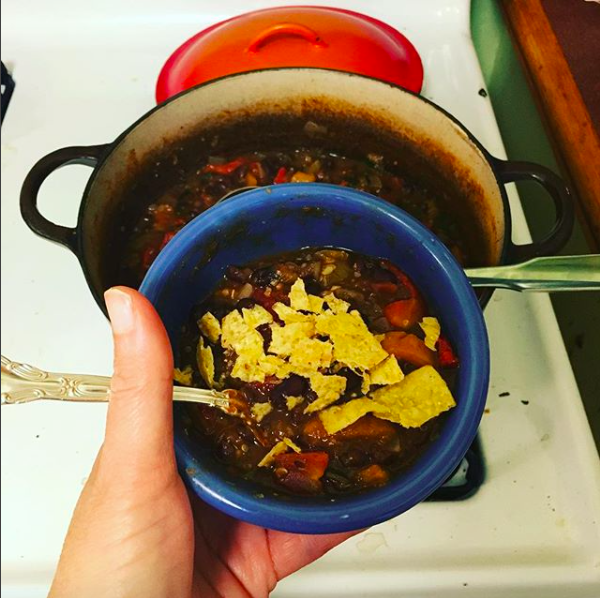 I remembered that I had a free trial voucher for the Chinook Book app. This was perfect timing as my plans for today included a movie theater with 2-for-1 Chinook Book coupons. This translated into my friend Nancy and I being able to pay $2 apiece for our theater admission! Again, yes, I am a unapologetic cheap date.

I spent hours scraping paint from the midcentury buffet that's been my summer project that somehow snuck in the fall season. I pretty much have all the paint stripped off, and should have the piece completed by the end of the week. I've toyed with the idea of keeping it, but I'm trying to increase my side gig income so I won't have to work so many hours at the hospital. I figure I should be able to get $200-$300 for it when all is done, which will be a nice reward for all my hard work.

I was leafing through a magazine when I realized that I miraculously had almost all the ingredients for a Quinoa and Roasted Pepper Chili recipe. Not only did it use up the 1/4-cup of quinoa that's been slowly aging in my pantry, but I'd just picked up super cheap peppers and zucchini from The Grocery Outlet. Sure it called for kidney beans, but I substituted black beans, and sure it called for "fire roasted diced tomatoes," but regular diced tomatoes did the trick. The end result was incredibly delicious and will most certainly be added to our rotation. I love soups this time of year, and am happy to welcome a new recipe into my somewhat tired repertoire.

I have buyers who are interested in a cast iron pan and a vintage suitcase, both recently picked up at the Goodwill Outlet. I just got an email from someone who wants to buy a board game that I nabbed while visiting my son last week. I sold one eBay item and am working two days this week.

I didn't buy a Lear Jet or a vulgar gold-plated apartment in the sky.
Now your turn. What frugal things have you been up to?
Katy Wolk-Stanley
"Use it up, wear it out, make it do or do without."