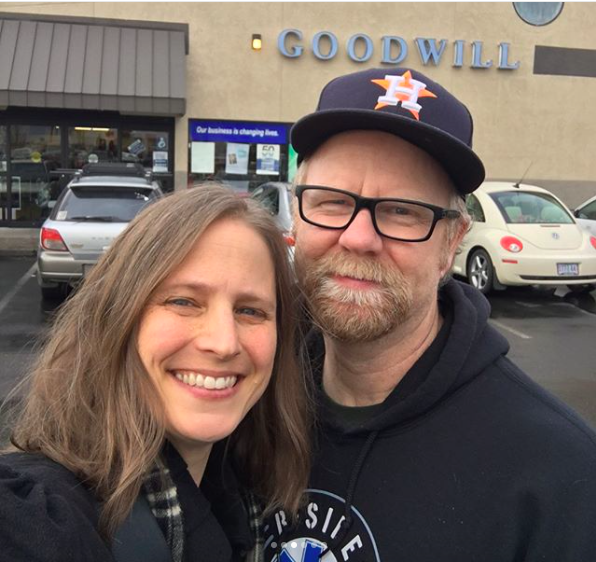 My husband and I drove our kids to their respective universities and slept a single night at our go-to Ashland motel. However, I did use my AARP senior discount, (woot woot!) and saved an extra $3 from the bill. Hey, I'll take it!

Our younger son realized that he'd brought his hangers home from school and somehow didn't bring them back to his apartment. No fear though, as I am intimately familiar with southern Oregon's thrift store scene. We grabbed 20 from the Medford's St. Vincent DePaul for a budget and brag-worthy 50¢. Our plan was to stop back in Eugene to take him to dinner on our way back anyway, so Katy's Hanger-Delivery-Service was zero extra effort. Dollar Tree hangers sell 8/$1, so we saved $2.50. However, I care more that we were able to buy used instead of new, meaning we didn't participate in manufacturing/packaging/shipping from China to fill this need.

We were away from the house for two full days, so I turned off the furnace, dialed the hot water heater to "low" and switched off the surge protector where all our TV-related appliances are plugged in. (I knew there wouldn't be any freezing temperatures, so I wasn't worried about frozen pipes.)

I walked to Fred Meyer to buy eggs and bought nothing but eggs, I found a penny on the ground, I accepted a cookie sample which I brought home to my husband, (frugal generosity at its finest!) I'm cooking pinto beans in the slow cooker for a burrito night, I thrifted a Prius cargo cover to resell, I'm wearing a thrifted merino wool base layer instead of turning up the heat and I have The Gentle Art of Swedish Death Cleaning waiting for me at the library.

I didn't buy a Lear Jet or a vulgar gold-plated apartment in the sky.
Now your turn. What frugal things have you been up to?
Katy Wolk-Stanley    
"Use it up, wear it out, make it do or do without."