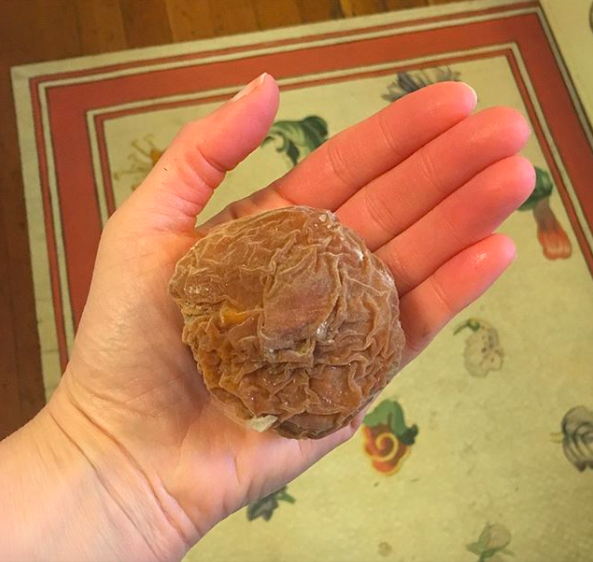 I noticed that my refrigerator was empty while my freezer was full, so I spent a hour or so remedying the situation. I was able to pull out enough food for multiple meals and make use of my already paid for food. I only composted a few items, most notably the above wrinkly orb that bore a striking resemblance to . . . umm . . . a certain male anatomical feature. There's something so satisfying about creating order from chaos. Makes me feel happy, certainly doesn't make me feel testy.

I walked to the grocery store this morning, even though it was the last thing on earth I felt like doing. (It was very cold out, and I am an unabashed wimp!) However, I found a dime on the ground, which would certainly not have grabbed my attention had I been driving. I used coupons for 40¢-off eggs as well as a free box of cereal.

I worked over the weekend and although I only brought my lunch the first day, (note the above reference to am empty refrigerator) I did pack snacks such as fruit and eggs. This way I only had to buy my main meal from the hospital cafeteria. ($4.40 for salmon and a kale salad.) However, I waited until after 2 P.M. when the salad bar price went down 25%. I also make myself a cup of coffee on the labor and delivery unit even though I'd been floated to another unit.

I saved up my plastic bags to give to my friend who uses them when walking her dog, I set aside a couple of bowls and mugs for my Buy Nothing Group, I made an appointment for some preventative medical care and I cut up severely bruised apples and topped them with frozen chunks of pie crust to create a weird mini-pie as an afternoon treat.

I didn't buy a Lear Jet or a vulgar gold-plated apartment in the sky.
Now your turn. What frugal things have you been up to?
Katy Wolk-Stanley    
"Use it up, wear it out, make it do or do without."