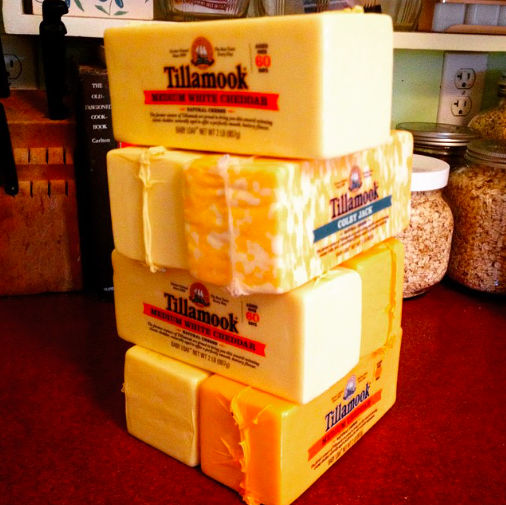 I took advantage of Fred Meyer's sale on Tillamook cheese this week. Even though the coupon had a buy-two limit, I was able to stop in four times while out and about. $4.99 for a two-lb loaf is a great deal, plus I stocked up on white cheddar and colby jack, which rarely go on sale. (Luckily, the store is a just a couple of blocks from the house, and I pass by it on a daily basis.)
My breakfast this morning was a Tillamook yogurt I bought when they were priced 3/$1 at The Grocery Outlet. I cut in a couple of strawberries that my friend brought by as a thank you for having her son to the house.
I'm on a roll with cleaning out our nasty garage. After donating the dregs of last summer's garage sale and returning my mother's huge tables, there's starting to be some light at the end of the tunnel. So when someone on my local buy nothing group posted two brand new REI hanging bicycle racks, I quickly snapped them up. Like any Portland family we have too many bikes, so this was an opportunity to get a bit more organized without actually spending any money.
I brought three magazines to the nearby Little Free Library on my way to Fred Meyer this morning. Magazines that I get for free from cashing in dormant frequent flyer miles.
I drove my husband and his equipment across town this morning to teach his CPR class. He always picks up a jug of Starbucks coffee along the way, for which he's reimbursed. He poured me a big creamy cup before sending me on my way. Although we have a second car we plan on buying, there's a possibility it'll fall through, so we're continuing to make it do and get along with just the single automobile for our family of four.
Now your turn. What frugal things have you been up to? 
Katy Wolk-Stanley
"Use it up, wear it out, make it do or do without."