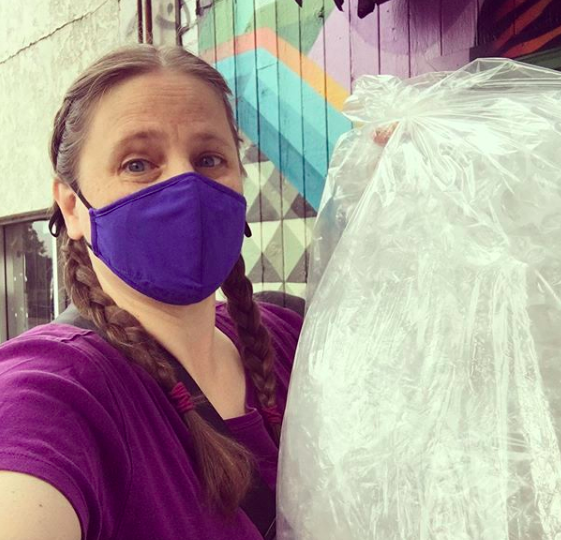 I sold a few things, my favorite of which was a bike that had been collecting dust in my basement since we'd schlepped our son home from college in March. It was my favorite sale, not because of any profit for me, but because it was a nebulous item, as it belonged to my son's old roommate who'd moved back to Texas in December. He didn't want the bike sent to him, but it didn't feel right for us to simply sell it. Instead, my son's roommate told him to sell it and for the two of them to split the proceeds.

However, my husband had pieced the bike apart in order to jam it into our overfilled minivan. He finally reassembled the bike, which allowed me to research, test, photograph and then list it. Three days on Facebook Marketplace and my son and his friend both have an extra hundred bucks in pocket, and mama has one less inanimate object in her basement.

But really, my favorite part of this transaction is that it took a dusty unused item and put it into the hands of someone who both wanted and needed it. As a reseller, I feel that I play an important role in getting specific secondhand goods to buyers, which is vital in a world where the overproduction of consumer goods is destroying our planet.

I used secondhand supplies to mail out all my eBay sales, and for one particular item used a padded mailer that had originally been received by my sister, who then used it to mail something to me. I also picked up a huge bag of bubble wrap from a local business, plus received a smaller bag from my next door neighbor. I thanked her up, down and sideways, telling her that "free bubble wrap is my love language."

Without people who give these shipping supplies a second life, all this stuff would go into dumpsters and landfills.

I listened to a couple different audiobooks through the free Libby app that I pay for with my county taxes. I motored through Rosamund Pilcher's The Shell Seekers, (an old favorite) and then started and stopped listening to a few that weren't my style until landing on Sunset Beach by Mary Kay Andrews.

I really don't have the attention span to read physical books lately, but am easily able to handle audiobooks, which keep me company while I putter around the house, cook and clean, run errands, lay in a fetal position sucking my thumb or work on a puzzle.

My friend gave me enough apples from her backyard tree to make two delicious apple crisps, (Thanks, Lise!) I gave away a tool table, a bag of glue sticks, a dozen or so fancy rice pouches, (again from my son's roommate) and a box of books through my neighborhood's Buy Nothing group, I used my step mother's power washer to blast away the anaerobic stank and maggots that had inhabited our yard debris can, (gag!) and I picked up a frustrating 1000-piece Gustav Klimt puzzle at Goodwill that I'm now assembling to confirm that it's complete before I sell it.

It goes without saying that I basically went nowhere and did nothing and ate my own boring cooking, especially during the week and a half when Portland, Oregon was choking on smoke from area forest fires.

I didn't buy a Lear Jet or a traitorous, secretly debt ridden or vulgar gold-plated apartment in the sky.
Now your turn. What frugal things have you been up to?
Katy Wolk-Stanley    
"Use it up, wear it out, make it do or do without."