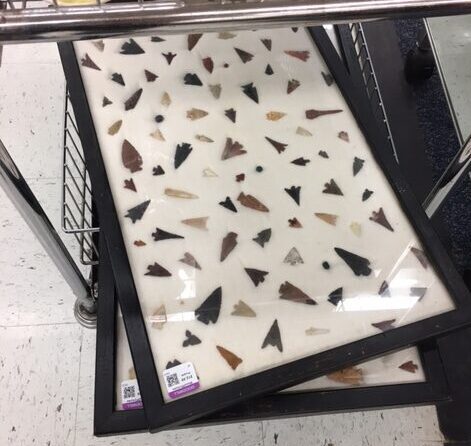 I wandered over to the Vancouver, Washington Goodwills last weekend and I scored my favorite thrift find ever — a Native American arrowhead collection! For just $12.99 apiece! (Click HERE for additional photos.) Approximately 200 in total, both beautiful and fascinating.

I took three (maybe four?) anthropology classes in college, including "Peoples of The Pacific Northwest," so I already possessed a small amount of knowledge on "projectile points," but am now embarking on additional research. Of course I have zero information about where these specific points were found, but so much history can be gleaned from the type of stone, plus the shape, size and notch locations.

Value is hard to determine, but it looks like I could get between four and five hundred dollars apiece for this each framed piece on eBay. However, I'm going to hold onto them for awhile while I indulge in some further research.

You really never know what you'll find on a Goodwill shelf!

I was on my way to the grocery store when a "spoon carved" antique dresser caught my eye. Set out on someone's parking strip, it looked too nice to be a freebie. I was about to knock on their door when their next door neighbor came out from her house. I asked if the dresser was really free, and she confirmed that it was.

I've since wiped it down, checked and double checked it for bedbugs, covered the lead painted drawer interiors with contact paper, (leftover from my son's third grade Halloween costume!) and will have my husband cut a couple pieces of wood to replace the missing drawer guides.

And yes, I'll be selling it to boost our paltry emergency fund, which has been neglected over the past six years that my husband and I have been putting our kids through college.

I pulled out my vintage 1950s Henry Huggins books for a reread after learning about the passing of 104-year-old Beverly Cleary. I grew up a few blocks away from Klickitat Street and loved her books. Beezus and Ramona's schools were my schools, Henry Huggin's paper route was for the newspaper where my mom worked and Ellen Tebbit's dance classes were at the studio where I took my ballet classes. Heck, even my old middle school is now named after the beloved novelist!

For those who grew up on Cleary's books, I highly recommend that you read her two memoirs, which are frank and amazing. Not sugar coated and worth your time.

My husband and I continue to enjoy mystery shows through my sister's BritBox subscription, (specifically Shetland, Traces and The Bay) I gave away a number of items through my Buy Nothing group, I picked up two free bags of flexible styrofoam sheets from a local business who gets them in their shipments, I packaged with free second-hand supplies for my eBay shipments, my son and I started listening to the Dune audiobook through the free Libby app and I drove with my son through McDonald's for free McNuggets after our basketball team scored over 100 points.

I didn't buy a Lear Jet.
Katy Wolk-Stanley    
"Use it up, wear it out, make it do or do without."