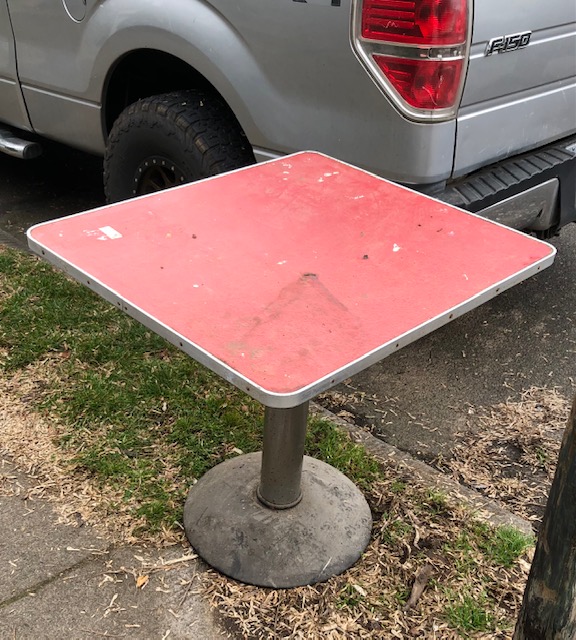 I participated in a short (ten minute?) online study that rewarded me with a $5 Amazon gift card. This worked out well as my husband and I accidentally rented the movie Mulholland Falls on both Apple TV and Amazon Prime at $3.99 apiece. Oops . . . Frugal fail and win?

I hauled home a curbside vintage diner table that I'm currently in the midst of restoring. It's got a distinct Luke's Diner from Gilmore Girls vibe, which I enjoy. Sadly I've neither need nor space for it, so I'll be putting it up for sale through Facebook Marketplace. You know . . . after I've scoured it with Barkeeper's Friend and then plucked the 1,001 spiders' nests from the underside.

Edit: I sold the table locally for $65.

I made full use of my county library system by reading:

All of these books were written by women, with deep and intricately written characters. There were zero descriptions of glossy hair, the length of legs or  skinny women who bit into huge cheeseburgers.

My friend sharpened my cheap-o gardening shears that I've had since nursing school, I picked up (and actually finished!) a huge tub of fresh mixed greens for $1.69 plus a bag of sliced mushrooms for 69¢/pound from the sketchy food outlet store that's next door to Goodwill, I happened to take a bus trip on a free day that honored Rosa Parks, I gave my son a like-new Ikea bowl from a neighborhood "free box" and my son and I brought our laptops to IKEA and sipped on free coffees.

I didn't go on an ego driven space jaunt with my fellow billionaires.
Katy Wolk-Stanley    
"Use it up, wear it out, make it do or do without."