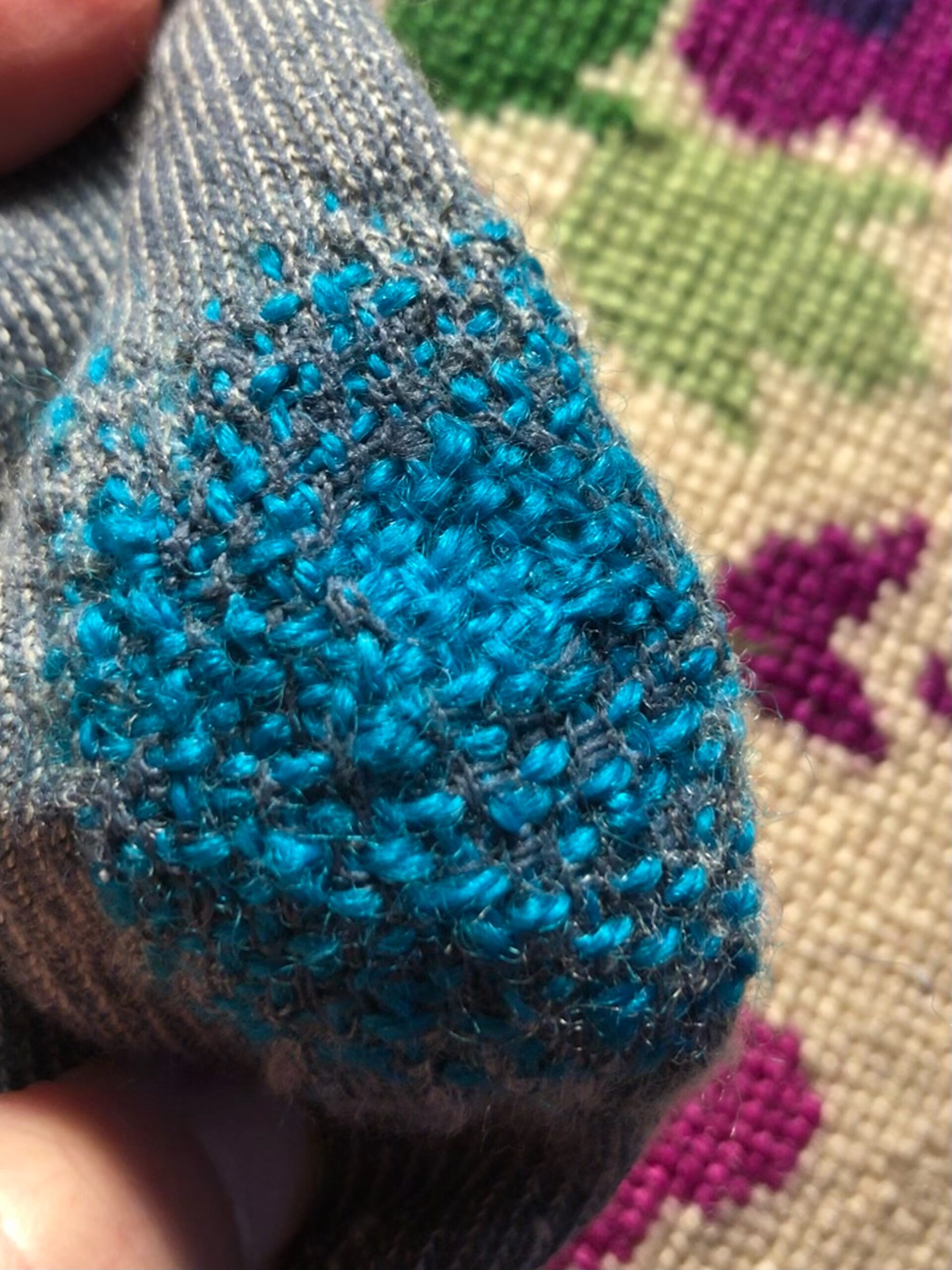 I pulled out my tote bag of holey socks and darned four pairs back into rotation. Sock darning is a unique activity as it can't be rushed and requires an consistent level of concentration, which can be quite meditative. Plus it's frugal and sustainable.

This project prompted me to dump out my sock and underwear drawer and make some difficult decisions, as it was crammed full despite me wearing the same four pairs on repeat. Out went the knee-highs, (I only ever wore them as makeshift compression stockings when I worked as a labor and delivery nurse) as well as the Smart Wool socks with their agonizing garrotte-style ankle cuffs and buy-bye to the Japanese socks designed to be worn with wooden "geta" wooden flip flop slippers, which I don't actually own.

These socks were quickly snapped up through my Buy Nothing Group.

The rest of the random socks weren't decent (or even matched) enough to warrant darning or gifting, so they hit the garbage can. (Seriously, how is it that I owned so many socks where just one of them had distended elastic?!) My sock drawer now slides open with ease and only stores socks that I actually wear.

One of my beloved Pittsburgh cousins came through town with her husband and although they stayed with my father, I offered to host a dinner one night. I knew I'd have to plan a meal that could be fully pre-prepared as they'd begged to be taken to Powell's Books which I believe is now legally required for all Portland tourists. Here's what I served:

• A pan of spinach lasagna, which I could throw into the oven as soon as we got back to the house. The noodles were from Dollar Tree, the mozzarella was from my favorite "dented vegetable" grocery liquidator, the ricotta was a freebie from my grocery worker daughter and I cooked the sauce from scratch.
• A big spinach salad, which I assembled that morning and waited to dress until we sat down to eat. Needless to say, I also mixed up a batch of my Tea Towel Salad Dressing™.
• A warmed up loaf of random artisan bread that my daughter gifted me last week and was thrown into the freezer until that morning.
• A "Royal Delight" icebox cake, which is made with chocolate wafers and whipped cream and left to set in the fridge. Not frugal, as the chocolate wafers have skyrocketed in price through the years, but is still a nostalgic family favorite.

It would've been easy to take the easy route and get takeout as I'd be away from the house until right before dinner. But with a bit of planning, I was able to serve a frugal home cooked meal and still participate in any and all bookstore adventures.

I also brought a bag of books to sell to Powells, which garnered me $13.50 in store credit, (woo hoo!) and I convinced my son to tag along as he possesses a rare 20%-off discount card through a job he worked earlier this year. They even let our entire party use his discount, which was an unexpected surprise.

I hit up the aforementioned dented vegetable store for my normal veggie fix and scored six dented boxes of Annie's gluten-free macaroni and cheese for 50¢ apiece, (normally $3.50+ per box!) I'm defrosting an extra turkey that I got for free last year, my husband installed our $25 "learning" Nest thermostat, a tree-less neighbor let me use her yard debris can for some of the 7.2 quadrillion leaves that fall on our sidewalk, my neighbor gave me her uncut pumpkin and I received both a box of frozen bison steaks and a case of Momofuku Chili Crunch as a thank you for keeping a tight eye on my aging aunt and uncle who visited from Nebraska last month.

This last "frugal thing" is actually a "frugal fail." I sold a huge stuffed plush Pikachu on eBay, which I placed both in a large plastic bag as well as a lightweight shipping envelope. I carefully squished the air from the package and taped it closed. The package must have expanded significantly afterwards, as I got a notification that I was being charged an extra $24 for shipping! It only sold for $30, so this sale pretty much garnered me nothing after eBay fees. Oh well, I did get it for free. Still though . . .

I didn't buy a Lear Jet or spend 44 billion dollars to implode Twitter.
Katy Wolk-Stanley
"Use it up, wear it out, make it do or do without."