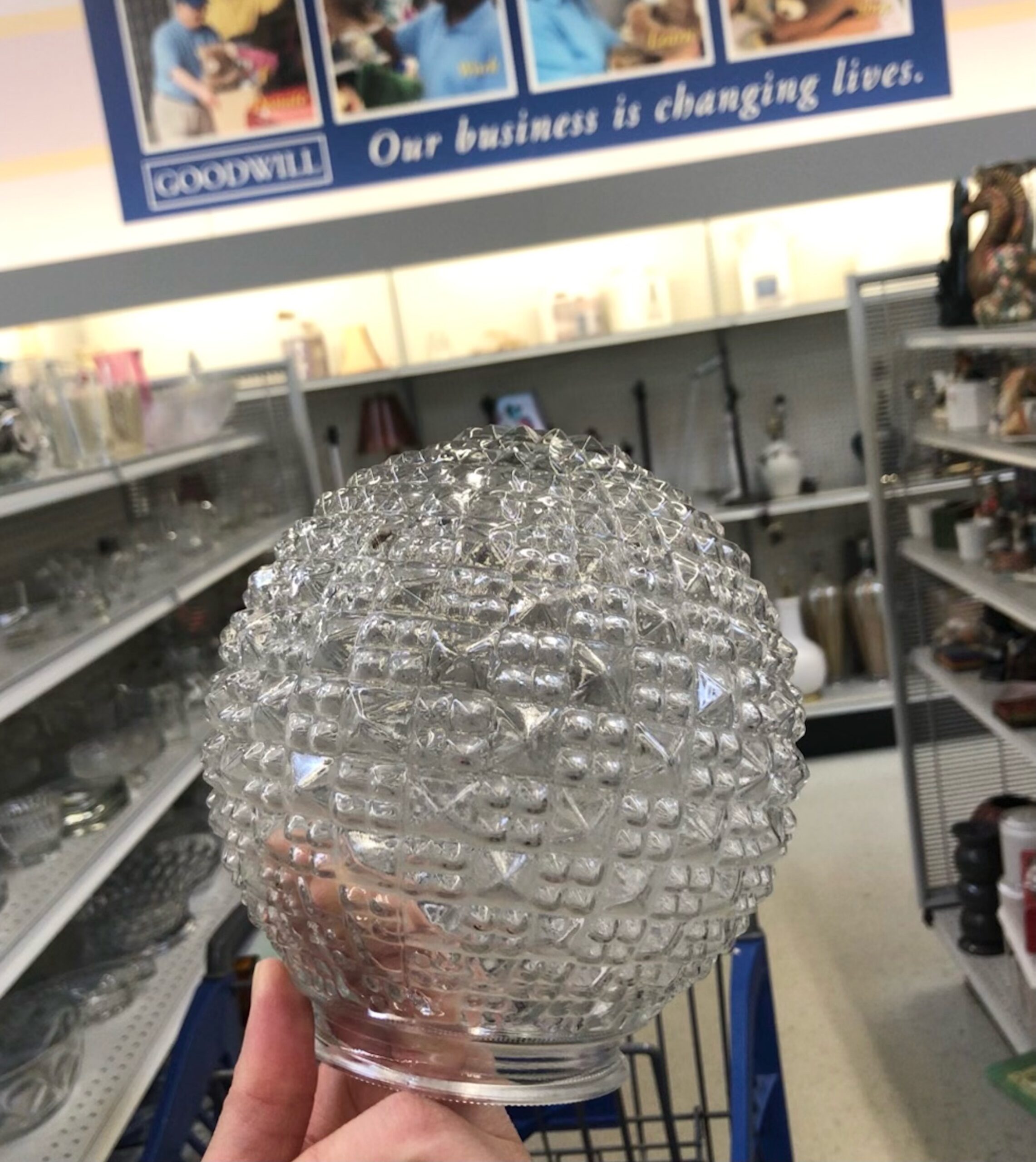 I sold a few thing on eBay, including:

• A pair of Boggs boots that I bought for $12.99 and sold for $62.

• A Dolly Parton album that I bought for $3 and sold for $60.

• A sterling silver bell that I bought for $4.99 and sold for $150.

I also hit a couple Goodwills, but made just two purchases. I've become extremely picky about what I buy, as I try to only sell items with at least $30 profit and I prefer that the initial purchase price be as low as possible.

• A set of three $3.99 vintage lighting globes that I ran through the dishwasher and immediately sold for $40 to a local store.
• A vintage Steelcase tanker chair for just $4.99 that I've listed locally for $50.

My husband had an eye appointment across town, so I tagged along and had him drop me at a thrift store that I rarely get to. Unfortunately the store had raised prices significantly since my last visit, but I did find a new looking Smartwool merino wool T-shirt for $9.99. (Not a screaming deal, but still $30-$40 less than the normal price.) I might've been annoyed if I'd schlepped across town for an overpriced thrift store, but my husband was driving there anyway, there was no waste.

My husband's appointment lasted longer than I'd anticipated, so I explored the neighborhood, hitting up a Trader Joes for 19¢ bananas and even found a penny conveniently located in a clean-ish puddle.

My next-door-neighbor and I enjoyed a get together that was just the two of us in her cozy living room, catching up on each other's family dramas and drinking tea that we'd brewed in our own kitchens. We used to go to coffee shops before the pandemic, but switched to each other's houses when social distancing became an issue. We somehow never switched back, which I actually prefer as it draws nothing from the budget and takes less time from my day.

This got me thinking about how my social life often centers on free activities, whether it's grocery shopping with a friend or hitting up IKEA for their free coffee so my friend Lise and I can chat and co-work on our laptops. I certainly spend a bit of money socializing, but it's nice to know that it's not dependent on anyone's bank balance.

I noticed that there were Black Friday streaming deals to watch certain pay channels like Showtime and Starz for free, so my husband and I finally watched Everything Everywhere, All at Once, which lived up to the hype, I got a second free uncut pumpkin from a different neighbor, my Winco cashier realized that she'd forgotten to credit me for bringing my own bags and handed me 36¢ in coins, I raked leaves for a neighbor as a thank you for letting us put out extra yard debris cans with their pickup, I put up the Christmas tree that my husband and I garbage picked from a shuttered real estate office in Medford, Oregon maybe five years ago and I brought my mother over for a day of snacking and cozying up on the couch to watch Resident Alien, which is her favorite TV show.

I didn't buy a Lear Jet.
Katy Wolk-Stanley
"Use it up, wear it out, make it do or do without."