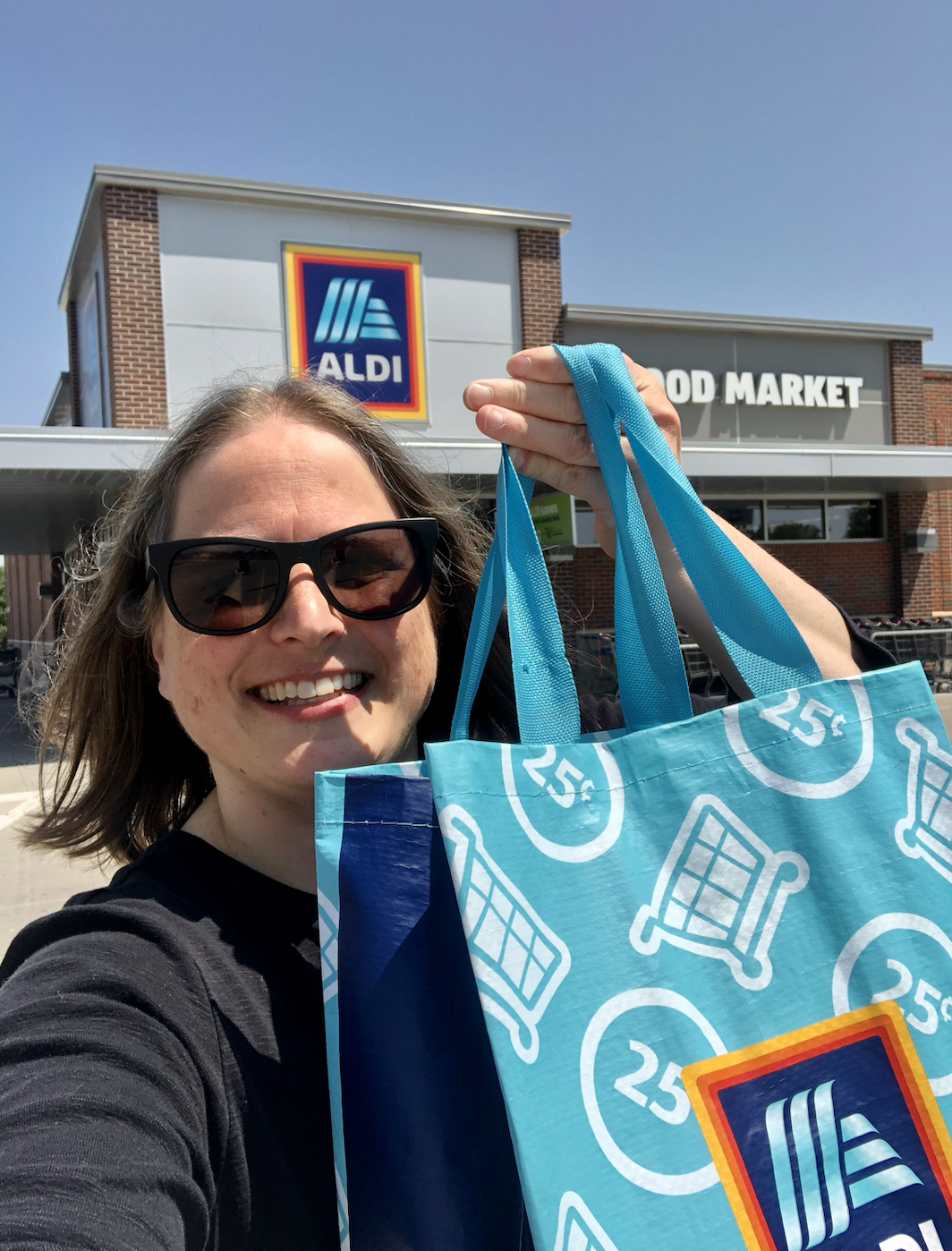 My husband and I bought a used propane barbecue grill in "excellent condition" from a friend for only $50. The problem is that it was not excellent in any way, shape or form. Of course, we didn't realize this until we schlepped it home in the back of our minivan. It required all new interior replacement parts, plus my husband had to grind off the inside rust and repaint it with high heat spray paint. In all, I think we spent $50, plus hours of work to bring it back to life.

We've decided to believe that my husband's friend was unaware of the condition issues. Not worth losing a friendship.

Then . . . my husband went to a baseball picnic a few days later and was gifted a free propane griddle in actual excellent condition. Sure it needed a good scrubbing and the purchase of a $27 cover, but we've already used it a couple of times!

Odd coincidence, but we feel like it all balanced out.

My one wish before I left Nebraska last week was to get my tuchus into an Aldi and see if it lived up to the hype. We do have Trader Joe's here in Portland, (same owner) but Aldi has yet to expand into the Pacific Northwest. My goal was to grab travel snacks for the day and Aldi did not disappoint. In all I spent $21.56 with tax, which included chocolate bars to gift and a 99¢ reusable grocery bag to keep as a practical souvenir.

I wandered the aisles to satisfy my curiosity and saw a number of items I would've been happy to purchase, had I been actual "grocery shopping." I was impressed with 59¢ avocados and $1.89 pineapples, but was surprised that very few items (if any?) were branded with the "Aldi" name. I guess I assumed that it would be like Trader Joe's where almost everything is their own brand.

Certainly a unique shopping experience, I appreciated the low prices and no frills vibe, but the merchandise seemed pretty random. I'd be curious to get your opinion on how you incorporate Aldi into your shopping.

I noticed that we had a free week of Starz TV through our Comcast streaming box, which comes with our internet service. I looked through to see if there was anything of interest. I came across the reboot of Party Down and motored through the six new episodes. (So good!) I'm also going to try to get my husband to watch The Unbearable Weight of Massive Talent with me before this free week deal evaporates.

• My daughter brought me a dented can of Annie's split pea soup, a bag of new potatoes, an avocado and a dented can of fancy cat food from her work.
• I found two quarters (one from an Aldi cart!) and a penny while traveling to Nebraska.
• I sold a curb picked Kitchenaid mixer for $120.
• I sold a thrifted fiber art wall hanging for $225.
• My fabric suitcase got nasty level filthy in the airplane's baggage hold and I took the opportunity to scrub it down in the bathtub. I imagine someone else would've used it as an opportunity to buy a new suitcase. Mind you, I pulled it from a literal Goodwill dumpster, so I have to see if I can make it last forever.
• My husband has been excited to use his new outdoor griddle, but doesn't possess any my frugal grocery skillz. This means that I commandeered and returned a $9.50 bottle of tamari sauce before he got a chance to open it. Especially as we already had two unopened bottles of $4.50 gluten-free soy sauce!
• I came home from Nebraska with a wicked cold and used a free Covid test to make sure it wasn't more serious.

I didn't buy a Lear Jet.
Katy Wolk-Stanley
"Use it up, wear it out, make it do or do without."
Click HERE to follow The Non-Consumer Advocate on Instagram.
Click HERE to join The Non-Consumer Advocate Facebook group.