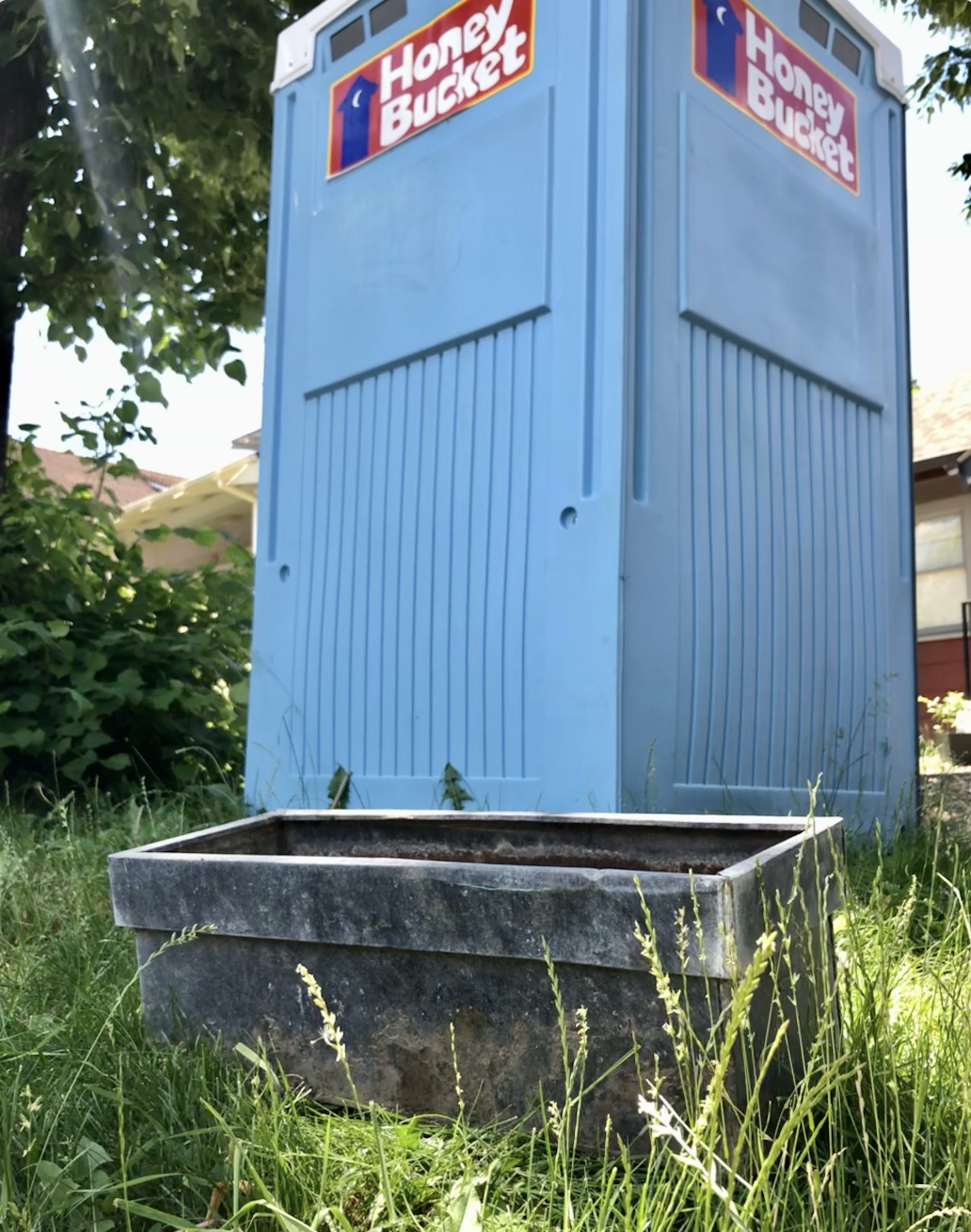 I curb picked a vintage fireplace screen last week, which prompted me to give away the old one, (technically a newer one) to someone in my Buy Nothing Group. The guy said that he'd just moved into a house without a fireplace screen, and it makes me happy to know that my one has been kept in circulation. Imagine if the stale clutter in our homes was consistently given to people who'd put it back to use.

My sister scored three flats of slightly wilted pansies for free from a nursery just north of New York City. (By the way, that's 96 plants!) She just bought a house in The Bronx and is motivated and excited to spruce up her property without going broke. And yes, she planted every single one of them in her garden!

• I encouraged my mother to give me a gorgeous Italian glazed flowerpot that was collecting dust in the back of her kitchen. It's now on top of my piano and planted with begonias that I rooted on the kitchen windowsill. Thanks mom, sorry about the moochiness!
• I curb picked a metal planter box that cleaned up quite nicely. Not a show stopper, but a classic design and fully within my budget. It being at the foot of a porta potty? Didn't phase me whatsoever. Now to source some free potting soil!
• I returned a shirt and a pair of shorts to Goodwill that I bought a couple weeks ago. They gave me a store credit which I'll use before it expires in 30 days.
• I cut a pair of jeans into summer shorts which is my one of my favorite frugal hacks.
• I'm rooting dozens of fuzzy bunny plants from my existing house plants. These grow roots almost immediately and do well in the backyard. I might decide to plant something different in my new planter, but these'll do if all else fails.

I've had a cold since coming back from Nebraska last Tuesday, which had the side effect of creating an impressively frugal week. Why? Because I've hardly left the house and I'm rarely tempted to internet shop. Thanks, dum-dum virus!

I didn't buy a Lear Jet.
Katy Wolk-Stanley
"Use it up, wear it out, make it do or do without."
Click HERE to follow The Non-Consumer Advocate on Instagram.
Click HERE to join The Non-Consumer Advocate Facebook group.