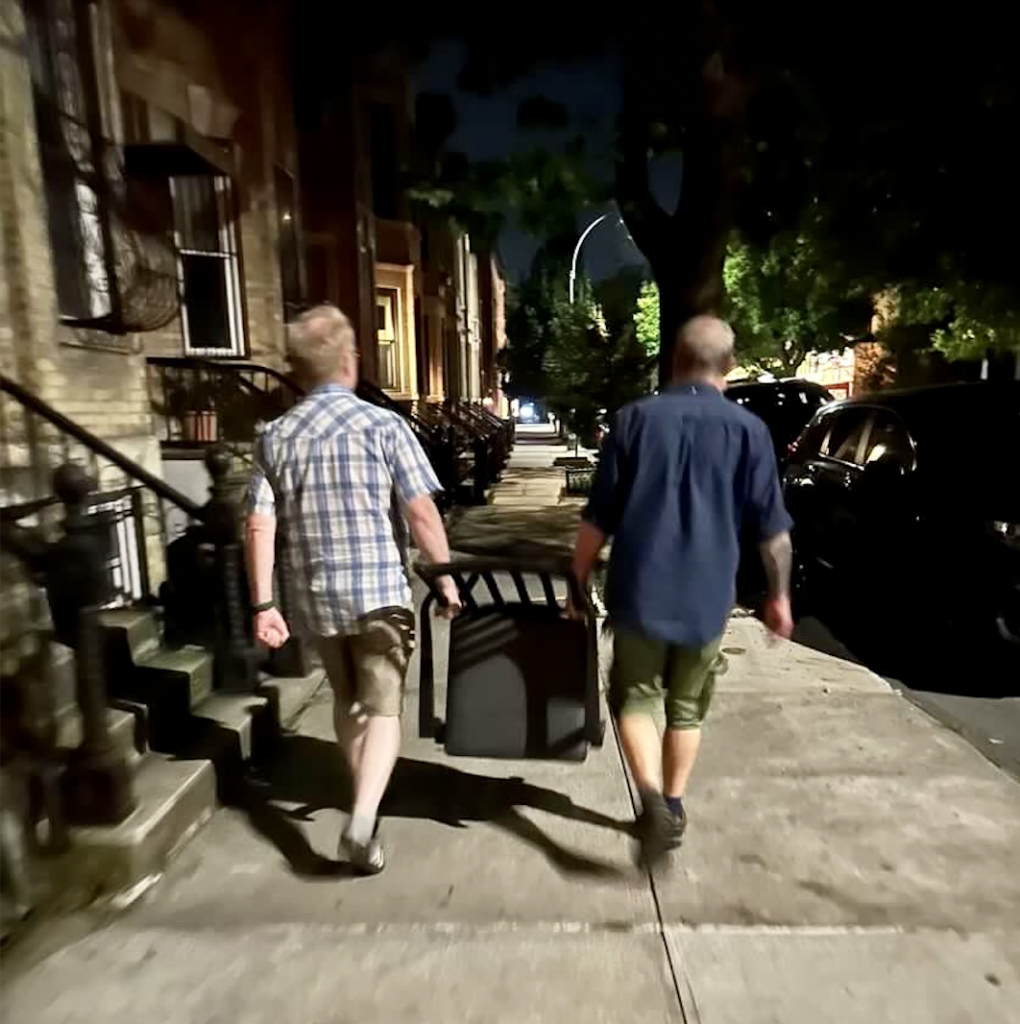 I loosely followed a Instagram recipe for Cherry Tomato Pasta as we were inundated with tomatoes and it was simply one of those "Hey, I have all the ingredients to make that!" situations. I forgot the red pepper flakes, (which was a crime) but I did add in a scoop of homemade pesto which brought the flavor up a notch.

The meal was especially cheap due to me having one last box of 25¢ clearance price linguine, plus my ever producing $3.99 Trader Joe's pesto plant that I transplanted into a bigger pot at the beginning of the summer.

I garbage picked a patio chair while visiting friends in Brooklyn and brought it back to my sister's house in The Bronx. (It helped that we had a rental car!) It cleaned up like new and was the perfect find as my sister's new house has a big deck but barely any backyard furniture.

Click HERE to watch the Instagram reel that showed the process.

• Our son went to visit the kitten he's adopting and the fostering family sent him home with a grocery bag filled with homegrown tomatoes, basil and cucumbers; as well as a dozen eggs from their chickens! He brought everything here as he shares a minuscule kitchen with three roommates.
• Our daughter gave us a half gallon of milk, a package of cupcakes, a sleeve of bagels and a pound of plant based "buttery sticks" that she got for free from her schwanky grocery store.
• I whirled up a batch of pesto using a combination of my backyard basil and the gifted basil. Luckily I'd snagged a few bags of "shaved parmesan" cheese at Safeway last month when they was on sale for under a buck apiece. I rarely add nuts when I make pesto as it's so much cheaper without them.
• I gave away a coffee pot that had been sitting unused in the basement through my Buy Nothing group.

My husband and I have been using the forced quarantining time to clean and organize the basement. I know we're supposed to be "taking it easy," but he's felt almost completely normal even while testing positive for Covid. My initial goal was to just clear out the "Harry Potter" closet under the basement stairs, but the project kind of exploded from there. This has been my dream project for a vey long time, but I needed my husband to find his own inspiration as the decisions were almost all his.

We ended up taking a minivan load of miscellaneous stuff to the dump, which made my heart sing as you know that "crap out of the house" is my love language. In case you're wondering how long it's been since out basement has received a full clean and organize, we found a diaper pail in the back of Harry's closet.

We spent no money on the project other than the $47 dumping fees. My husband did create a couple of wall shelves out of scrap lumber, which serve to hold . . . scrap lumber.

I didn't garbage pick a Lear Jet.
Katy Wolk-Stanley
"Use it up, wear it out, make it do or do without."
Click HERE to follow The Non-Consumer Advocate on Instagram.
Click HERE to join The Non-Consumer Advocate Facebook group.