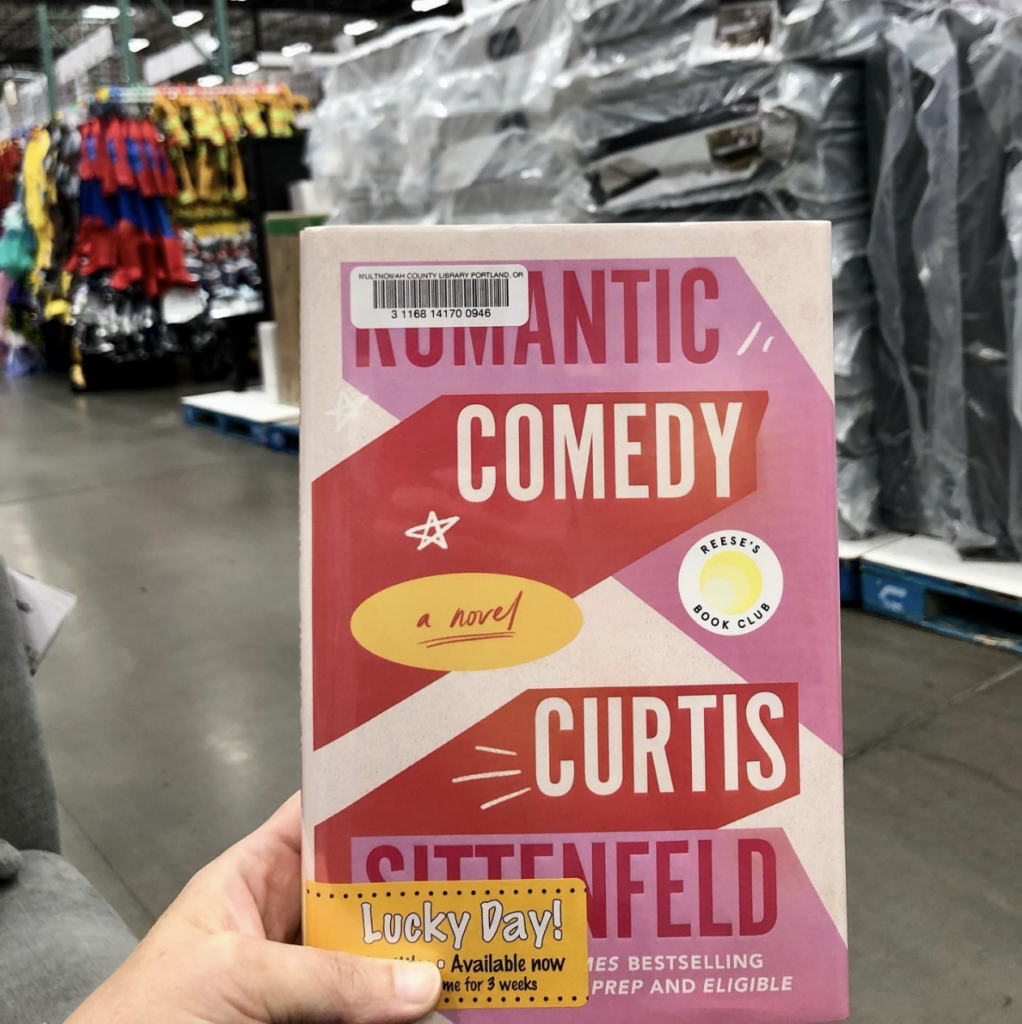 I had to take the Prius into Costco tire this week as the passenger side rear tire had a gouge on it and was slowly leaking air. Taking it in was a pain in the tuchus, as my son drives this car to his office outside of Portland but isn't able to slip away long enough to run errands.

I was concerned that the car wasn't safe to drive, so I drove our minivan down to his office and swapped out the cars and still made it to Costco by my 10 A.M. appointment. (He's nervous about driving an unfamiliar car on the freeway, so I offered up this solution.) I came prepared with a library book and a plan to park myself on whatever couch was up for sale that day. It ended up taking at least an hour and although I did get up to stretch my legs at one point, I didn't succumb to any impulse purchases, unless you count cat litter as impulsive. I ate two samples.

The transaction took a weird turn when I received a phone call from the tire center manager scolding me about how I was essentially abusing the "road hazard warranty" and that they weren't going to be able to continue replacing our tires after this one. However, it felt more bizarro world than upsetting as I'm a competent 55-year-old woman and can't remember the last time someone scolded me. Not in the workplace, not from a family member and definitely not from a retail interaction.  Maybe . . . high school?

I left the store wondering if he thought I was deliberately damaging my tires as some kind of warped Munchausen by Proxy syndrome? That I enjoy the attention I get from tire center employees? Whatever it was, I'm glad to be done with it. Weird.

That library book I brought with me to Costco? I finished it by the end of the day, which is very much not usual for me. The book was Romantic Comedy, by Curtis Sittenfeld and don't let the schmaltzy title fool you, it was whip smart and full of amazing details and perfectly fleshed out characters.

I don't want to give too much away, but it follows a woman who's a TV writer for a fictional SNL-like show who bucks the trend of dorky writers marrying rich and famous women. (Think Colin Jost and Scarlett Johansson.) The author fully did her research on how a weekly late night sketch comedy show is produced, which is almost as good as the plot itself. I've probably given away too much, so just suffice it to say that I'm giving it an A+.

I'm still tired from Covid and get wiped out pretty easily, so I've been trying to pace myself and keep my days pretty simple. Staying close to home is frugal.

• Our daughter gave us an angel food cake and a loaf of artisan French bread from her schwanky grocery store.
• My husband was able to fix the Prius when the power steering suddenly went out. Yeah, when it rains it pours . . .
• My neighbor handed me a can of Dr. Brown's cream soda when she heard about our Covid-tastic dud of a vacation.
• I used a coupon for a free pint of Ben & Jerry's ice cream at Fred Meyer.
• We continue to enjoy blackberry everything from my foraging last month. As jam, on yogurt and added to pancakes. I might swing by my secret spot one last time and see if they're still ripe. Free food is my favorite food!

I didn't scam Costco for a replacement Lear Jet.
Katy Wolk-Stanley
"Use it up, wear it out, make it do or do without."
Click HERE to follow The Non-Consumer Advocate on Instagram.
Click HERE to join The Non-Consumer Advocate Facebook group.