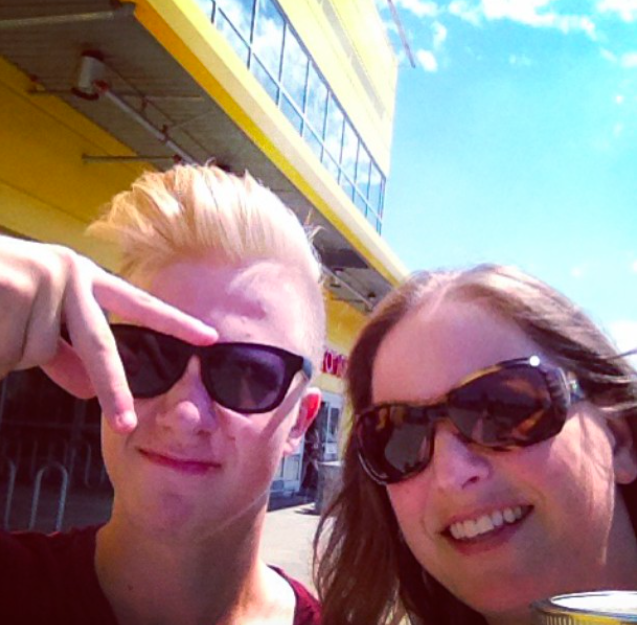 I worked the past two days and brought my own breakfast and lunch both days. I drank the mediocre coffee instead of walking down to one of the hospital cafes, and drove my Prius both ways while listening to Dave Ramsey Podcasts.
I treated my younger son to lunch at Ikea using the free meal vouchers from the backs of our Timbers soccer tickets. We used our Ikea Family cards to get free coffee, and I brought my reusable mason jar sippy cup to concoct my own iced coffee to go. A lovely mom-son date without spending any money. (Okay . . .  for pure transparency, I did spend exactly a dollar as the salmon lunch cost more than the coupon allowed for.)
My son and I will be leaving for New York City on Monday for a two-week visit. We'll pack our own airplane meals and snacks and be staying with my sister who lives on City Island, off of The Bronx. Sadly, the subway does not go to her house, so we'll have to take a cab from Laguardia. However, I know this is a set cost and have budgeted for it. (I'm having a hard time accepting this ridiculous expense, and am still concocting alternate transportation plans. Take the bus from Laguardia into the city and have my sister meet us there?)
Portland weather has been unseasonably warm all summer, and it's been weeks since I've used our electric dryer.
I've deliberately held off on picking up two library hold books because I want to read them during our vacation, and don't want them to come due while we're out of town. Especially since I know that my sister will want to read the Judy Blume one once I'm done with it!
Now your turn. What frugal things have you been up to?
Katy Wolk-Stanley
"Use it up, wear it out, make it do or do without."