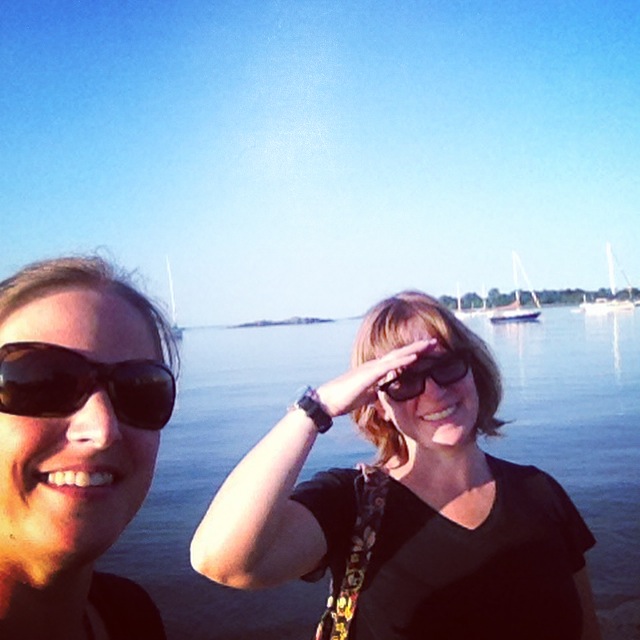 Yesterday's plans to visit a friend in Queens and grab delicious Indian food went kaput when she forgot about our plans and left town. The weather was hot and humid, which threw a haze over our normally keen decision making skills, so we ended up deciding to see a movie instead of some fabulous and envy-inducing NYC adventure. Instead we drove north of the city to New Rochelle, where we parked easily (and for free) and walked in the air conditioned bliss that is a summertime movie theater. I won't tell you the movie we saw for fear that you will judge my parenting, as the movie was surprisingly sexually graphic. Oops. . . (Okay, okay . . . it was Trainwreck which was the height of hilarity, but probably not exactly what my 17-year-old son wanted to watch with his mother.) We didn't use Fandango or buy snacks, and our matinee tickets only set us back ten bucks apiece.
I put on my brave-woman pants and figured out how to get to Laguardia airport by subway and bus instead of opening a financial vein for a cab. $2.75 apiece instead of $40 plus tip? You betcha! I was nervous that we'd mess something up along the way, but the process was smooth sailing. (My sister thanked my for "beta testing" the route as she'd never tried getting to Laguardia this way.)
I've found 22¢ on the ground at the airport so far.
My son and I packed fresh bagels with lox spread for the trip so we wouldn't be tempted to buy the overpriced food on our flights. I should have brought a refillable bottle, but we'll just use the water fountains before the flight and the free non-alcoholic beverages once we board.
I didn't buy one souvenir during my two-week trip to NYC. Since I brought gifts, I'm actually going home lighter than when I arrived. Decluttering by way of hostess gifting for the win!
A huge thank you to my sister and her family for hosting us in their lovely Bronx City Island home. Right on the Long Island Sound, yet right outside the city. A perfect combination!
Now your turn. What frugal things have you been up to?
Katy Wolk-Stanley
"Use it up, wear it out, make it do or do without."
Click HERE to follow The Non-Consumer Advocate on Twitter.
Click HERE to follow The Non-Consumer Advocate on Instagram.
Click HERE to join The Non-Consumer Advocate Facebook group.
Click HERE to follow The Non-Consumer Advocate on Pinterest.