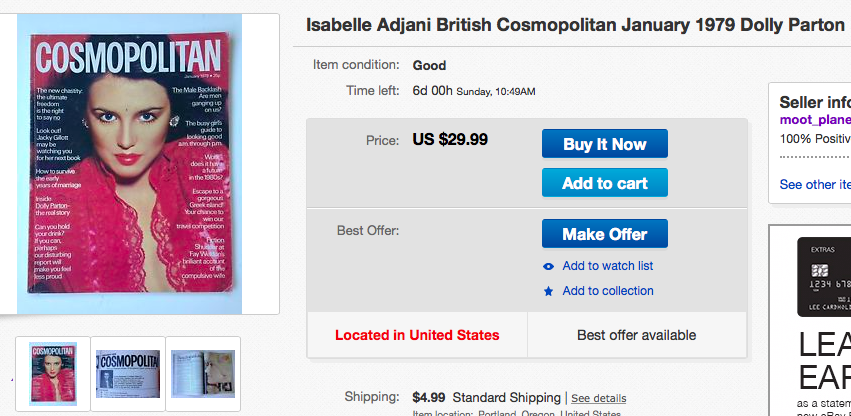 My husband and I stopped into a Goodwill the other evening, where he scored a new looking push mower priced at just $9.99. I listed it on Craigslist that night for $60 and sold it in under 24 hours. It normally sells for $160, so it was a great deal for the buyer and nice income boost for the two of us.
I nabbed a box of nice glass jars from a free pile and quickly sold them to the terrarium shop in our neighborhood. It was only a $20 profit, but it took nothing more than a run through the dishwasher and a willingness to get over any embarrassment over making the deal. We celebrated my younger son's birthday this weekend, and all scrappy income money went to cover the expenses for our "birthday day of adventures."
I rescued seven 1979 British Cosmopolitan magazines from my mother's free pile and quickly listed them on eBay. Who know if they'll sell, but I might as well try. Update: SOLD for $10 apiece!
I have a four-hour mandatory meeting this week as well as two scheduled 12-hour hospital shifts. I'm not too excited about the meeting, but it's kind of nice to earn money without the responsibility of patient care. I'll certainly be happy when the fat paycheck arrives.
I didn't buy a Lear Jet or a vulgar gold-plated apartment in the sky.
Now your turn. What frugal things have you been up to?
Katy Wolk-Stanley
"Use it up, wear it out, make it do or do without."