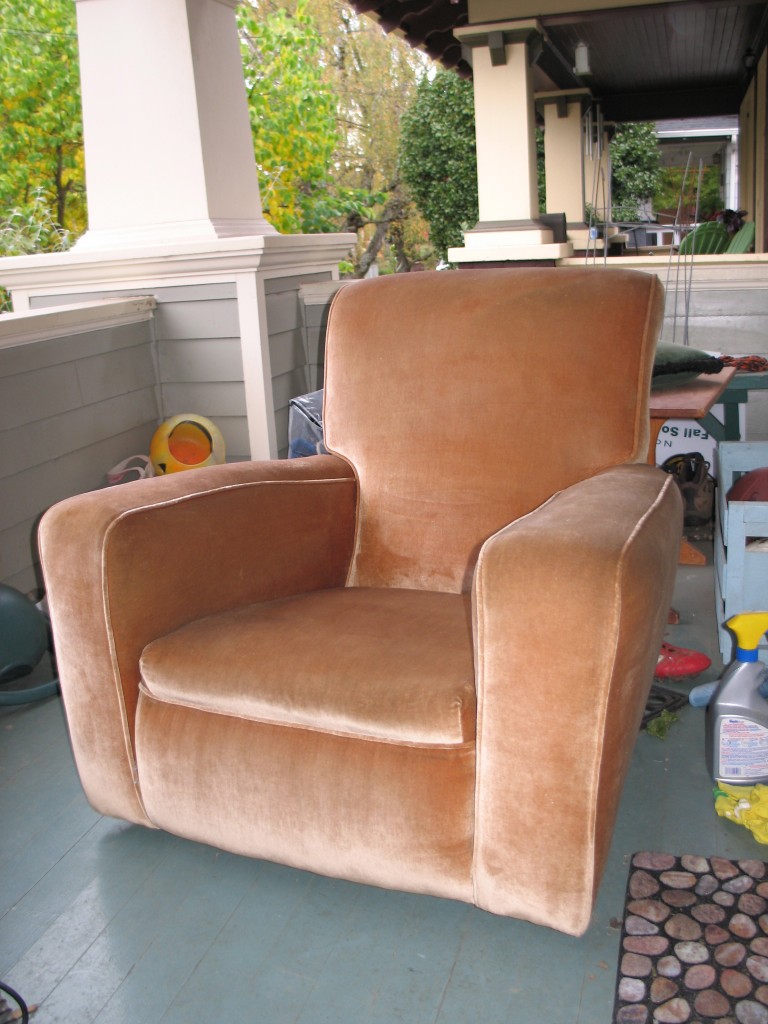 I woke today to find that I won a cookbook and gift card to Grand Central Bakery. All I did was post a comment about healthy eating on their Facebook page, which was "My healthy eating habit is to just keep the crap out of the house. This is also known as the why-I-don't-buy-Nutella theory." I will of course regift the cookbook and use the gift card. But that's just how I roll.
Yesterday was my mother's 69th birthday, so we had her and my step-father over for dinner. I made Julia Child's Boeuf Bourguignon, cheddar biscuits and a big ol' chocolate cake. Everything was beyond delicious and helped to keep my house smelling like heaven throughout the day. Because I buy gifts at thrift stores all year long, I think I spent a total of $5 on gifts. Hooray for a mother who is happy to receive vintage salt and pepper shakers, a signed Short Attention Span Theater postcard from John Stewart, a (free) Walgreens collage print and a handpainted Mrs. Butterworth's figure, complete with straw hat. Yeah, I give the best gifts.
When I went to lunch with my father the other day, our conversation was so interesting and moving that I saw the woman at the table next to us start to tear up. Yup, we're profound.
I completed filming my reality TV segment for a national network last week. Although the process took two 14 hour days, my segment will only be around seven minutes. This does not bother me, as I actually want them to edit out the garbled and uninteresting bits. It should air around the beginning of the year, and I'll do a big announcement when it's no longer "confidential." I am hoping to milk this for a free trip to New York. (Today Show, are you listening?) Why New York? Because my sister lives there and I love visiting New York!
Today is Saturday, which means that both my sons have soccer games. However, neither of the games overlap and it's actually not raining! The no-rain thing is a rarity in Oregon.
Despite multiple sprays with enzymatic cleaner and deep cleaning with my new Bissell steam cleaner, my fantastic $15 Goodwill armchair still smells like cat pee. The problem is that the urine went into the crack where the seat and back come together, and it's next to impossible to reach. I love this chair and will continue to work on this problem. Meanwhile, I have upholstered furniture on my front porch, which is such an awesome and sophisticated look.
Now you — What's making you happy and pissed off today?
Katy Wolk-Stanley
"Use it up, wear it out, make it do or do without"
Click HERE to follow The Non-Consumer Advocate on Twitter.
Click HERE to join The Non-Consumer Advocate Facebook group.