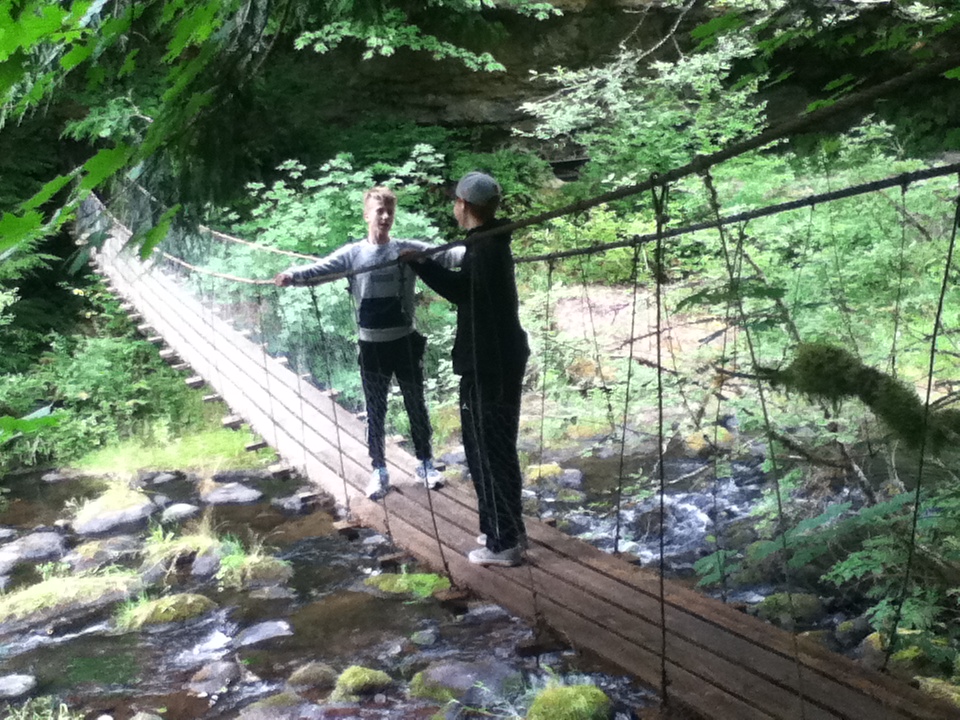 Five Things That Make Me Happy:
The cafeteria at work has added salmon to the salad bar, which mean that for around $4.50 I'm able to eat an enormous salad comprised of spinach, beets, garbanzo beans, edamame, zucchini, sunflower seeds and lots and lots (and lots) of salmon. (I should try and remember to bring some Tea Towel Salad Dressing from home for complete the perfection, as the commercial dressings are rather gelatinous and bleghy.) However, it's still delicious and worth every penny. When I win the lottery I'm going to install my own salad bar and become the healthiest person on planet Earth.
I follow The Title Wave Bookstore on Facebook, which sells used Multnomah County library materials in a historic Carnegie library. Every week they have a drawing for a $25 gift certificate, and last week I was the winner! I was excited beyond the realm of normal, as their usually unread magazines cost between 10¢ and 50¢. I ♥ magazines, but stay away from subscriptions due to the cost and wastefulness. I was able to bring home an armload of magazines that included HGTV, Domino, Mary Engelbreit's Home Companion, Architectural Digest, Dwell, Atomic Ranch; as well as the Woman's Day issue from last summer which featured an interview with yours truly. I also bought my own copy of  the Design Sponge at Home book and three paperbacks for my niece. And the best part is that I still have over $11 in credit, which I plan on drawing out as long as possible. Free used library materials? Katy likey!
My sister has been visiting with her children over the past week, and won't return to New York City for another week and a half. We've been having so much fun, as our sons are as thick as thieves, (as are we.) What's been great is that it puts my family in a vacation mindset. We're visiting places and doing activities we normally wouldn't do, and its added an element of summer fun to a time period when we have dull commitments here at home. The above grainy photo is from a day when we drove to a mutual friend's property outside of Portland. Gorgeous, and would not have happened if I weren't for my extended stay houseguest. Long live the staycation!
Although driving my older son to work and back would normally not be classified as a happy, I've actually been enjoying the one-on-one time together. (Even though I'm going through gasoline faster than Paula Deen goes through P.R. reps!) We have very interesting conversations and are listening to a library audio book of Harry Potter and The Prisoner of Azkaban. My son is normally not a big conversationalist, which makes this time very precious. He only has one more year before he launches into the world, so I'm really appreciating our time together.
McAllen, Texas has turned an abandoned Walmart building into a public library. Texas government rarely catches my eye for anything positive, so this story gives me a warm fuzzy feeling. There is hope in the world. Not to mention 124,500 square feet of delicious library goodness.
One Thing That's Pissing Me Off:
My new neighbors have decided that they love to sleep under the stars. Unfortunately this means they sleep on the roof of their garage approximately six feet from my kitchen window. I end up having to look at them sleeping when I'm doing the washing up in the mornings. I live in fear that I will accidentally catch them, ahem . . . in the act, and I'm starting to look forward to the rainy season. C'mon people, get a room!
What's been making you happy lately, and conversely what's pissing you off? Please share your thoughts in the comments section below.
Katy Wolk-Stanley