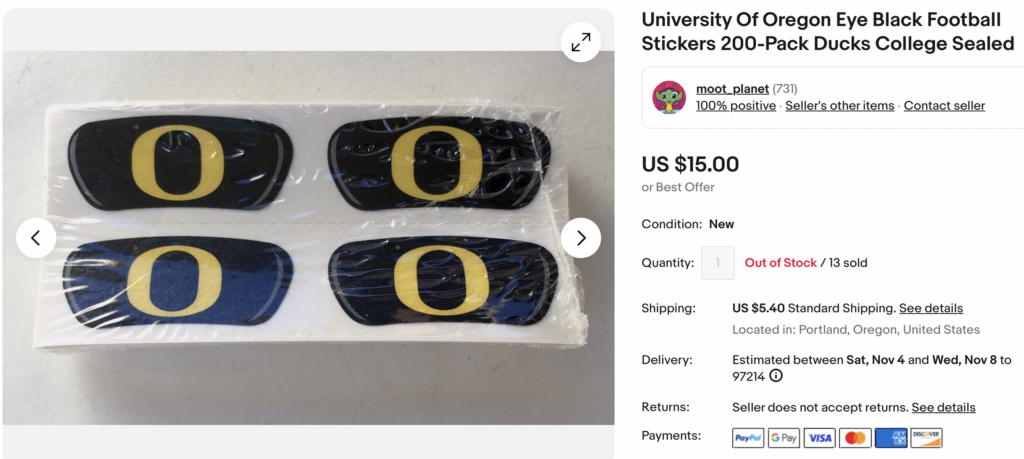 I finally sold my last set of University of Oregon football eye stickers. I thrifted a 13-pack of them at Goodwill a couple years ago for just $3.99. They were super easy to list, easy to store and certainly easy to mail out. Each set of 200 stickers sold for $15, which added up to $195 minus the eBay fees. Not as exciting as selling a single item for $195, but I'm happy to take it.

I also sold a pair of Sorel ankle boots on eBay for $40.

I used a Fred Meyer coupon for a free pint of Haagen Dazs vanilla ice cream and then scanned the receipt into the Ibotta app for an extra 50¢ back.

I processed the free apples from earlier in the week to make three pies, two of which went uncooked into the freezer. I'll bake them the day before Thanksgiving, so I consider this to be a favor to my future self. The third pie is for the here and now, as my present self also needs favors. Needless to say, the pie will be served with ice cream.

• I baked my enormous free pumpkin, which'll keep me in frozen purée until next year's free pumpkins come my way.
• I made a big pot of chicken soup using just two leg quarters from the 57¢/lb chicken I bought a couple weeks ago. (Don't worry, I froze them.) the last of some carrots, celery and an onion filled it out and just like every time I make soup, this one is best soup I've ever eaten!
• My son and I spent an evening playing gin rummy, and it was super fun even though he beat me soundly. I took the opportunity to point out that a simple deck of cards is the key to almost endless entertainment. I love playing cards and get really happy on those rare occasions when I can convince people to play with me. If not, I'm also satisfied to play solitaire.
• I saved the pumpkin seeds and will roast them for a frugal snack.

I didn't buy any tiny Lear Jets.
"Use it up, wear it out, make it do or do without."
Click HERE to follow The Non-Consumer Advocate on Instagram.
Click HERE to join The Non-Consumer Advocate Facebook group.