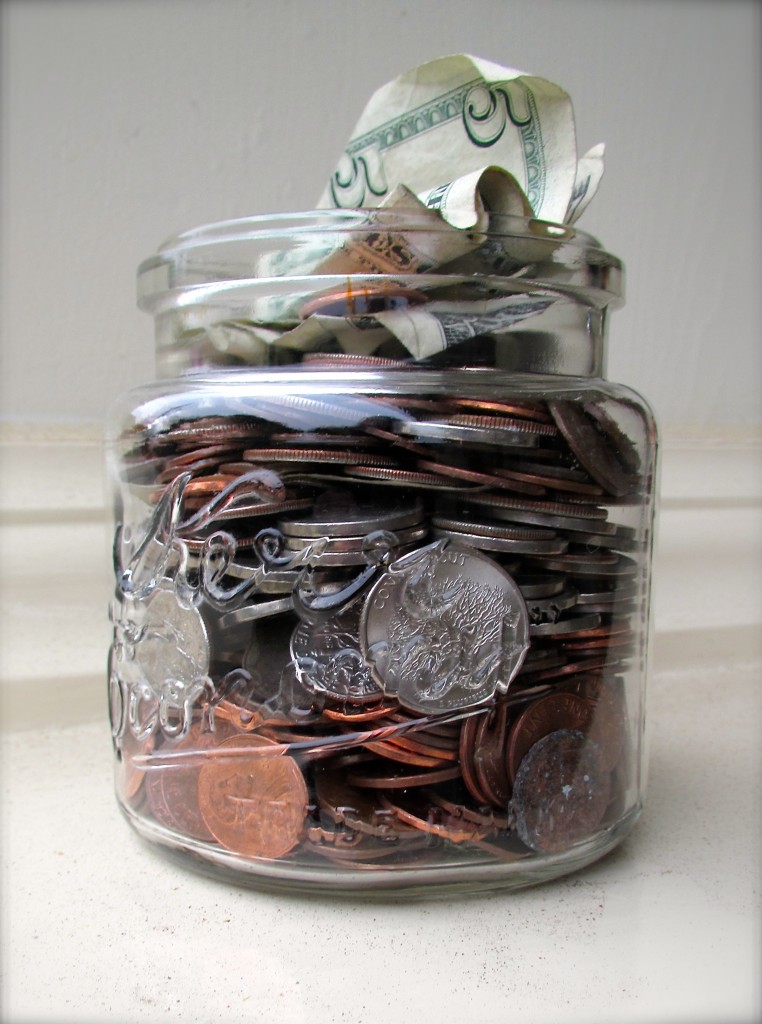 It's been a little over two months since I've written about the Found Change Challenge, but that doesn't mean that my adorable vintage canning jar hasn't been filling up with the pennies, nickels, dimes and quarters that are moving me towards my 2012 goal of finding $65 on the ground. (The cost to spend one night at my friend's beach cabin.) In fact, it's actually time to switch over to a bigger jar!
So how much have I found so far?
 $23.77!
Oh . . . this is not great, as I already had $20.83 when I counted it last on August 6th. But it's not something that I have a lot of control over, as sometimes I only find pennies, and then sometimes it's much more. (Yes, that is a five-dollar bill you see sticking out the top of the jar!)
At this point, it's going to be tough to meet my $65 goal, but you never know when a twenty-dollar bill might blow my way. However, the whole point of this challenge is that small amounts of money add up and do matter. Small amounts matter when they're spent, but they also matter when they're found.
Have you been keeping track of your found money this year? Do you have any great found money stories to brag about? Please share your stories in the comments section below.
Katy Wolk-Stanley
"Use it up, wear it out, make it do or do without"
Click HERE to follow The Non-Consumer Advocate on Twitter.
Click HERE to join The Non-Consumer Advocate Facebook group.
Click HERE to follow The Non-Consumer Advocate on Pinterest.