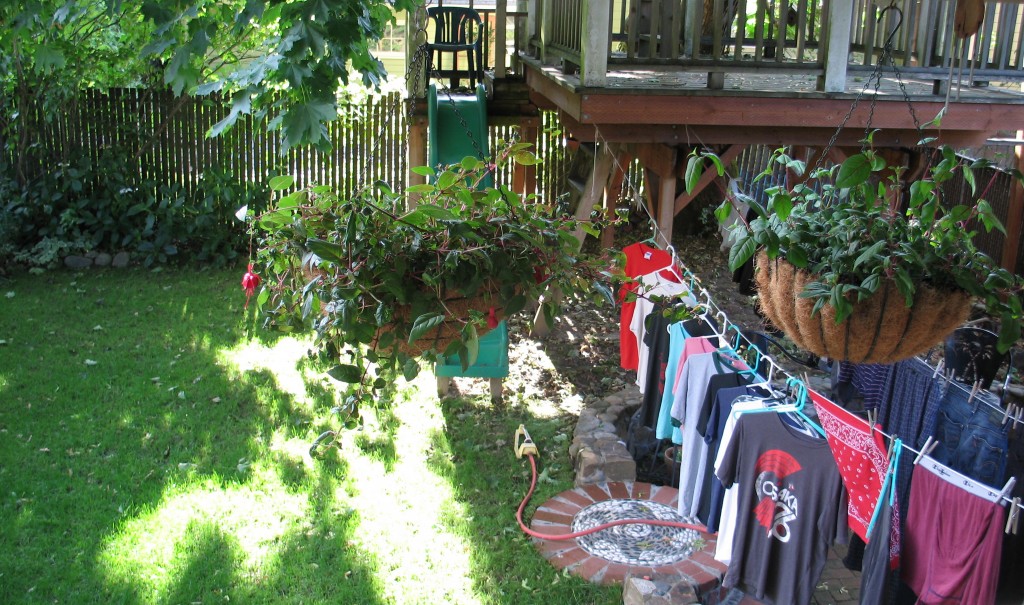 Today was an almost completely free day. I had no commitments other than ferrying my son to work and back. No responsibilities, no worries.
So what did I do? Did I book a pedicure and lunch? Did I go shopping?
No way! I luxuriated in a wash of enjoyable frugal activities, which means that I:
Washed two loads of laundry (in cold water using my homemade detergent) and hung them on the clothesline.
Sorted through my husband's nine pairs of identical worn out jeans. He was allowed to keep five. (Seriously, dude. Get a grip!)
Donated the jeans to Goodwill. (They sell worn out jeans to companies that manufacture blue jean insulation.)
Picked up a free cookie for my hard working son from Grand Central Bakery. (Their Tweets for Treats program is worth following!)
Talked to my next-door-neighbor about combining our garbage service. (This would save us both a bunch of money!)
Talked to my husband about canceling our home phone and going to cel phone only. (Again, a big money saver!)
Dropped off library books and brought home a huge stack for our looming vacation. This includes audio books for the car and trashy novels for me!
Watched two DVD episodes of  HBO's True Blood, which I have from the library. (Worry not, this was not with the kids.)
Watered plants with the cooled down leftover water from boiling corn on the cob.
Called my step-mother to ask if they still had my old desk from high school. They did, which means I found a free desk for my high schooler to use in his bedroom.
Made a reservation to stay one night at Great Wolf Lodge. This is not cheap, but I found an online code that gave us a 20% discount. Plus, we have the money saved up for it from our garage sales.
This was a fairly typical day for my family, puttering around and enjoying the process of our lives. And our frugal activities are so ingrained in our lives as to seem completely seamless.
Happy to have the freedom to live frugally. Happy to be me.
Katy Wolk-Stanley
"Use it up, wear it out, make it do or do without"