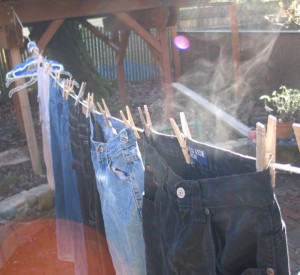 The Beauty of Line Dried Clothing
Portland, Oregon has been enjoying a bizarrely sunny and warm week, which has startled us Oregonians who are not used to that big bright round thing in the sky. We've shed our rain gear and looked for any and all opportunities to enjoy a little outdoor activity. For others, this may mean long bike rides and hiking, for me it means the luxury of line drying my laundry in the bright and sun drenched outdoors.
Ahh . . . .
Although we also air dry our laundry indoors, a load can take up to three days to completely dry, and we simply do not have a large enough wardrobe or backup linens to wait that long. But this unseasonably warm weather has brought back the deliciousness of air dried towels and jeans.
I was hanging a load of laundry on the line this morning, when I noticed a science lesson in the making as the evaporation of water molecules steamed from the blue jeans so neatly clipped on the clothesline. Like a 1970's Blue Oyster Cult rock concert, I was entranced; and I stood there watching the mystical swirling water molecules wafting up to the sky.
A reminder than when I throw a load of laundry into the electric dryer, I'm paying for evaporation.
I ♥ my clothesline.
The Art of Haggling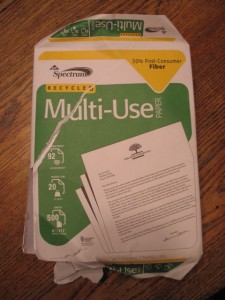 My household finally worked its way through a full ream of paper, which is high drama to my sons, as they will often draw for hours.
So my younger son and I walked over to the Fred Meyer grocery store which boasts a few aisles of office supplies. Oddly, someone had opened up every package of paper, and had even torn the thick paper covering from both the reams of recycled paper that I had wanted to buy.
I picked up the package that was least ripped and brought it to the register. I politely pointed out that this item was damaged, but that I still wanted to buy it. The clerk offered 10% off, but I asked if it were possible to get more of a discount. He then called over a supervisor who asked me what I thought would be fair. I suggested a 25% discount, which she happily agreed to. I payed $4.50, which was $1.50 off the $6.00 asking price. The entire transaction took maybe, two minutes, which would equal $45 per hour. ($1.50 for two minutes work, times 30.)
Tax free earnings baby, tax free!
Who says the art of haggling is dead?
Katy Wolk-Stanley
"Use it up, wear it out, make it do or do without."