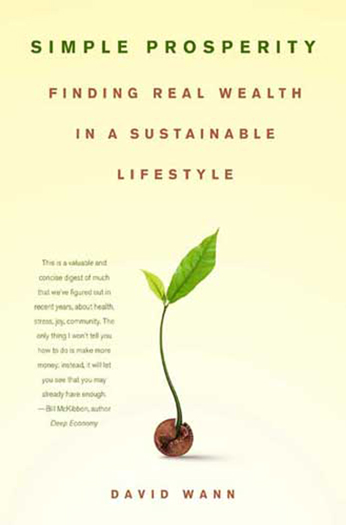 I spent my day driving a friend around to area thrift stores, and although I try very hard to be discerning about what I bring into my house, I did buy a copy of Dave Wann's Simple Prosperity: Finding Real Wealth in a Sustainable Lifestyle. Which means it's time for another book giveaway!
Long time readers will recall that Simple Prosperity was used for The Non-Consumer Advocate book club in 2009. A great idea that proved beyond my time/energy constraints. (Seriously, I cringe with shame whenever I think about how I dropped the ball on this one.) However, I'm still a great fan of this book and now have a genuine preowned Goodwill copy of this book to use as a giveaway!
To enter to win your own personal copy of Simple Prosperity, enter your name and one change you've made in your quest for simple prosperity in the comments section below. The winner will be randomly chosen Wednesday, June 1st at 9:00 P.M. PST. U.S. residents only, please enter only one time.
Good luck!
Katy Wolk-Stanley
"Use it up, wear it out, make it do or do without"