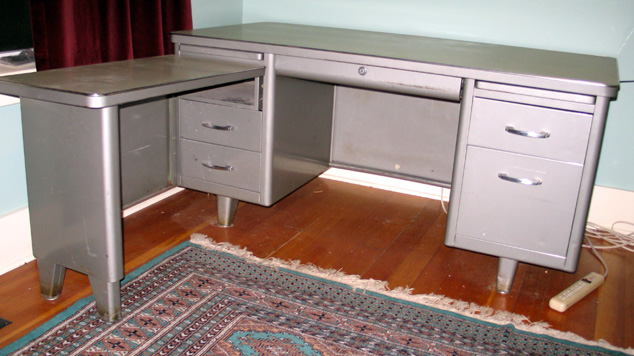 Regular Non-Consumer Advocate readers already know that I'm a big fan of selling unwanted household items on Craigslist, but what you may not know is that my husband is a closet addict as well. And while I was busy birthin' babies at work yesterday, my husband sold a monstrous $35 P.G.E surplus store desk for the lovely inflated price of $150. Although I respected the classic industrial lines of this midcentury desk, it weighed more than an elephant on a brownie bender, was completely inflexible as to where it could be located, and made furniture arrangement awkward in our spare bedroom.
It had to go.
So bye-bye, behemoth of a desk. You were useful in my husband's 1997 commercial photo studio, less so in our 2011 spare bedroom. Say hello to your new home in a real estate office.
A little info on the desk:
"The Modernaire was introduced in 1948 from the Invincible Metal Furniture Company. It became the signature product line of the company for the next 50 years and is still produced today as the "M-Line desk", which retails for $1200. The patent numbers place the desk in the 1950 and 1959 range."
Do you have any cluttersome and potentially profitable objects in your home? Give someone else the opportunity to find use for them, while plumping up your bank account. Seriously, it's a no brainer.
Katy Wolk-Stanley
"Use it up, wear it out, make it do or do without"