My friend Lise is working on a project that involves photographing hard liquor in the state of Washington. Seriously. So she roped me into going with her by promising me some tasty Washington state thrifting.
First we had to look at booze. And yes, that is a $41.99 jar of moonshine soaked maraschino cherries in the background. (Who are these marketed to? Hillbillies with a hankering' for a sundae?!)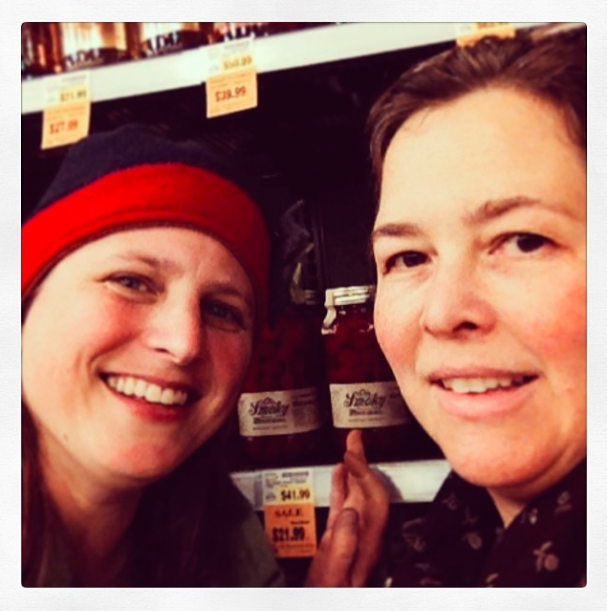 Although I bought hardly anything, I did see spy a few thrifty goodies. I really enjoyed this vintage ceramic garlic holder. It's hard to see in this photo, but his cap reads "Garlic."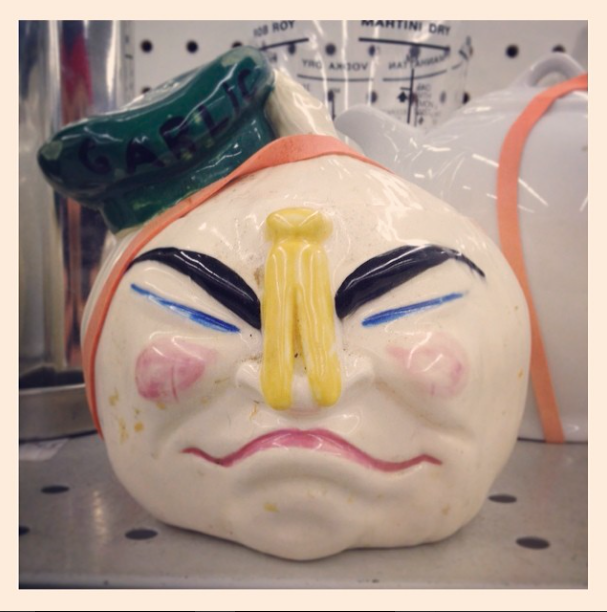 I also kind of liked this "Nobody's Perfect" needlepoint piece. Although I do feel it was a lost opportunity for an old fashioned "Pobody's Nerfect."
So much funnier.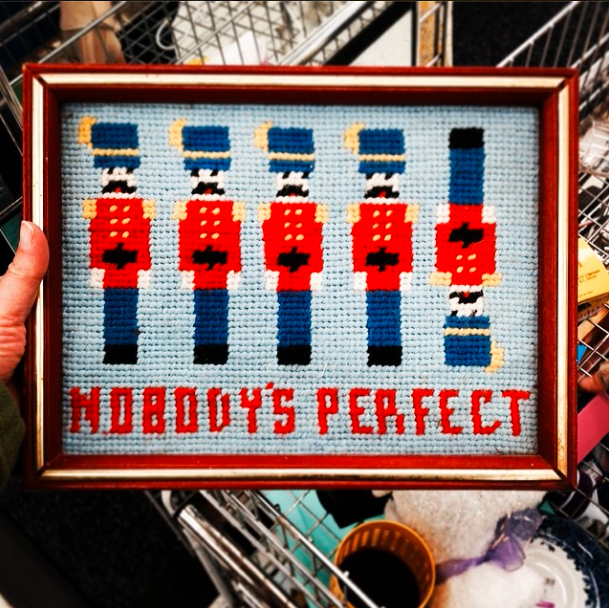 Our next stop was the Value Village across town.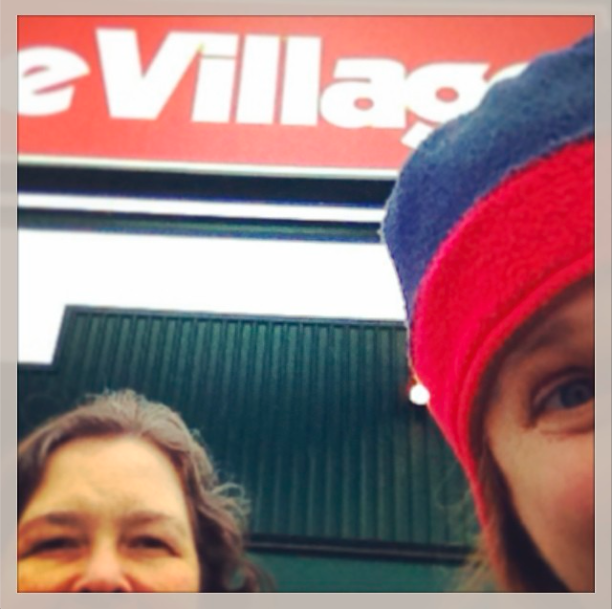 The two of walked in and immediately spotted this entire rack of nylon patchwork denim printed vests. We both shed our outer lays and posed for multiple photos. Not sure how many people were staring at us, but it was worth any potential embarrassment as these vests were ah-mazing!
This photo is making me laugh really hard.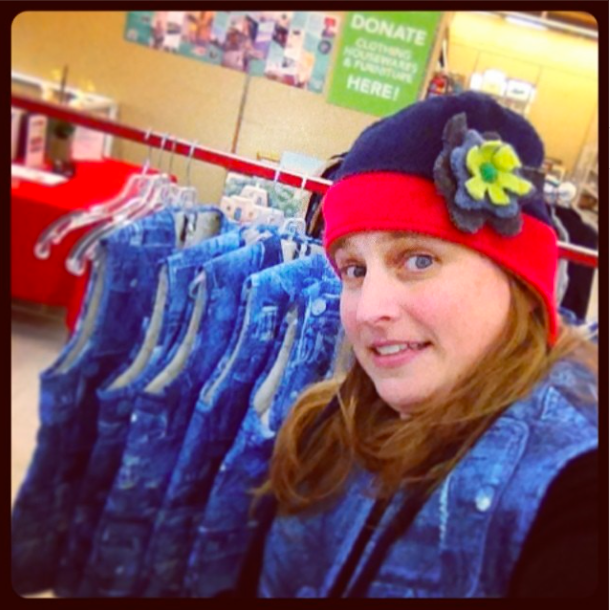 I was tempted by this $9.99 midcentury nightstand, but the wood was super dried out, and not the highest of quality.  I still have a number of Goodwill items that have yet to sell, so I'm holding off from buying for resell until I unload what I already have.
However, with comments like "You left it?!?"  and  "Go back!"  my Instagram followers felt that I made the wrong decision on this one.
The one purchase that required zero deliberation was this $6.99 pair of size-8 Badgley Mischka peep toe satin and rhinestone bridal pumps. Since these sell on Zappos for $225, this was a no brainer. I will put these up on eBay for some lucky bride. I am partial to Birkenstocks, Danskos and Keens, but then again . . . I'm an girlie outlier.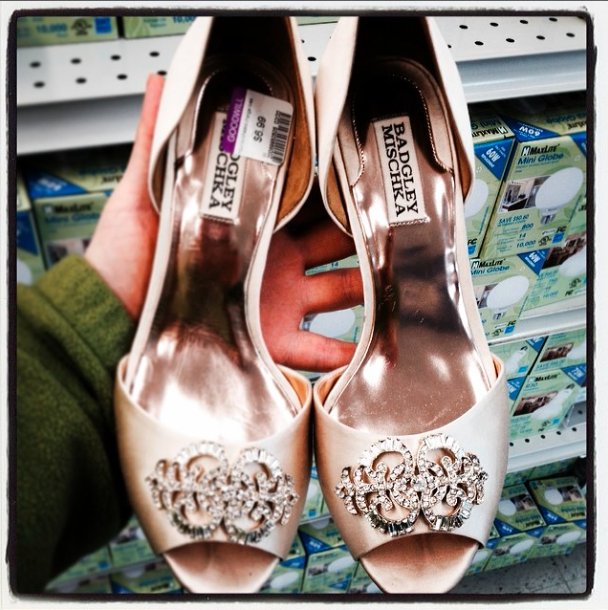 And no trip to Goodwill would be complete without obligatory florist-marble-glued-onto-stuff. I beg of you, pleeeeeaase stop creating this craft. It is ugly, it has always been ugly and it will always be ugly.
Ugggggllllly!
These horrible flattened marbles are clown expectorate. Think of it as a splatter pattern from a clown sneeze.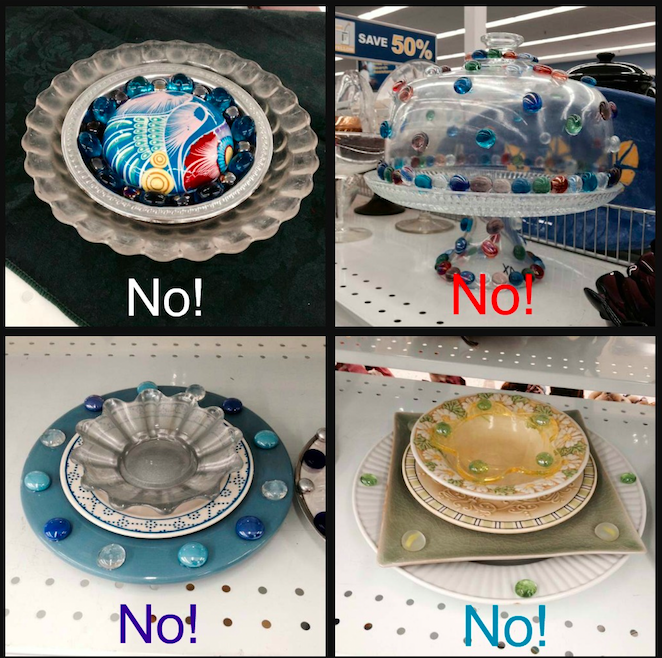 No!
Katy Wolk-Stanley