It's time again for Goodwill, Badwill Questionable-will, where I share some of the rather spectacular things I come across during my thrifting adventures.
First up is a very special treat for you. Why? Because it combines steampunk with snails, clocks and monkeys. Plus, it's priced at $19.99, which I would expect from a priceless antique, but this bizarre juxtaposition of whatnot is plastic, as can be seen by the broken off right foot.
Truly baffling in so many ways.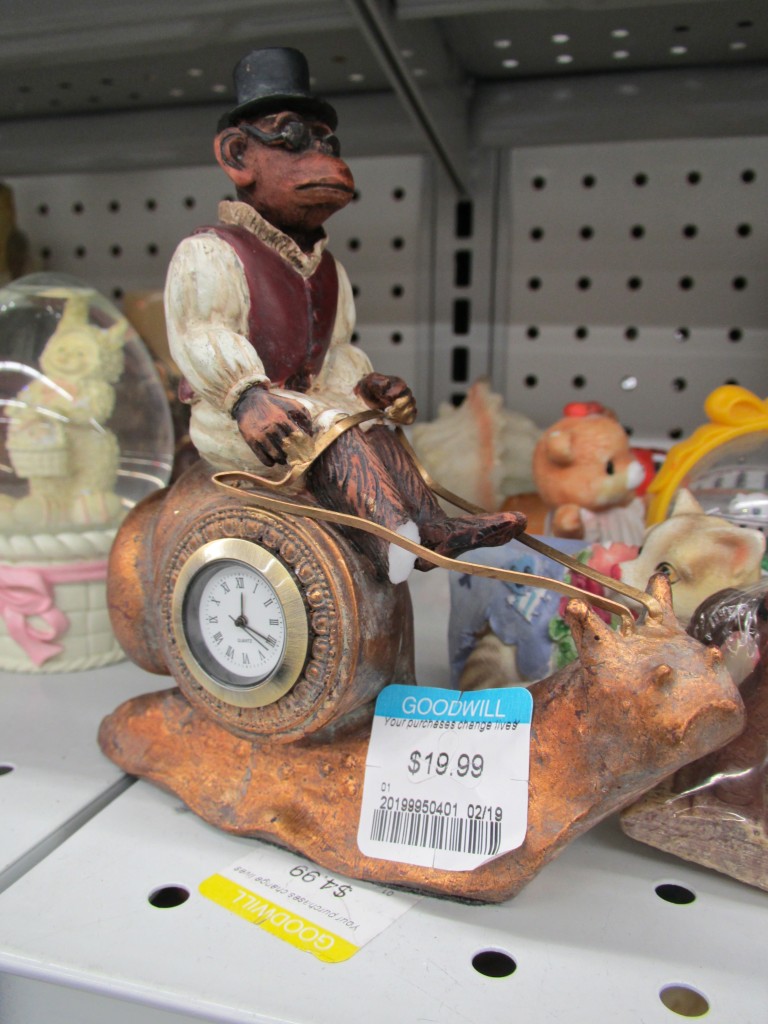 Next up is a pepper shaker sporting glued on florist marbles and wire. I have asked you before to stop gluing florist marbles onto stuff. It is ugly, it has always been ugly and it will always be ugly. Nobody wants to receive it as a gift, not your gramma, your aunty, your momma, your mammy. (<– Macklemore quote!)
I beg of you, please.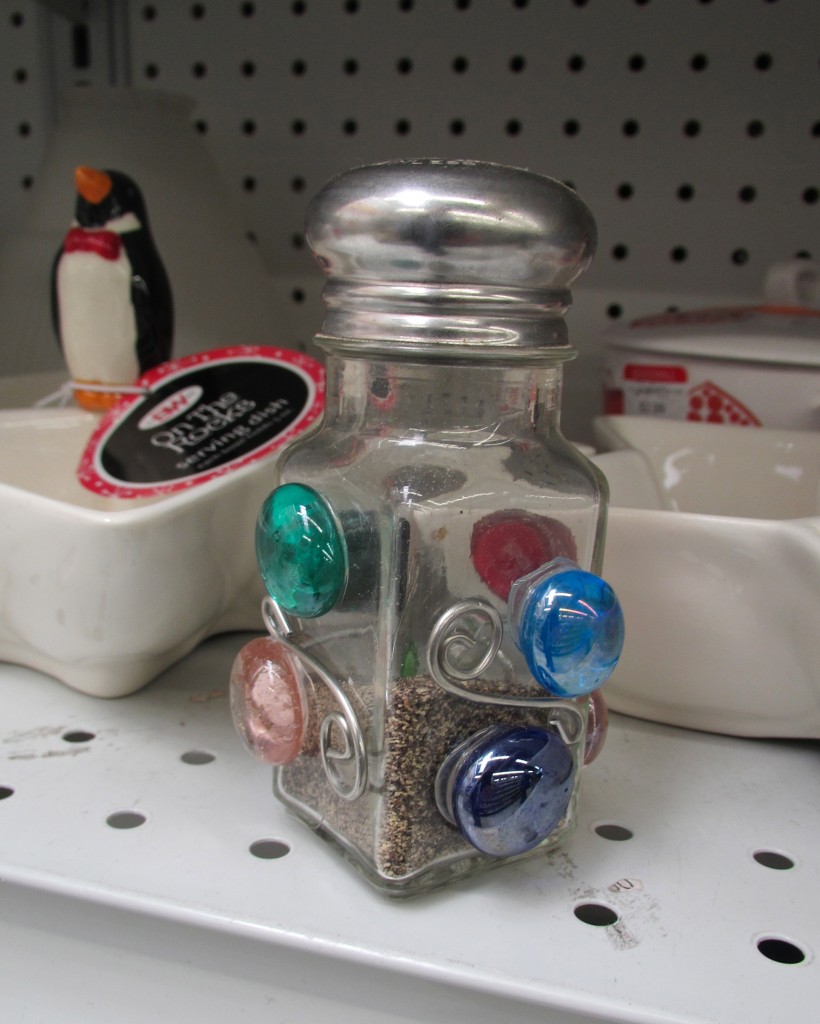 Remember how I always come across targeted savings banks? Well today was no different from any other day. (<– Passover reference, yo!)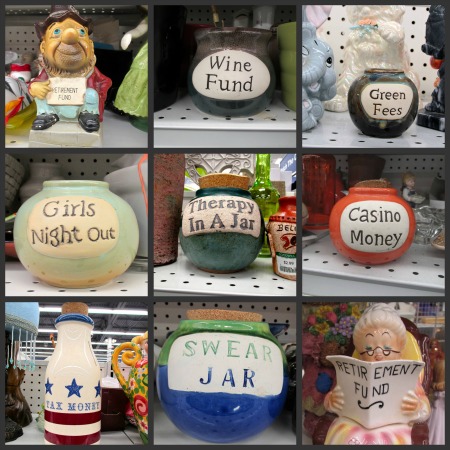 My old friend Hobo Warren Buffett made a repeat appearance, this time sporting a rosier nose and a dirtier plinth. (Seriously, compare him to his doppelgänger above.)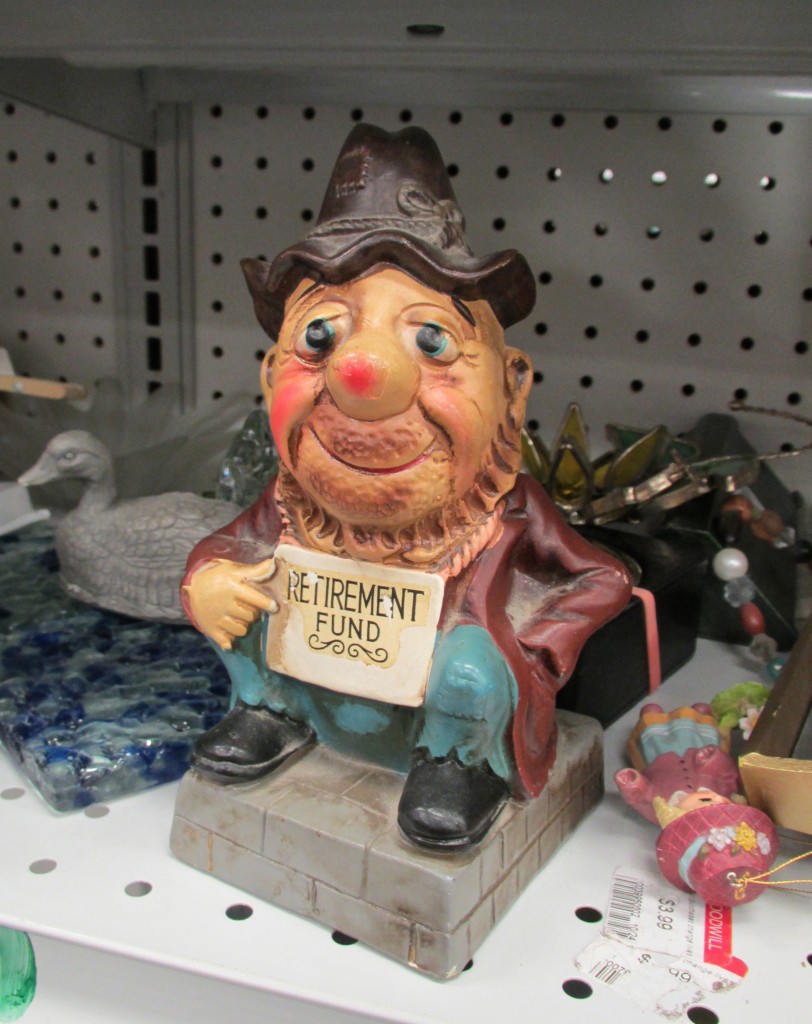 Not to be outdone is the new-to-me Trip Money bank. She fits quite nicely with her brethren:
Retirement Fund
Wine Fund
Green Fees
Girls Night Out
Therapy in a Jar
Casino Money
Tax Money
Swear Jar
They like to travel in groups.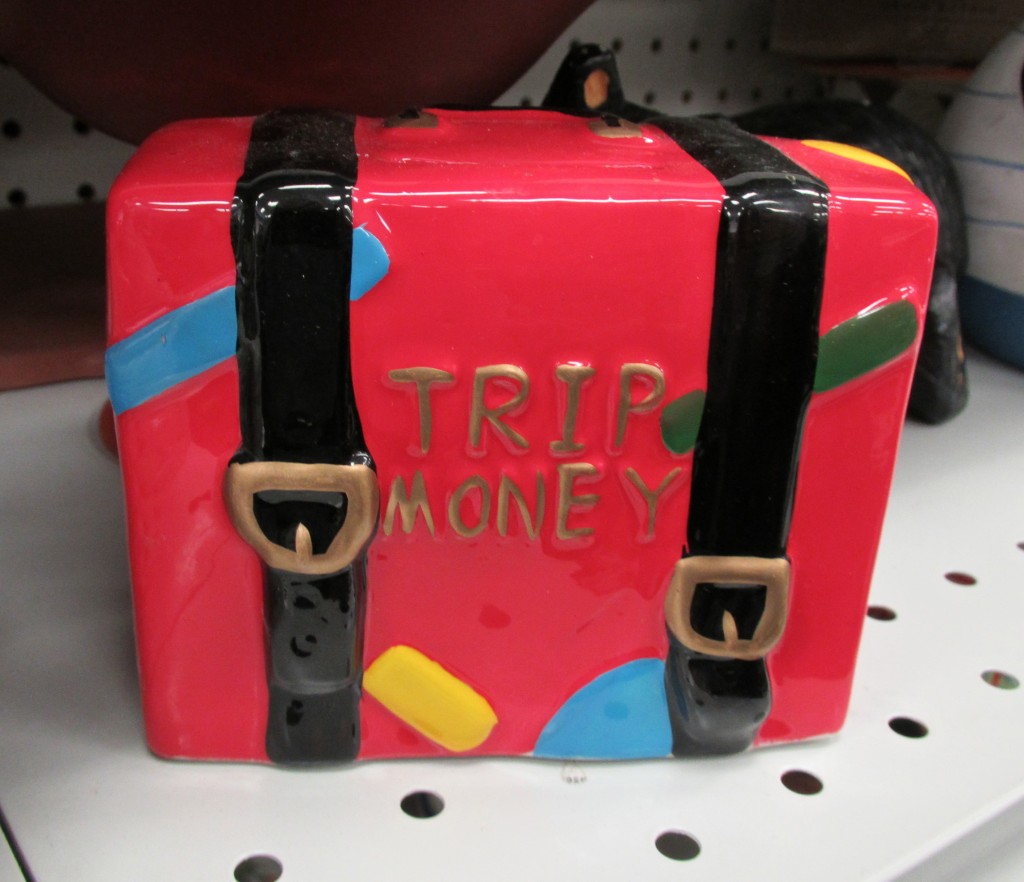 And although "Katy" is far from a rare and exotic name, "Katy with a Y" is. Which is why this placard caught my eye. Luckily my younger son was present to snap a quick photo of me posing with my namesake. I did not buy it, as I have come to the point in my life where I can procure that shopping rush from photographing instead of buying fun but unnecessary (an unwanted) items.
A key towards my goal of an uncluttered home.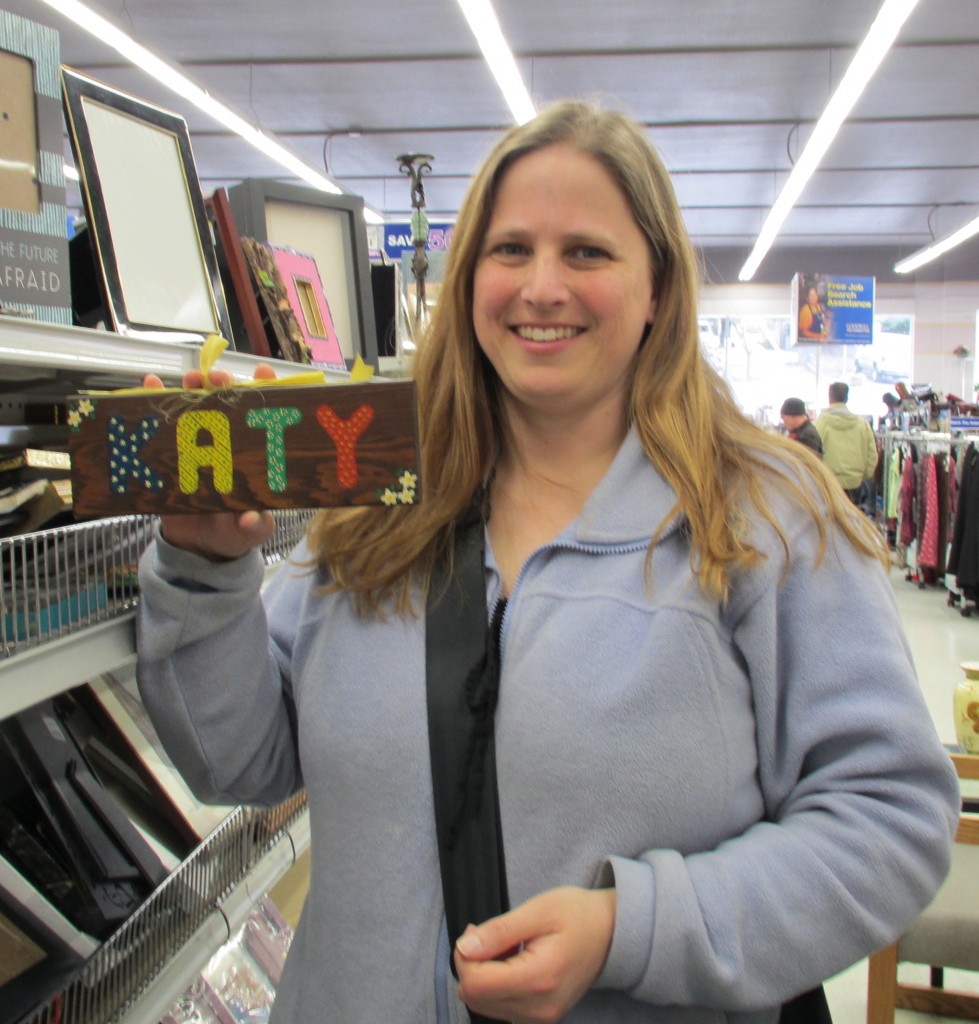 I saved the very best oddity for last because that item, my dears is:
Flamboyant New Gingrich!
You know, from how Liberace would display a photo of Newt.
Rhinestones? Check.
Cloisonné? Check.
Exotic Key West-style bird? Check.
Newt Gingrich with a come hither hand gesture? Check.
Man, do I love Goodwill!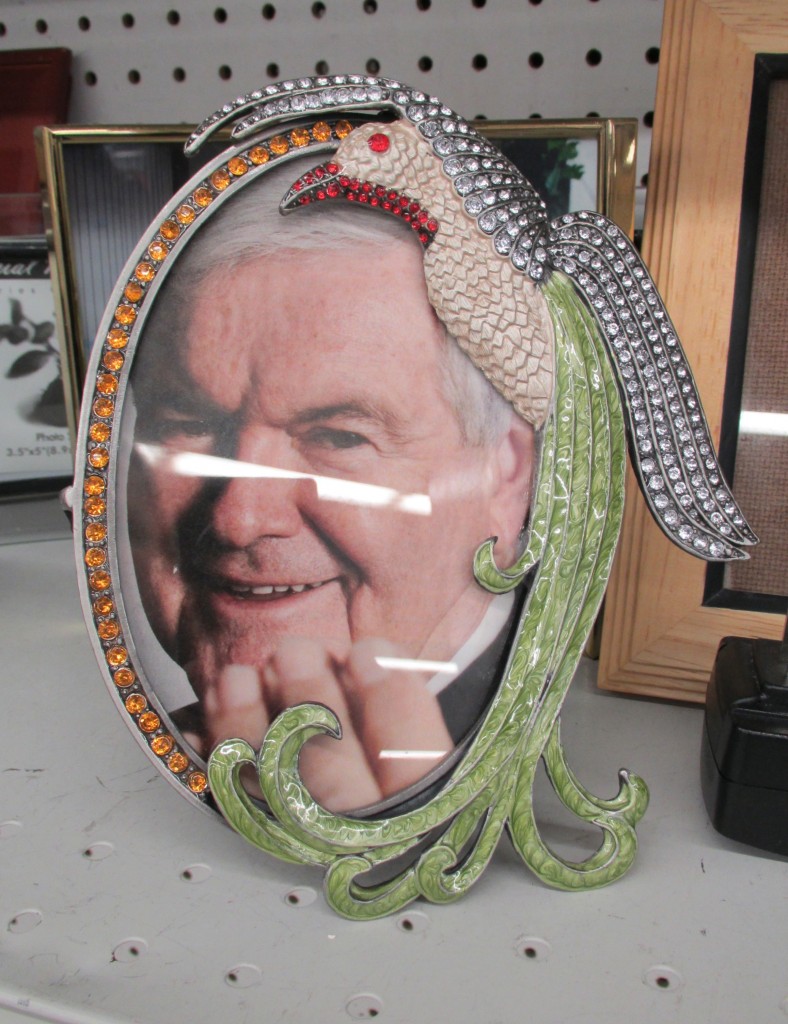 What did I buy?
Just this small Jonathan Adler-esque flower pot. I have been wanting to start adding indoor plants to my house ever since I read The Crunchy Chicken's Non-Toxic Avenger book. You know, for purifying the air. So why not do it in style?
The flowerpot was priced at $2.99. However, it was half-off as it had a purple tag. (This week's 50%-off color.)
And $1.50 is well within this Non-Consumer Advocate's price range for impulse purchases.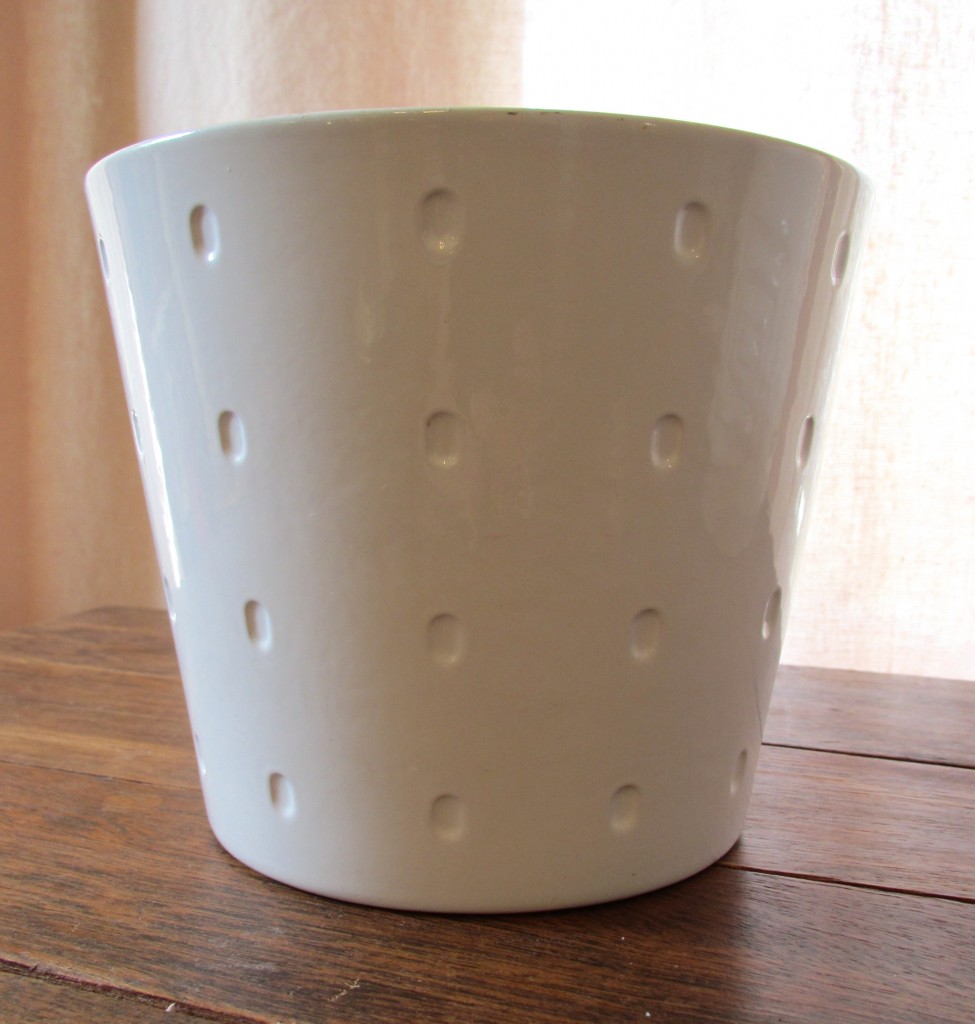 See how well it pairs with my Adler-esque lamp?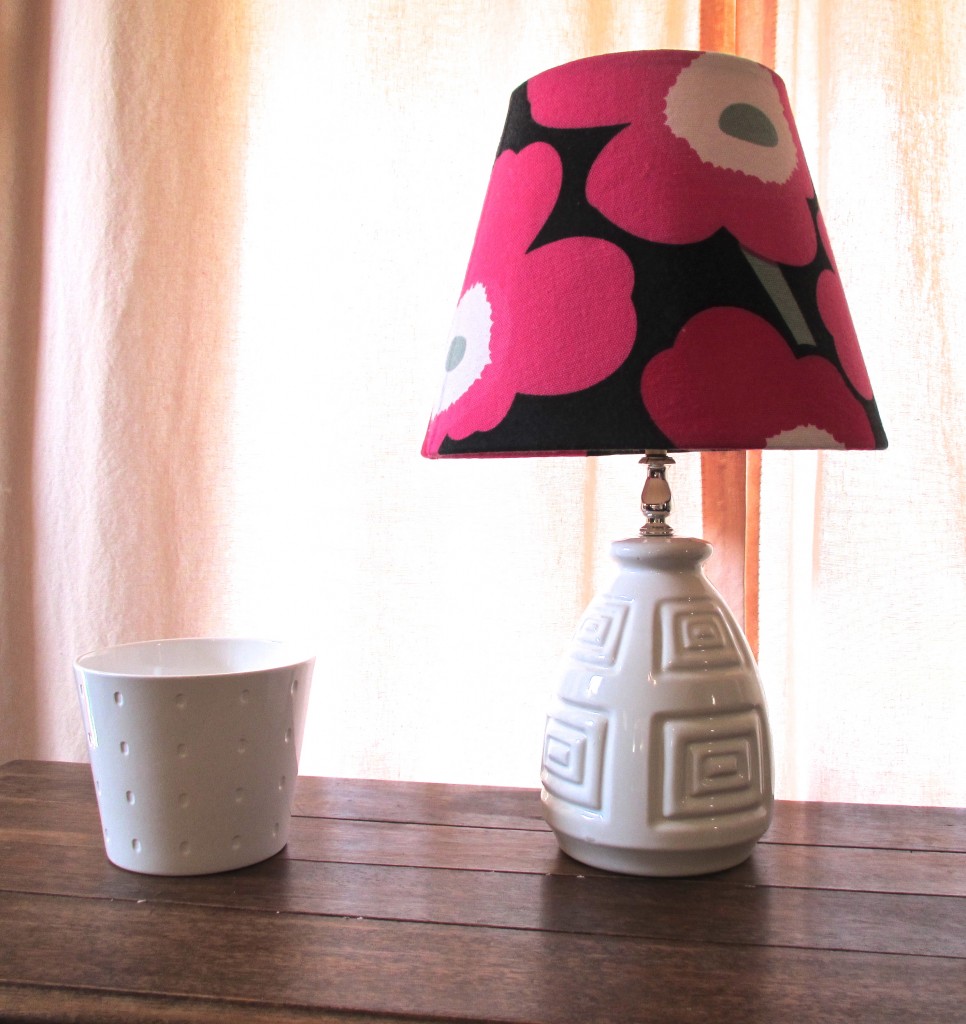 Mind you, it's no flamboyant Newt Gingrich, but a girl can't ask for everything in life.
Have you been finding treasures in your thrift shops lately? Please share your stories in the comments section below.
Katy Wolk-Stanley