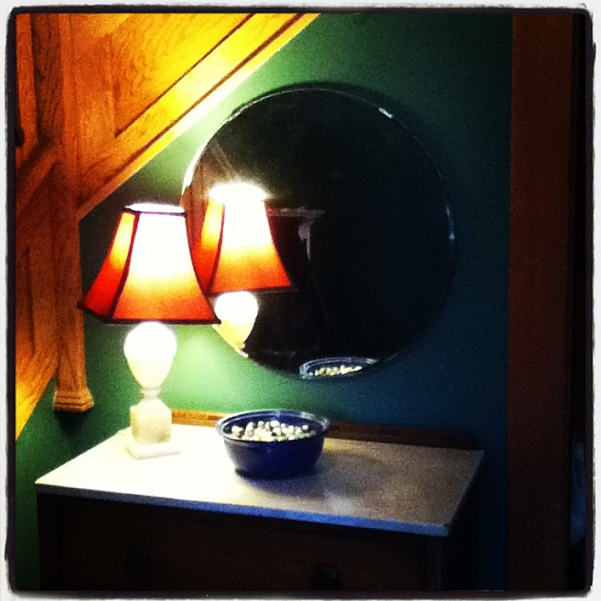 As a Non-Consumer, there's a built-in lag time between the moment that I decide I want/need something and when I get it. Often times that lag time cools the want/need to the point where I realize that the whatzit is actually unwanted/unneeded, which is awesome, (not buying stuff = huge savings) but more often I'm able to figure out a creative solution to the original want/need dilemma.
The extra time to come up with a creative solution doesn't occur if I go the Target/Home Depot/Ikea route.
My most recent example of this was a mirror and some mirror clips. You know, those clippy-things that allow you to attach an unframed mirror directly onto a wall.
Let me start at the beginning.
My teenage sons and Japanese exchange student were invited to play an evening of laser tag, which was pretty far from the house. There was no way I was going back home while they played, so I stuck around while the kids did their thang. (This is totally unrelated, but I'm going to share it anyway. I searched and searched the term "Ultrazone coupon" ahead of time and came up with nothing current. However, I learned that they could have received a free game apiece (a $15.00 value) if I had just brought their reports cards along to show that they receive "A's" in school. Next time I'll remember to search "discount" and not just "coupon." Argh!!!)
Luckily, there was a Goodwill across the street, so I forked over the $45 for the three boys and walked over to the thrift shop. (Other moms were choosing to play laser tag with the kids, but I explained that "I would rather spend $15 at Goodwill than $15 on laser tag any day of the week." This garnered me a strange look or two, but I'm used to that.)
I'd never been to this particular Goodwill before, and my expectations were low as the surrounding area is neither residential nor affluent. (Goodwill keeps costs down by selling stuff where it's donated.) I was mostly killing time, and I would have been happy to leave empty handed. However, there was a vintage round beveled glass mirror that caught my eye. Priced at only $4.99, I knew I would regret not buying it.
Did I need another mirror, did I picture where it would even go? No, but I knew I could always resell it at a profit if I changed my mind later on.
The mirror sat in the living room for a few days before I realized that it would look perfect on my entryway wall. This wall is all angles, so a square or rectangular mirror doesn't work, but a round mirror would be perfection. For the past six years or so I've just leaned an antique rectangular mirror again the wall, but this had been a temporary solution.
I was dropping a different mirror off to be cut yesterday and planned to buy some metal mirror clips. Unfortunately, the clips were priced at $22 for four. (Gulp!) So I chose the plastic clips, which were free. I didn't want to use plastic clips, as I felt they would cheapen the look. But an alternate solution came to mind, which was to switch out the plastic clips for the nice metal clips that had come with the full-length mirror in my son's room.
Plastic clips on mirror in son's room = not noticeable.
Plastic clips on mirror in entryway = very noticeable.
It was my Oprah ah-hah moment. (Although neither life changing nor inspirational.)
Luckily my husband was off from work yesterday, so together we switched out the clips and installed my new Goodwill mirror, which I do have to say gives the space a cool art-deco vibe.
Wait . . . what was my point here?
Oh yes, non-consumerism forces creativity.
If I had just gone to Target/Home Depot/Ikea I would have likely found what I needed. However, I wold have spent a fair amount of money and I would not ended up with a unique look for my home.
Give your wants and needs time to percolate and a creative solution will likely present itself. 
Katy Wolk-Stanley