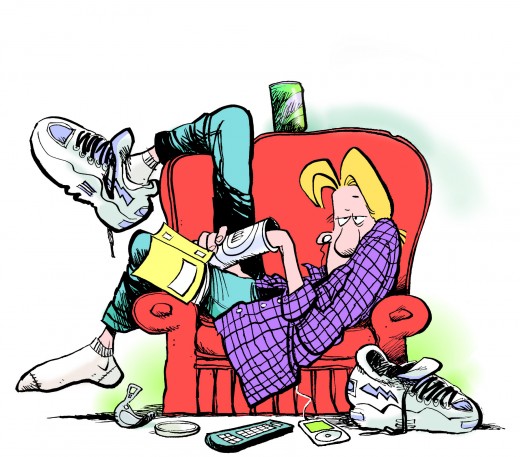 I have two sons. One loves to clean and organize his room, and the other is like a cliche of a cliche of a cliche of a teenager. Clean laundry never gets put away and all horizontal surfaces are cluttered with Japanese souvenirs, candy wrappers and enough dust to create the world's largest dust bunny. However, this kid is 17 years old, and I am not going to be that mother who cleans his room while he's at school.
Hell, no!
But that doesn't mean that I've given up. Just last night I trapped him in his room and forced him to go through his clothing and decide what was ready to go to Goodwill. (His younger brother has a completely different sense of style, so hand-me-downs are rarely welcome.) Yes, there was whining and complaining, but I didn't let that stand in my way.
Whining will happen. This is not a barrier to the process.
One at a time, we dumped each dresser drawer out onto his bed and made individual decisions about what to keep and what to donate. My son likes to hold onto old T-shirts to wear as "pajama shirts," but this practice has resulted in thirty or so designated sleep shirts, which is just ridiculous. We decided that seven sleep shirts is a reasonable number, which gave my son a concrete way to get rid of the extras.
Concrete is key. Saying "how about we organize your clothing" is worthless. But saying "choose seven T-shirts to keep as pajama shirts" gets actual results.
Then drawer by drawer, we culled out the stretched out underwear, the giveaway T-shirts, the ripped-knee jeans. We then moved over to the closet and removed the too-small sneakers, the Homer Simpson hoodies and more giveaway T-shirts.
Task thus completed, there is suddenly enough room for his clothing, and favorite items have been located and are no longer hidden by the stuff my son would not be caught dead in. I'd been thinking my son needed a bigger dresser, but it turns out he just needed less clothing.
And yes, there were probably at least seven occasions of of "Are we done yet?!"
My plan is to go from category to category in his room to declutter and make room for actual functionality, (crazy, right?!)  until we rid his room of all the crap that mysteriously accumulated over the years. And because my son was involved in the process, he will have the tools to go through this process on his own.
Supposedly.
Steps for decluttering with a teenager:
Involve the teen as much as possible. Give them ownership of all decisions. Do not take their belongings away without their permission.
Strive to make the decision concrete rather than vague. "Choose seven sleep shirts" rather than "Get rid of some of these."
Tie the activity to the goal. "When your room is decluttered, then you'll have space for displaying your favorite doodads, spreading our your homework or practicing your Gangnam-style dance moves ."
Choose a slow pace. You or I might enjoy an entire day dedicated to decluttering, but your teen will not. An hour at a time is a good guide. Those hours will add up and eventually make a difference.
Remember that the teen's brain is not fully developed, so expecting logical behavior is highly discouraged.
Clear enough for you? Good, then you must be an adult.
Have you tried working with your teen to create a clean and organized space? Please share your ideas and tips in the comments section below.
Katy Wolk-Stanley
"Use it up, wear it out, make it do or do without."
Click HERE to follow The Non-Consumer Advocate on Twitter.
Click HERE to join The Non-Consumer Advocate Facebook group.
Click HERE to follow The Non-Consumer Advocate on Pinterest.