Our whole never ending fixer-upper house has been a lesson in learning as we go since day one. Sadly, this often means that it's only when a project is finished that we then know how it should have been done. Also, a number of initial design decisions were made pre-internet, which meant that there was no way to find non-Home Depot resources. (Okay, perhaps not officially "pre-internet," as MIT guys and Al Gore were surely surfing the web in 1996. But I sure wasn't.)
Take our spare bedroom closet as an example. It's oddly large for a 1914 house, and it was only when we toured a neighbor's twin home that we realized that half the closet space was meant to be a linen cupboard, accessible from the hallway outside our one and only bathroom. It was one of those smack-yourself-upside-the-head ah-hah moments, as we realized that of course our house should have had a linen cupboard.
It was the "duh" heard around the world.
However, my husband had already spent a significant amount of time outfitting this large closet for optimal storage, and there was no way we were going back to the drawing board. Unfortunately, in all our planning, we never installed a door on the closet. (Why? Maybe the whole we have tiny kids and work exhausting jobs thing got in the way.) So even though the room is super cute, the extra suitcases, vacuum cleaner and whatnot are always in view.
Fast forward 15 years, and  I was ready to tackle this project. My inspiration? This photo of a curtain installed inside the closet from Young House Love: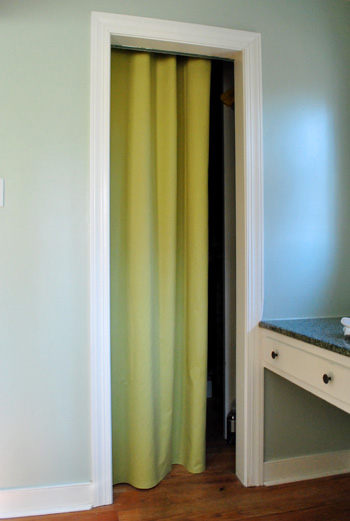 And a lightbulb went off. I could totally do that!
So I dragged my friend Sasha to the fabric store, (and Ikea) and bought the fabric, Heat'n Bond and curtain clips. I already had an extra curtain rod, which I shortened using a pipe cutter. (Fun!) An evening spent measuring, cutting and ironing was all it took to complete the project.
Here's how the room looked Before:
And here's a detail shot, of all the glory of our visible closet paraphernalia:
And here's the After:
And here's how the closet looks with the curtain pulled to the side:
And here's what the curtain looks like inside the closet:
This is the perfect kind of project for a renter, (or frankly anyone who's not up for the job of proper door installation.) In the end the project cost me around twenty bucks. And if I had been patient about finding secondhand (or free) fabric, the cost would simply have been the curtain clips and the Heat'n Bond. And if my mother hadn't absconded to Nebraska with her sewing machine, that last expense could have been eliminated.
Now . . . what should I do next? 😉
Katy Wolk-Stanley
"Use it up, wear it out, make it do or do without"
Click HERE to follow The Non-Consumer Advocate on Twitter.
Click HERE to join The Non-Consumer Advocate Facebook group.