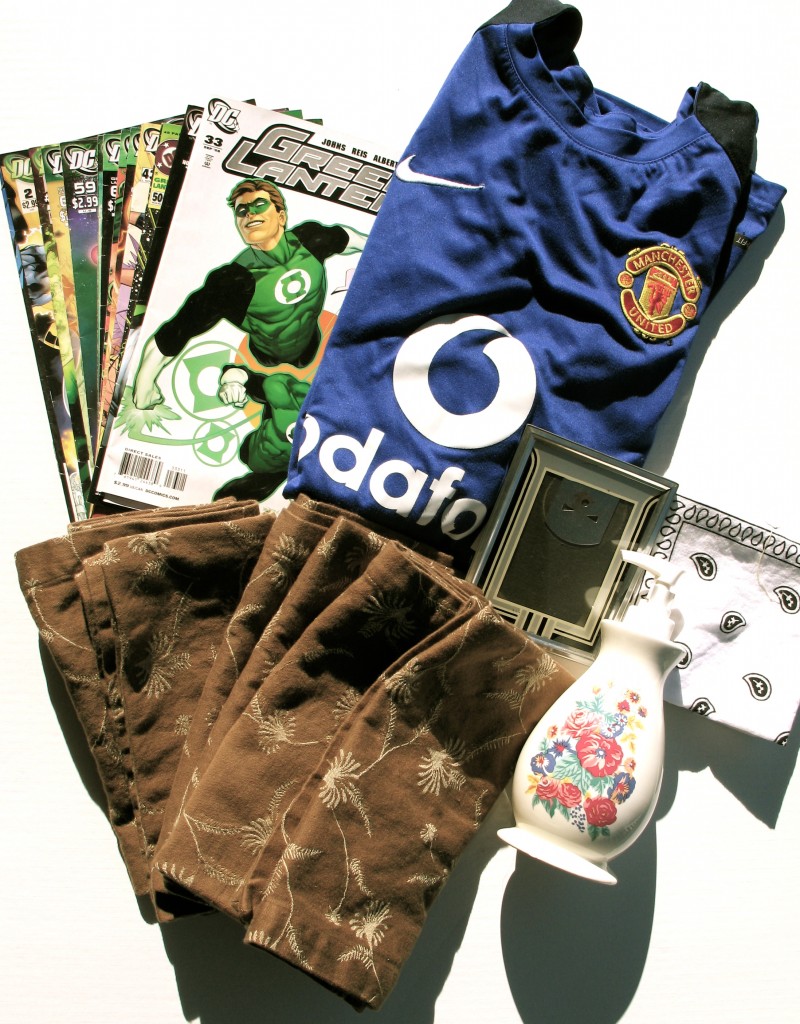 As a self-proclaimed "Non-Consumer," I should probably keep this to myself, but man, do I love shopping! Browsing the aisles, scanning every shelf, keeping an eagle eye out for that elusive bargain. Pure heaven. And I can't be certain, but there may be some serotonin release and iris dilation.
Wait . . . you do know that I referring to thrift store shopping, right?
Just yesterday I took my younger son out for an afternoon of thrifting. (From the verb "to thrift.") He's been indoctrinated for almost 14 years, so he was excited to be included in the day's shenanigans.
Our first stop was going to be a certain poorly frequented, (but well donated) Goodwill, when we spied a sign for a school rummage sale. The selection was mostly little kids stuff, although I did pick up a new looking bandana for 25¢. (I use bandanas for school lunch napkins, and as can be expected, there's a certain attrition rate.) There was also a largish old beveled mirror for $2.50 that I was thinking about buying, but then a woman butted in to tell me that she'd just bought it.
Bitch. Bless her heart.
The Goodwill which had been our original destination did not disappoint, as they had a large collection of comic books priced at five-for-a-dollar, instead for the normal 99¢ apiece. My son was able to find ten Green Lanterns, which made him a happy boy indeed. Me, I found six new looking Sur La Table cloth napkins for $4.99. I almost didn't buy them, as this was not exactly a screaming deal, but our dinner napkins are starting to look a bit ragged, and a fresh infusion of pretty napkins would really smarten up the ol' dinner table.
A quick stop into a small church thrift shop garnered me a sweet antique reverse painted art deco frame for 50¢, and perfectly matches a collection I already have. (I plan on arranging them all together and filling them with black and white photos of the family.)
Our last stop was the main Goodwill where my son found a Manchester United jersey for $4.99. (He pretty much only wears soccer jerseys these days, so this was an awesome find as a new one costs $80!) I bought a ceramic soap dispenser for $1.50, as I'm wanting to make a vintage Mason jar soap dispenser and I need a pump. However, I've decided to return it, as instead I'm going to look through our various lotion bottles to cannibalize from one we already own. (Don't worry, I'll post pictures when I'm done with the project!)
In all we spent:
Bandana — 25¢
Comic books — $2.00
Sur La Table napkins — $4.99
Soccer jersey — $4.99
Soap dispenser — $1.50
$13.73 (I'm counting the $1.50 from true soap dispenser as I haven't had a chance to return it yet.)
Not exactly garage sale prices, but then again I checked and those napkins cost $5 apiece when bought new. And it was cheaper than if the two of us had gone to a single first run movie.
Man, do I love thrift shops!
Katy Wolk-Stanley
"Use it up, wear it out, make it do or do without"
Click HERE to follow The Non-Consumer Advocate on Twitter.
Click HERE to join The Non-Consumer Advocate Facebook group.
Click HERE to follow The Non-Consumer Advocate on Pinterest.