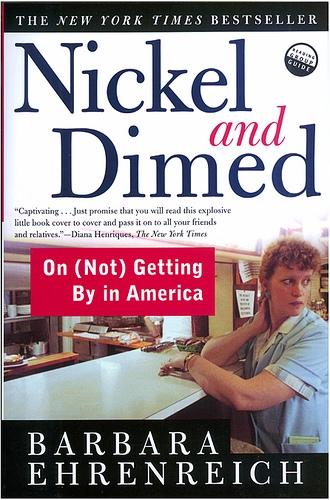 Congratulations to Megg from Librarian Housewife, who was randomly chosen to win a copy of Barbara Ehrenreich's Nickel and Dimed: On (Not) Getting By in America. I was really happy when I saw that the random number generator that I use chose her, as she's a long time reader and is following along with the food stamp challenge on her blog.  Here's her winning comment on how she works to keep her expenses in check:
Megg:
"I had to read this book my freshman year in college and I did NOT appreciate it the way I think I would now, so I'd love to reread it.

These days we're stretching our dollars by shopping at Costco. We buy fruit in ridiculously large amounts (but always eat it all!) for a ridiculously low price per pound. Though we haven't had to do this yet, Costco meat is a good price too, so when we do buy it I will freeze it with the seal-a-meal we got as a gift last year."
Thank you to everyone who entered to win this book. I highly recommend  that you put this book on hold at your local library, as it's a terrific read. Click HERE to read the entirety of the money saving comments. Please enjoy this small sample of your money saving ideas:
Indigo:
"My furniture is largely cast offs I have fixed up, repainted, and now look better and have more character than a lot of new stuff out there.

I spend money on quality which saves me in the long run. Because I use cast iron cookware it will last a lifetime with proper care. I have a pair of good hair cutting scissors so that I can trim things up at home and rely on a professional only a few times a year while still looking professional.

I look at potential. Sometimes I'll find something at the thrift store that isn't perfect as is but with a bit of effort is ideal. I've transformed too large sweaters in laptop cases and proper fitting sweater vests. A spice rack that just needs a good coat of paint to update it and all those little glass vials are great for beads. It is also work I enjoy so entertainment value as well."
Claudia:
"I've joined a few local museums and botanic gardens that provide free entry all year for the cost of membership (which is often tax-deductible). Visits to these places, plus stoop sales and excursions to the farmer's market, constitute the bulk of our family's entertainment for the summer. I also try to keep my kids away from TV commercials so that their expectations for "stuff" are reduced. We also love to cook, and bring everyone into the kitchen for meal prep, so we get entertainment out of it in addition to fresh, cheap food."
Kat:
"Instead of feeding quarters into the apartment building's washer and dryer I load up my laundry in the bike trailer and take it over to a friend's house who lets me use his washer, dryer and clothesline (I got that the last one and hung it up). In exchange, I do house and cat sitting during his frequent trips out of town."
Maureen:
"My husband and I are on a clothing purchase moritorium. We have so many clothes that I find shopping in our closets, dresser drawers and storage containers so much more rewarding. I can't stand the fact that we have so much that takes up so much room."
"Drive less. I bike to work, even in the dark & rainy winter. Also instituted 3 "no car" days per week when my (older) kids can choose to take the bus or bike, alone or with us, to school & after school stuff. Biking plus walking the dog is good exercise-I can't imagine paying for a gym membership!

Also, we use the library for books, music & movies. Period. We used to spend $20/month on movie rentals, when we lived near an independent video store. I know that Netflix isn't too expensive, but half the time we don't end up watching what we borrow anyway.

One more thing…we saved a lot on "fixed expenses" by fiddling with insurance premiums, cutting on the phone plan, piggybacking with neighbors & sharing costs for garbage, etc."
M:
"I drink water (not soda) and make my own iced tea during the summer months."
Liza:
"Where we live, the county bus service is free. So, my son and I go once or twice per week by bus to the library where we reserve and/or check out books, movies and CDs. It has been a great way to relax and spend time together (an outing of sorts) that is entirely free! And we have no cable at home, so our entertainment bill is free, thanks to the public library. That's something I learned to do some time ago, thanks Katie for the idea! And I just purchased an outside line to dry clothes on, thanks to all of the great comments on this blog…And tomorrow, we are borrowing a friend's truck to pick up the free freezer we found on freecycle!"
"I only shop thrift stores or freecycle for our clothing. I also buy food in bulk and make everything from scratch. We haul our own garbage and recycle everything else. I have a garden and a greenhouse and glean food to preserve from the local orchards. Last year I picked up a ton (yes, 2000 pounds) of apples for $100 and canned them into applesauce, cider, and slices. We homeschool and rather than buy curriculum, I get all my resources free online or from the library."
"Man, have I learned the hard way about streatching dollars and the NEED to do it, not necessarily just because I want to do it. For me, the biggest way I stretch my dollars is to make do with what I have and use my resources to find items (hand me downs, freecycle, free community activities and the "loot" that often goes along with them). Using what I have already (indluding minimizing waste of all kinds) makes the dollars I have go further in paying for the things I have to pay for – utilities, food, gas to get to work, etc."
Again, thank you to everyone who entered to win this great book. I feel like I have the best readers in the entire blogosphere!
Katy Wolk-Stanley
"Use it up, wear it out, make it do or do without"