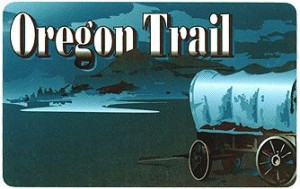 The specifics for the June Food Stamp Challenge are well underway. And by "well underway," I mean that I've been mulling and re-mulling it over in my head. My trusty readers have brought up great questions, and have been helping me to figure out how this idea of mine is actually going to work.
My family will spend the month of June only spending the average Oregon food stamp allotment for a family of four. ($294.90, but I have yet to 100% confirm this number) Any money saved will be donated to The Oregon Food Bank.
My sons will be in school until June 15th, so I will add $3 per day for half the month, which is how much assistence we would be getting for school lunches.
I do have a medium amount of stored food in my cupboards. I will try to eat this down some. Especially things like individually frozen chicken breasts, which my husband always buys when he goes to Costco. (I complain about the expense, but I secretly love knowing they're there!) I will continue to stock up on loss leaders, which is how I have so much extra food to begin with.
Items that cannot be purchased using food stamps include paper products and toiletries, vitamins, hot foods and pet foods. I will get a more precise list when my schedule opens up a bit more. (I've been very busy this week with two family birthdays and my day job as a nurse!)
I am trying to find different experts who will be able to guest post and add to the conversation. People who specialize in couponing, home cooking, food waste issues, organic cooking on a budget and the like. If you are interested in doing a guest post, please shoot me an e-mail.
My husband and kids are already groaning about the imagined sacrifices they are soon to make. I pointed out to them that last night's dinner would have been well within our soon-to-be tightened budget. We were eating chicken drumsticks, (88¢ per pound.) oven fries, made using a ten pound bag of potatoes, which cost $1.99; a big green salad, which included half a 79¢ avocado, some Dollar Tree feta and homemade salad dressing. The head of lettuce set me back $1.29 and yielded enough for four big salads plus sandwiches.) There were even leftover drumsticks, which served as my older son's pre-dinner meal, (he's 14-year-old and eats like a freakin' horse!)
I am looking forward to researching and writing about alternative food sources like foreign food markets, gleaning and the like.
Those of you who already are living with food stamps, I hope you stick around to add your wisdom to the conversation.
Thanks to everyone who has been adding their two cents in the comments section. I think this is going to be a very eye opening experience, and look forward to sharing it with you!
Katy Wolk-Stanley
"Use it up, wear it out, make it do or do without"