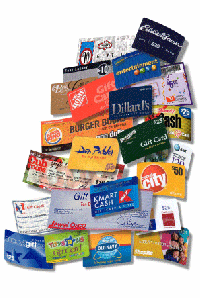 NY Times' Ron Leiber is one of my favorite financial writers, and his Your Money column on gift cards once again hit the nail on the head. He writes that:
"This year, nearly $5 billion of the money that well-meaning givers have put onto gift cards will go unspent . . . In the industry, this is known as breakage, and here's what it means: If you buy a gift card for a family member or friend, there's a good chance you'll give a little gift to the retailer or bank that issued it as well.

How does breakage happen? People lose their cards. Or they abandon them in a drawer and assume they're expired when they're unearthed years later. Fees can still eat away at some of them. And people may use $46 of a $50 card and then throw it out rather than make another trip back to the store."
I have a specific spot in my wallet where I keep my gift cards, that way I know exactly where they are, plus they're accessible for any spontaneous shopping. And in case you were thinking that I would be someone to whom a gift card would not be an appropriate gift, I say to you, "Goodwill gift card."
So if you have a hodge-podge of gift cards cluttering up your life, gather them up into a specific place and then make sure they don't go to waste. The angels weep when you let perfectly good store credit go to waste.
Click here to read a 2008 column I wrote about gift cards.
Will you be giving gift cards this holiday season? Please share your thoughts in the comments section below.
Katy Wolk-Stanley
"Use it up, wear it out, make it do or do without."