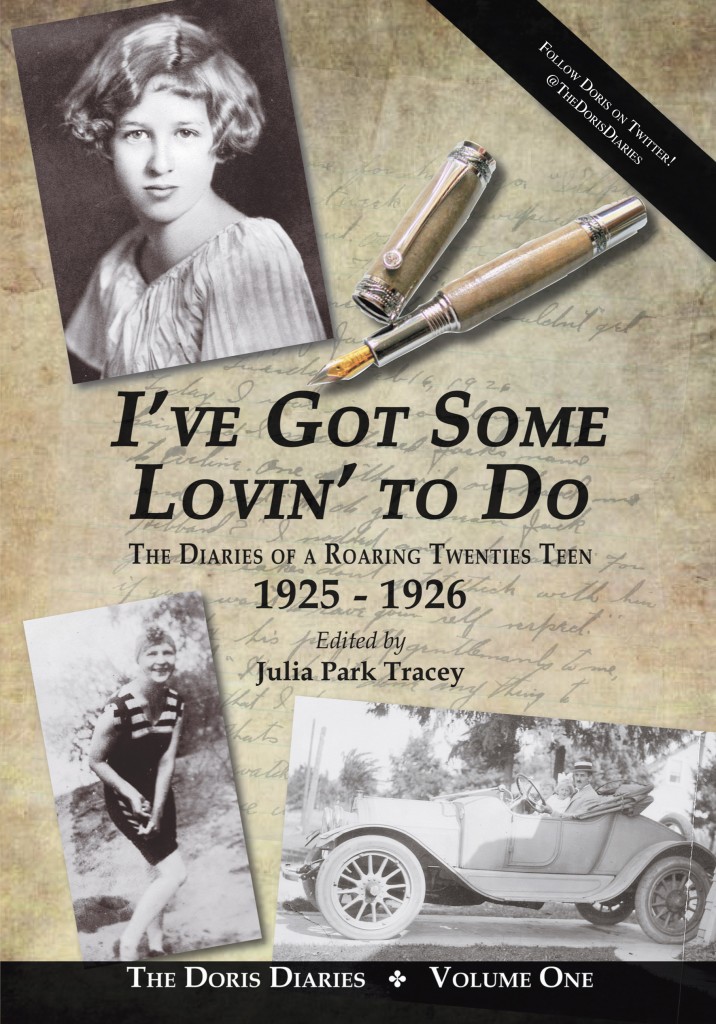 Today I am treating you to a guest post by Julia Park Tracey, author of I've Got Some Lovin' to Do: The Diaries of a Roaring Twenties Teen. This fantastically hilarious diary is from Julia's spoiled teenage great-aunt and is simply the bee's knees!
I am also hosting a giveaway for one paper copy of the book, as well as two e-books. Please write your name in the comments section to enter to win. I will choose randomly winners on November 21st at 9:00 P.M. Oregon time. E-books can be won internationally, but the paper copy is just for U.S. residents. Please enter one time only.
Katy Wolk-Stanley
"Use it up, wear it out, make it do or do without"
Leftovers Done Right, or Reusing the Past to Make a Pleasant Present
I wrote a bestselling book using only scrap paper and leftover tape.
Just kidding. Sort of.
I'm one of those Katy Wolk-Stanley types who finds junk on the curb and turns it into treasure. I particularly enjoyed my former barbecue-turned-birdbath, with a little (Freecycled) spray paint and solder to make it water-tight. My raised garden beds were crafted from found wood, including a dresser with no drawers and a park bench that vandals destroyed – it's one of our favorites. My cats are second-hand (shelter kitties). Even my husband is a previously owned model (though, to be truthful, so am I). They should call me "Second-Hand Rose."
I'm good with a needle and thread, a glue gun, a canning kettle, and make a stunning soup out of vegetable peelings and leftover bones from the hot wings the boys had on Friday night. That's how we have raised five kids on a strained income.
I'm a writer, sometimes working fulltime in newspaper, part-time in magazines, or freelance on books, articles and assorted PR campaigns. The needs of the family came first, and sometimes that meant fulltime work to pay the bills, and sometimes that meant I freelanced to keep the kids out of daycare. The skills that Katy and I both possess – that we've learned along the way — have made our particular lifestyles doable.
These skills have come in handy many times. In 2011, my great-aunt Doris passed away. She was someone I considered my "fairy godmother," for how she understood my artistic mind and encouraged me to pursue my dreams. She was always a little aghast at the number of children I had following me (she never had any), but believed in me all the same. The skillset I talk about, in finding creative uses or the best home for the unwanted object – this came heavily into play in cleaning out Doris's home after her death. From a two-bedroom home that she'd lived in for 50 years, we sent just four bags of actual trash to landfill. All the clothing, tchotchkes, dishes, furniture and odds and ends – even her post-mastectomy prosthesis – found new homes, went to charities, were consigned or otherwise donated. As a six-year member of the Compact (along with Katy), I consider this a huge success.
And amid this dispersal of carloads of goods, there was a box of old papers that my mother handed to me, asking if I wanted them. I said I did, and trucked them home with boxes of china and a bagful of costume jewelry to sort. Some six weeks or more later, I looked into the box and saw letters, photos, and a trove of diaries that dated back to 1925. I began to read, their delicate, curled pages scrawled with blotchy ink in a schoolgirl's hand. And I laughed and laughed to meet the young Doris, writing at ages 15 and 16 and 17 and beyond. I posted some snippets from these diaries on my Facebook page, to delighted friends who begged for more. Within a few months, Doris had her own Facebook page and Twitter feed, a web site, and a book was underway. Now, about 15 months later, I am just back from a book tour that took me 3800 miles by train (I bought a carbon credit to offset my CO2), and Doris's fans keep increasing. Volume two of the Doris Diaries series is underway and there are more books to come.
So while I'm not quite a bestseller yet, and I didn't actually make the books out of leftovers, I did find a creative use for these family heirlooms, and I'm happy to be able to share them with you.
Julia Park Tracey is an award-winning blogger, writer and editor, and her new book, I've Got Some Lovin' to Do: The Diaries of a Roaring Twenties Teen (1925-1926), is available on Amazon or at your local bookstore. Follow Doris's adventures on Facebook/The Doris Diaries and Twitter @TheDorisDiaries.