Despite my moniker of "Non-Consumer Advocate," I do still shop. I have two growing teenage sons, enjoy decor, occasionally buy myself clothing and live in a 1914 fixer-upper that's far from fixered-uppered. (That is the correct past tense, right?) But needing project supplies doesn't mean that our only options lie within the walls of a big box store.
Luckily, there are many options for used and leftover building supplies, such as the Portland Habitat Restore. (We also have the Rebuilding Center, but since that is Portland specific, I'll be focusing on a national resource.) Not only do your dollars support the Habitat for Humanity non-profit, but the new and used furniture, appliances and building supplies are a great bargain.
Supporting an awesome charity + keeping building supplies from the landfill + great bargains = Happy Non-Consumer Advocate!
I even bought my matches-my-unique-banister shoe shelf at the ReStore.
See? I'm happy.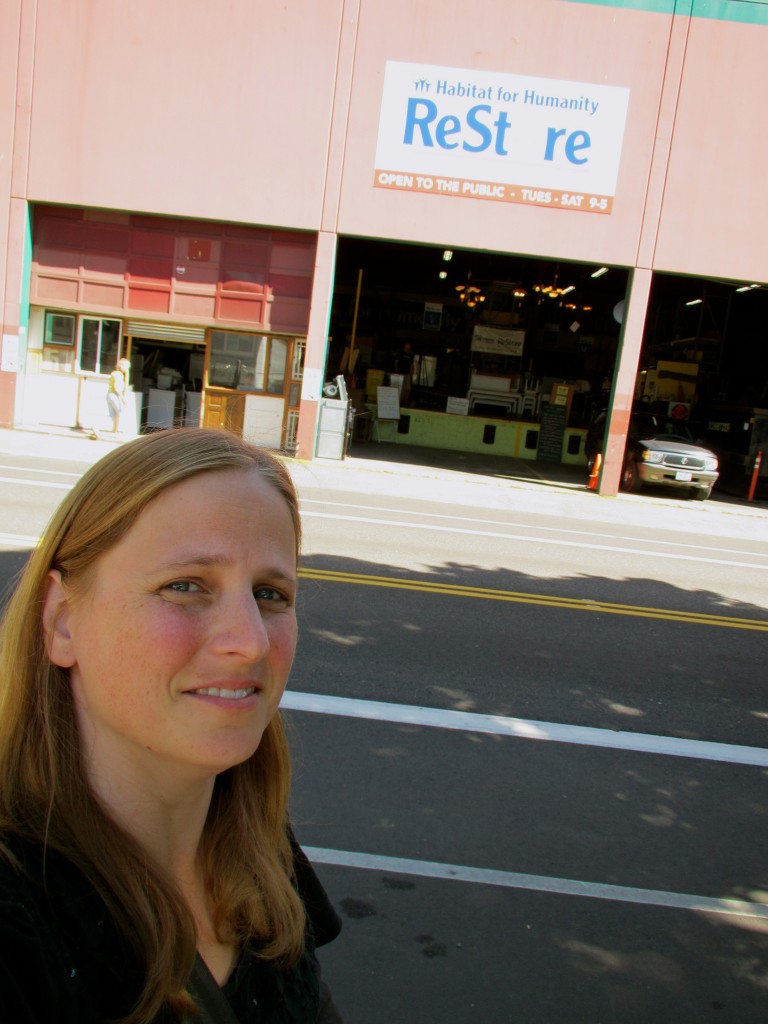 Ooh . . .  that's actually not a great photo of me. It harks back to my elementary school pictures, which always looked like this: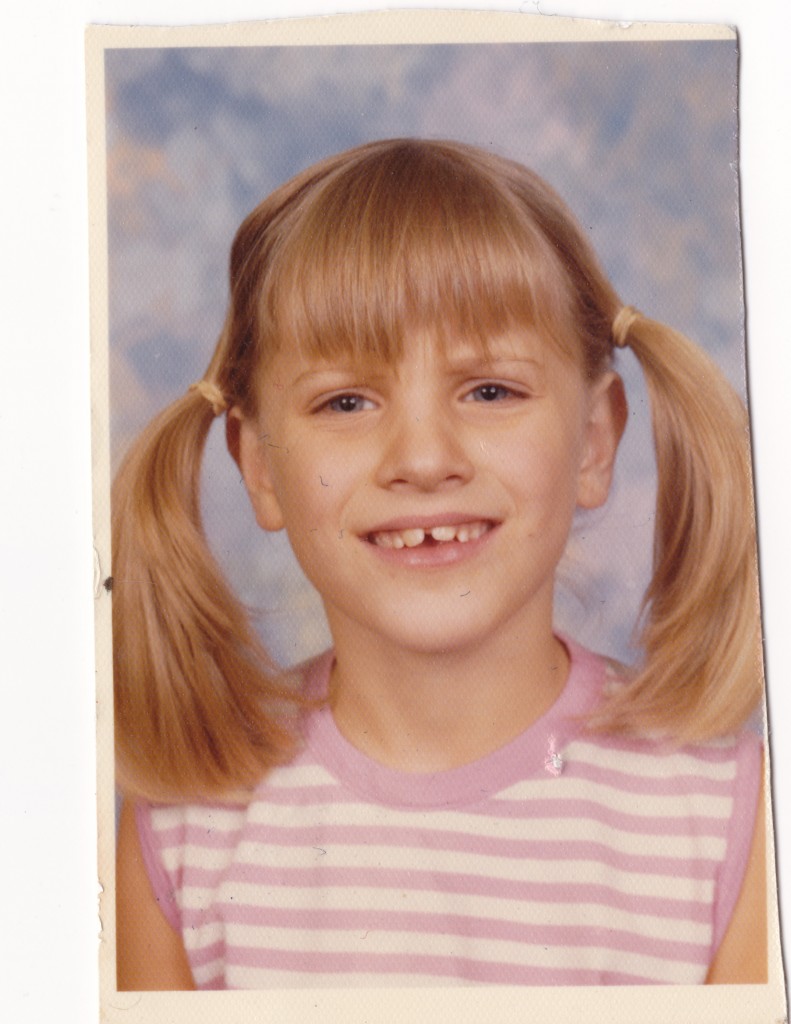 My first stop at the Restore was the furniture section. My almost 17-year-old son needs a larger dresser, as his extensive T-shirt collection no longer fits into the drawers. (I guess I could have anticipated this, as his dresser is the same one we used for his changing table.)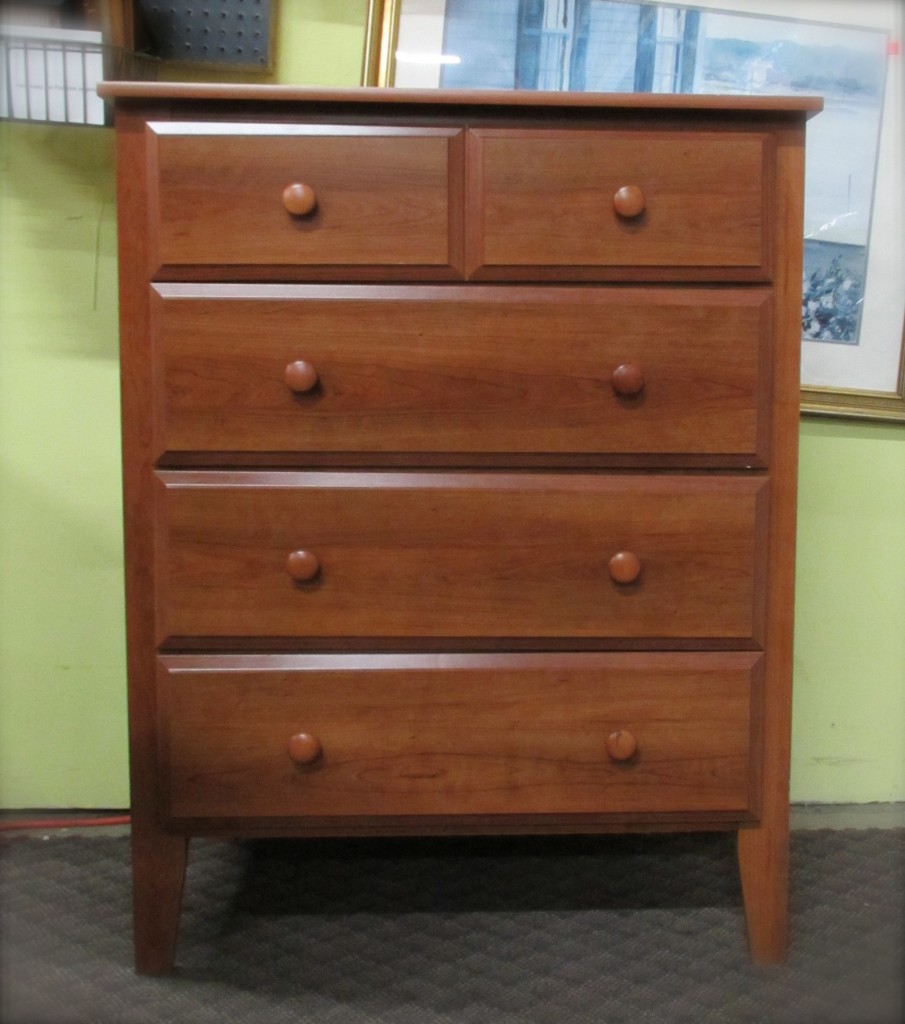 Unfortunately, the top drawer sagged on the left hand side. (A.K.A. D.D.S. or "Droopy Drawer Syndrome.") At $45, it was not worth the work to fix it up.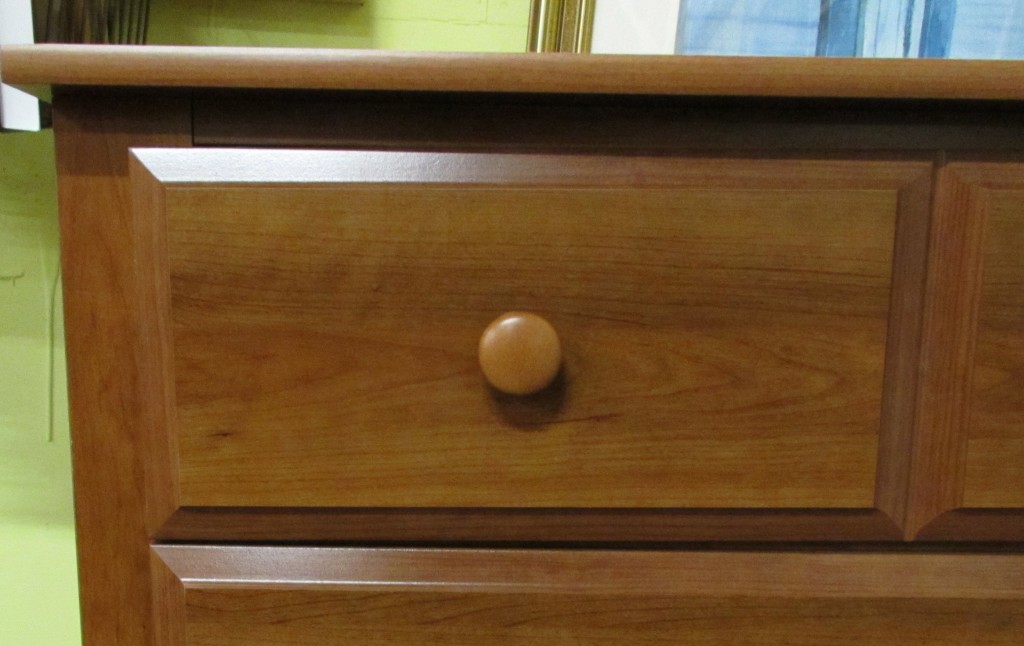 My next stop was the lighting section, where I came across this vintage midcentury sconce. I really enjoyed its curly-Q vibe, and could totally envision how cute it would look painted a bright yellow, purple, apple green or black, And at $8, the price was right. However, I have no need for a sconce, so I left it there for someone else.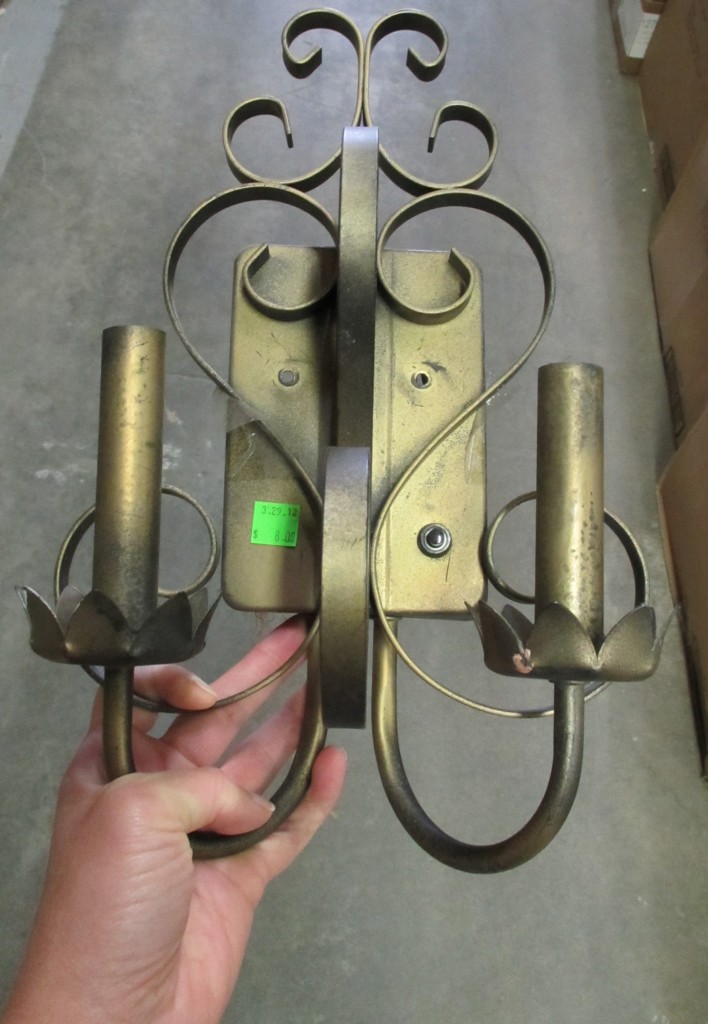 There was enough unfashionable shiny brass to go around. But for someone willing to break out a can of spray paint, the possibilities are endless.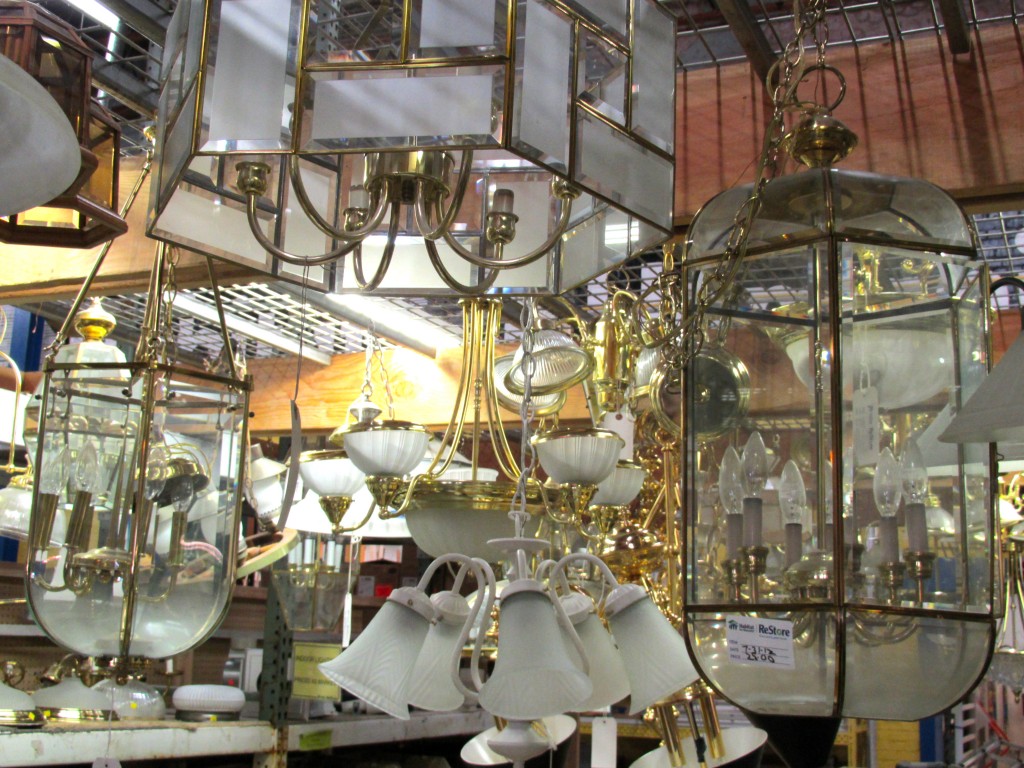 I was sorely tempted to bring home this $25 midcentury chandelier. I've been wanting to replace our somewhat fussy dining room fixture for awhile, and could see this being a groovy solution. A little paint and some rewiring would put us on a one-way street to a Mad Men-esque look. Unfortunately, my husband's response was:
"Uchh, that's hideous."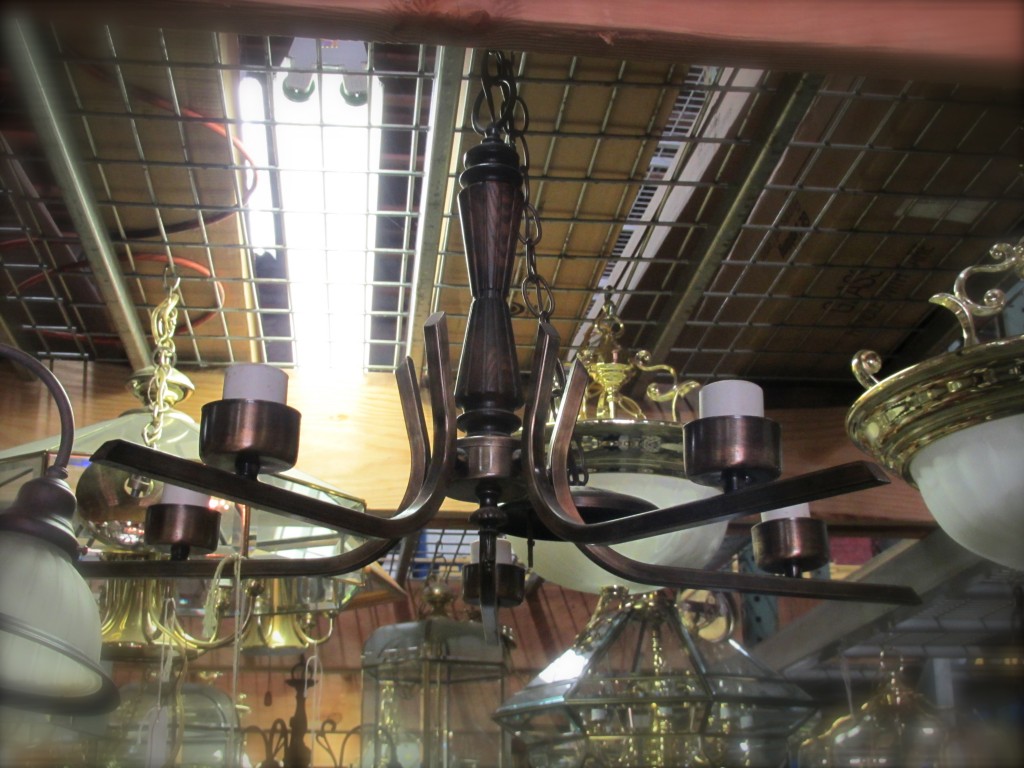 I always like to peruse the paint aisles, which are super organized and crazy cheap. I want to repaint my younger son's room, as the ivy green color was a poor choice for north-facing room in Oregon. (Cave-like would not be an understatement.) I wasn't in the mood to make any solid color decisions, so I just window shopped.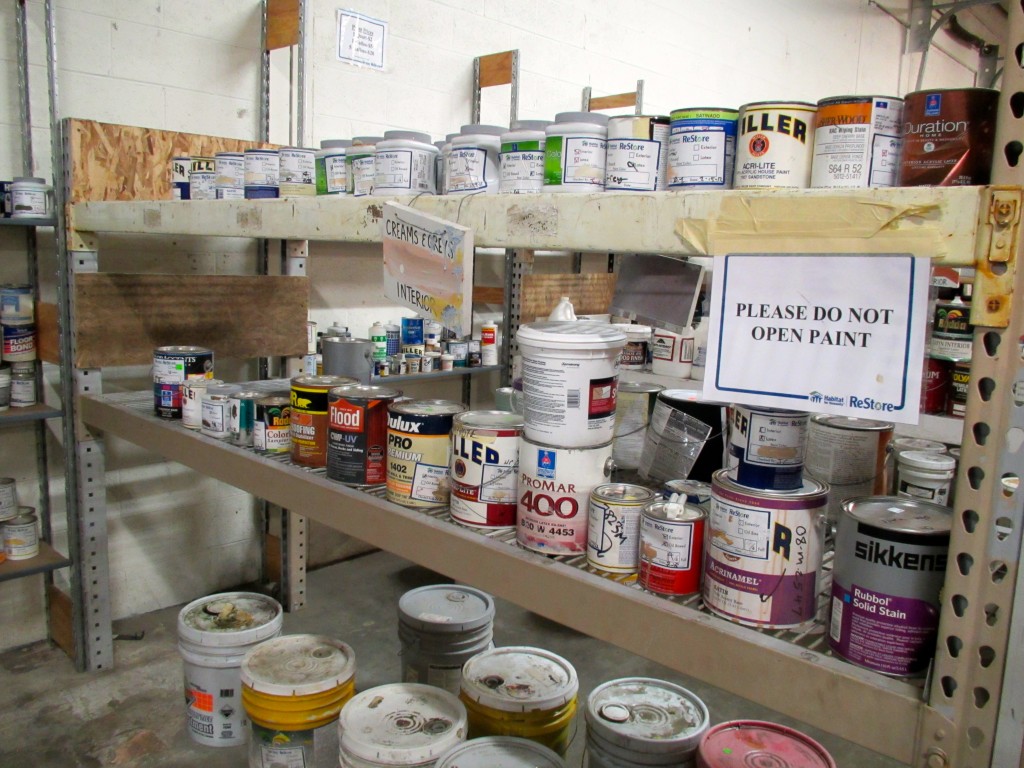 I did almost buy this quart-size can of zero VOC (Volatile Organic Compound) paint in a pretty light sage green, but held off since we have a can of almost the same thing in the basement.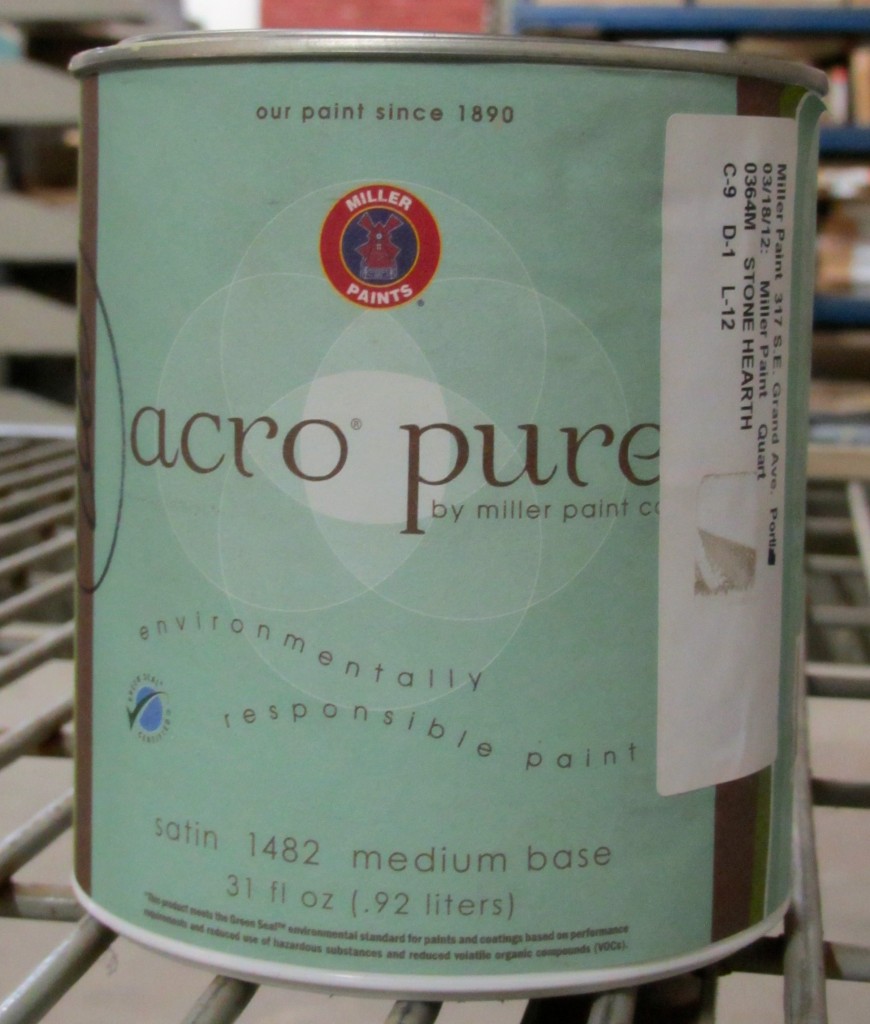 All cupboards were 50% off, which brought the price on this $45 mission style cupboard down to $22.50. This sucker was solid wood and g-o-r-g-e-o-u-s! Someone could easily refashion it into a bedside or end table. And the storage within? Fab.
This cabinet got me thinking about the $1 (!) Habitat Restore cabinets that John and Sherry of Young House Love upcycled into an awesome custom desk. Their cleverness is a constant inspiration.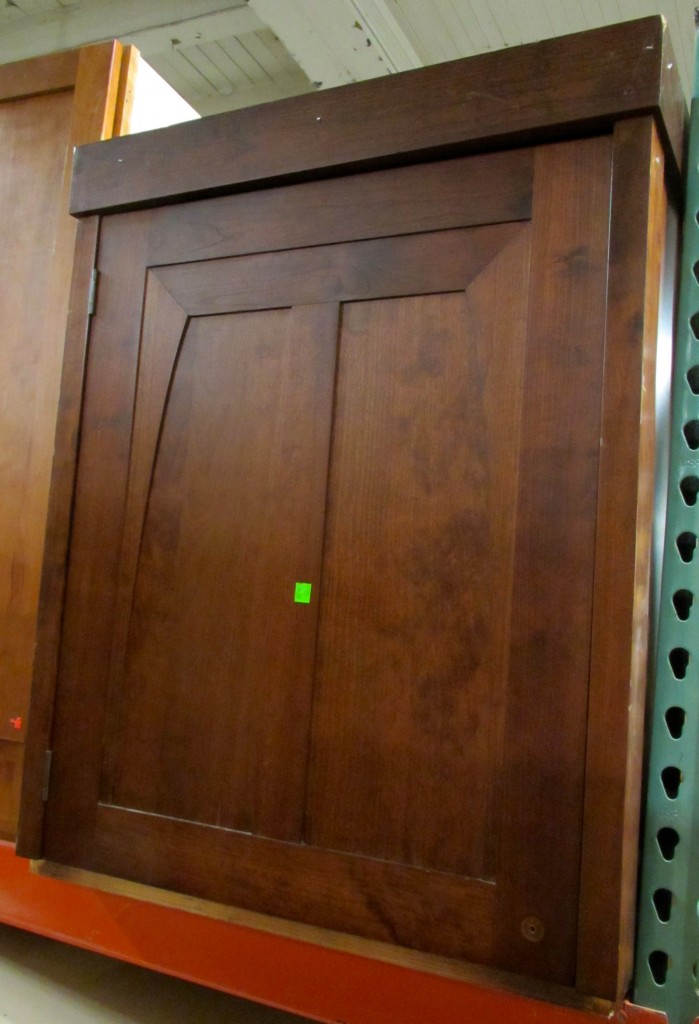 I'm not exactly in the market for a new front door, but this one still caught my attention. I think it was $25, but I know it was perfection.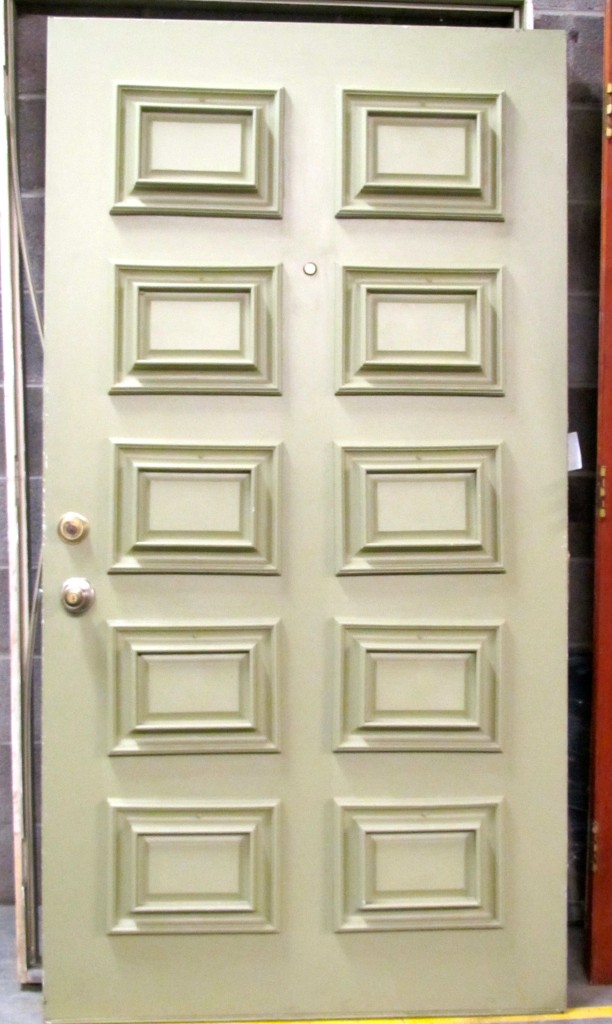 I almost went home with this sexy beast, and could totally see how crisp a backsplash would look with this tile. Of course, it's actually possible to work in a kitchen without a backsplash, (shh . . . don't tell HGTV!) so I shunned his advances.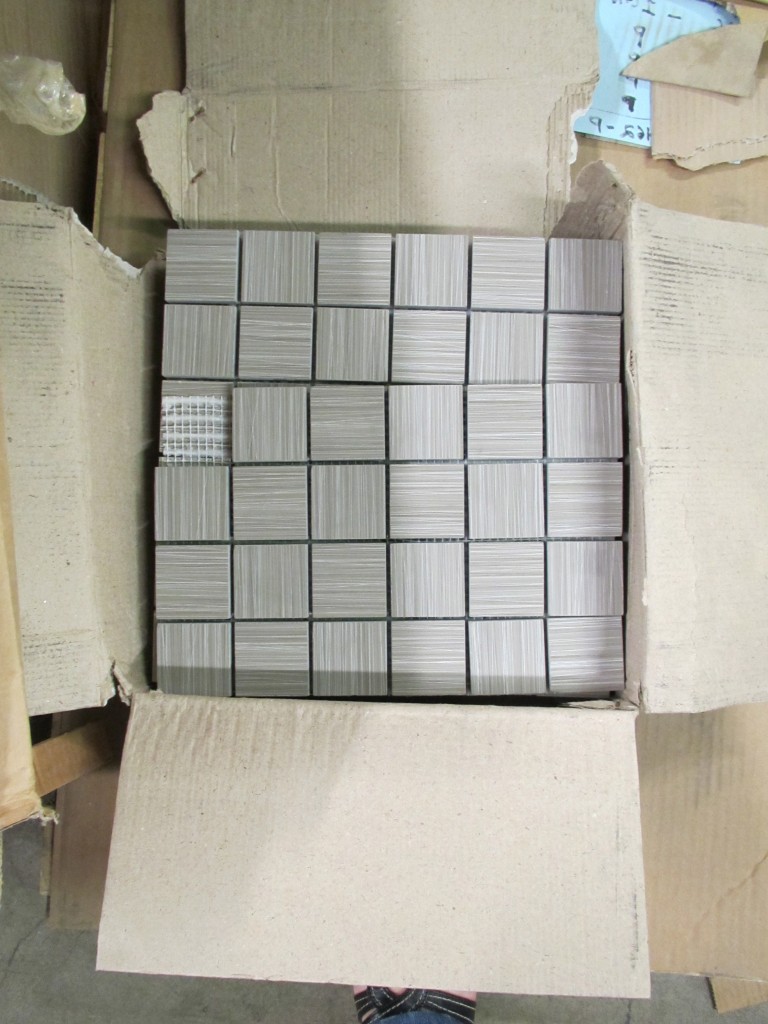 Even though he was cheap.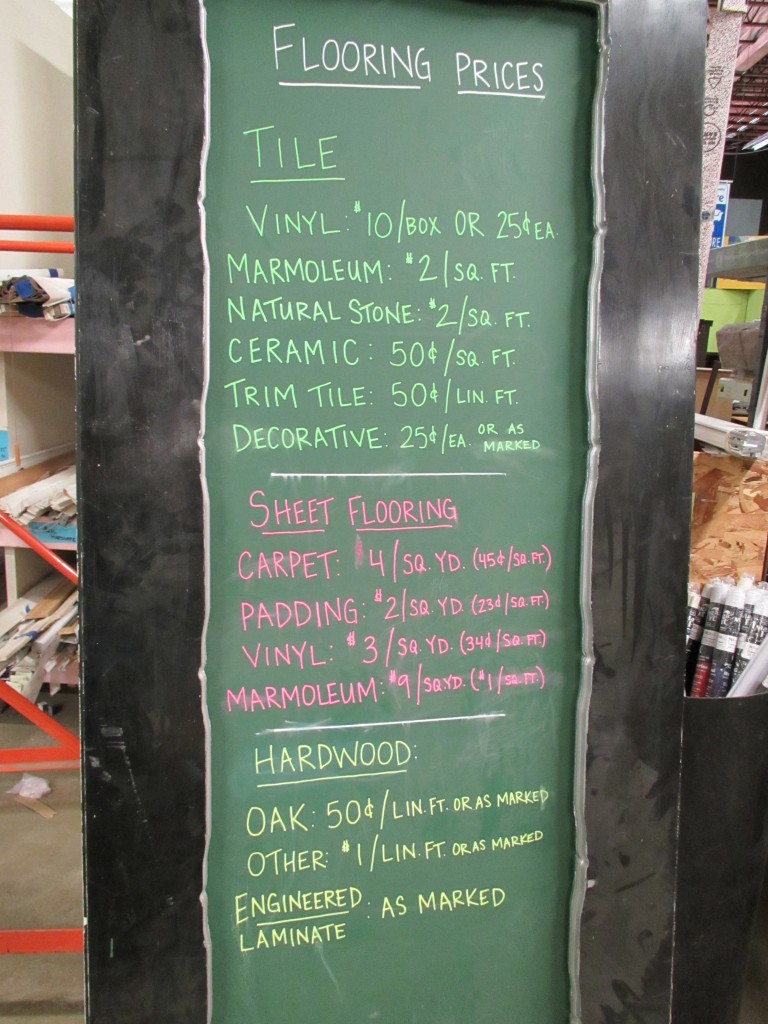 I was also tempted by this $85 roll of orange Marmoleum. My kitchen floor is refinished pine, which at this point is so gauged and pitted up that it resembles an old timey saloon. I love vintage linoleum rugs, and wonder whether there's a way to make a facsimile using Marmoleum that would lie flat and not trip us up.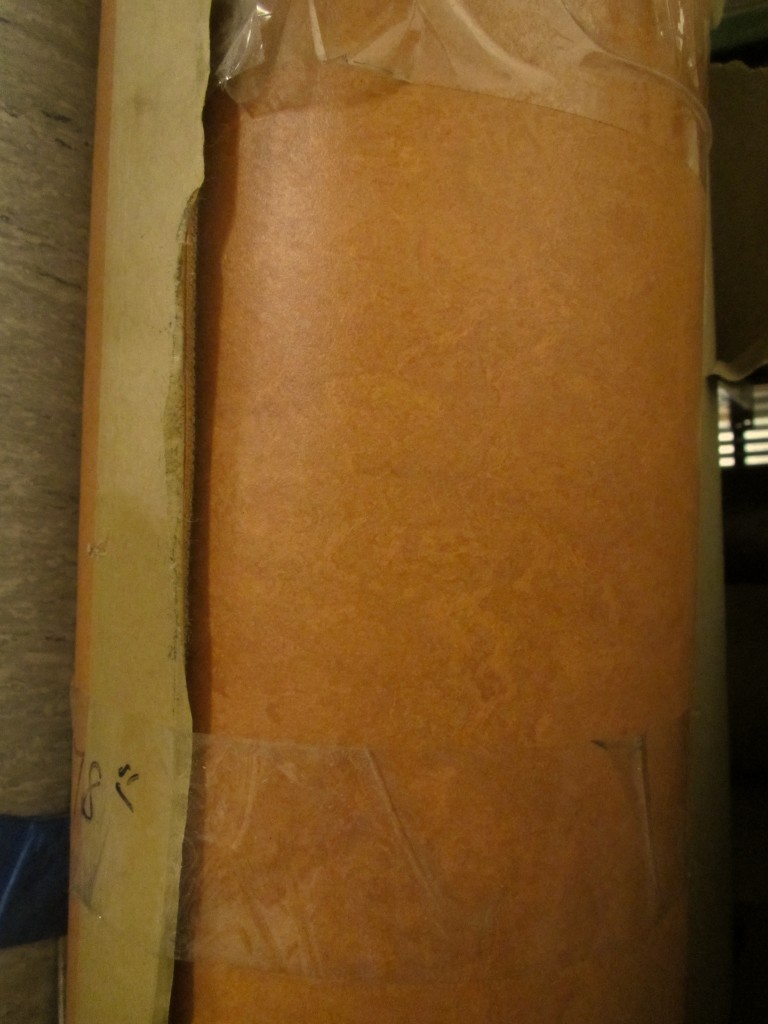 The one thing that called my name was this roll of carpet. I have been keeping an eye out for a bedroom rug, and I really liked this pattern and color. It would easy to have some binding sewn around the edges, and I could get exactly the size I want. However, I would end up paying for way more carpet than I need, so I slowly walked away.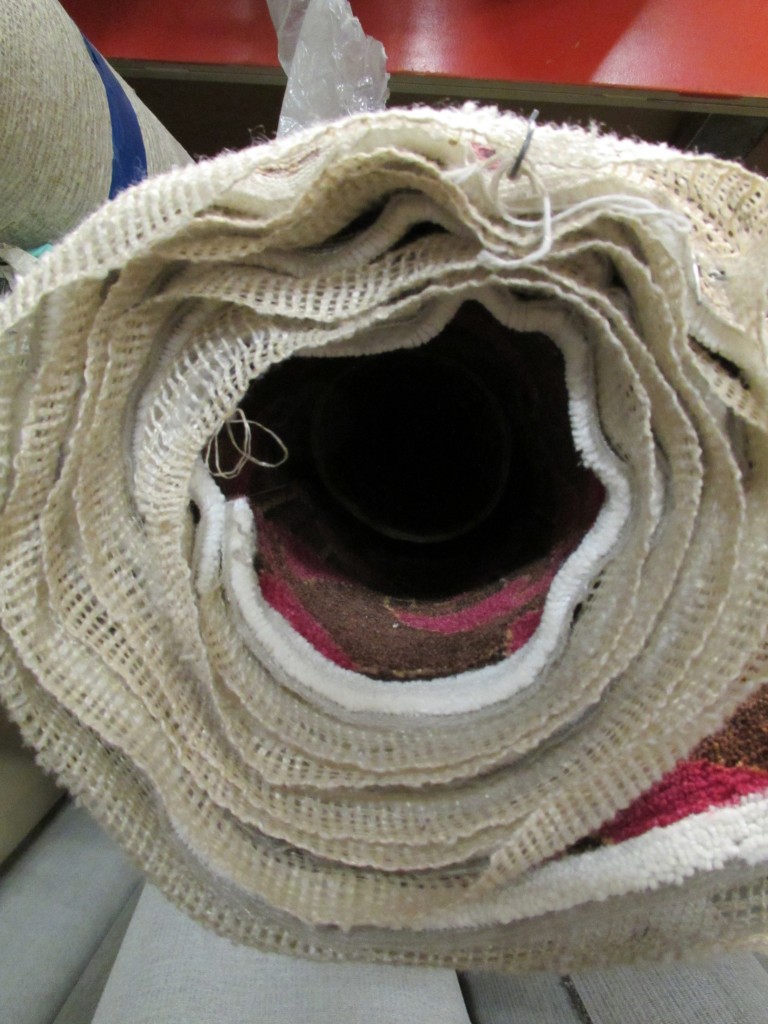 See how pretty the pattern is?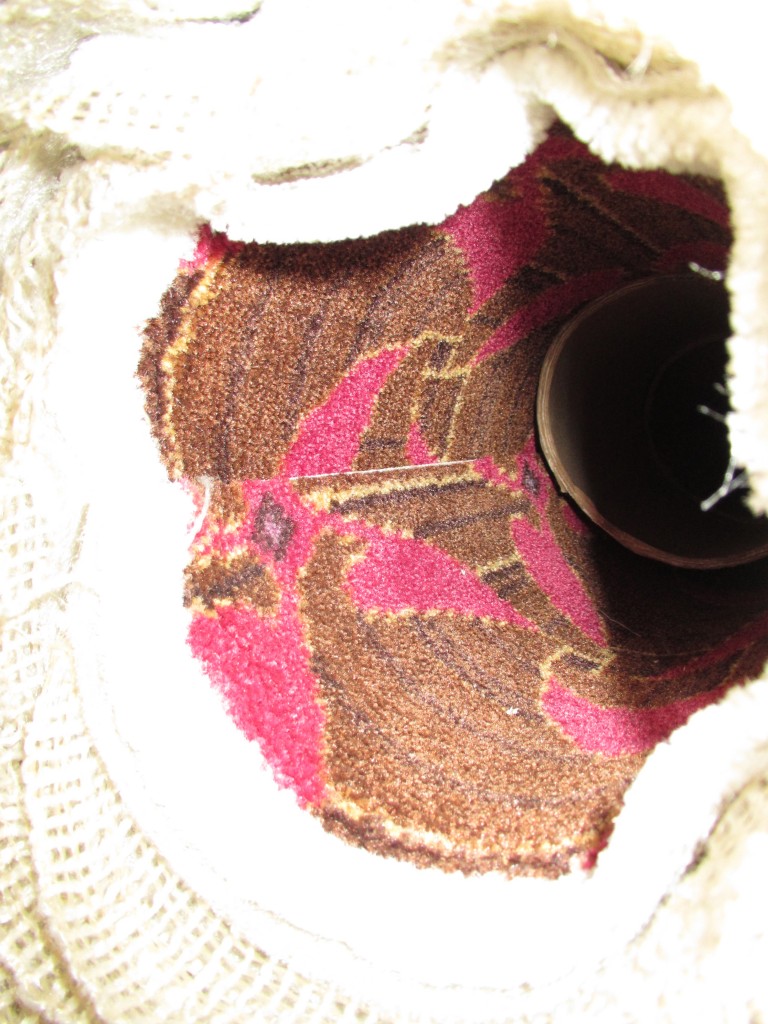 In the end I walked out empty handed, but not for a lack of great temptation. Man, is that store fantastic!
Do you shop at your local Habitat ReStore? Please share your stories in the comments section below.
Katy Wolk-Stanley
"Use it up, wear it out, make it do or do without."
Click HERE to follow The Non-Consumer Advocate on Twitter.
Click HERE to join The Non-Consumer Advocate Facebook group.
Click HERE to follow The Non-Consumer Advocate on Pinterest.