It's time again for Link-O-Rama Mama, where I lazily link up to other people's well written and thoroughly researched articles.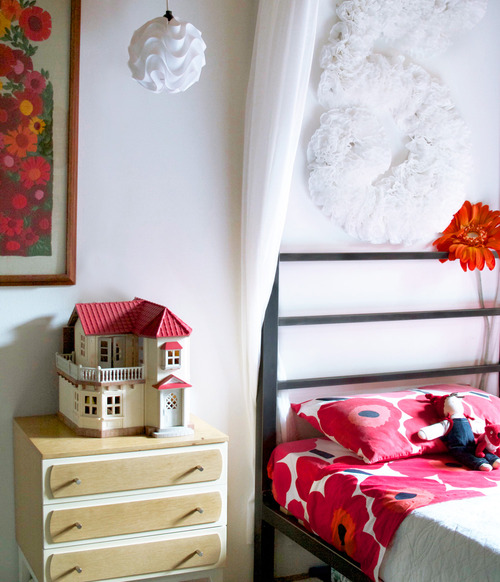 Marimekko Sheets Find a New Castle
Remember Princess Katy and her Marimekko Sheets? Well, Trish, the Lady in Waiting from Modern Thrifter has posted photos on her blog, as well as the story of how the sheets came to live in her daughter's room. Super cute!
Click HERE to read her post.
Living Large in a Small Space
Graham Hill, famed inhabitant of the super teeny and inventive NYC apartment has written an article for The NY Times supporting and explaining his decision to live a life of minimal possessions in a small space. (Oh, and he also founded Tree Hugger.com, as well as other online businesses.) Because the article is written in first person, the perspective is unique and goes a bit deeper than the typical minimalism article.
"I have come a long way from the life I had in the late '90s, when, flush with cash from an Internet start-up sale, I had a giant house crammed with stuff — electronics and cars and appliances and gadgets.

Somehow this stuff ended up running my life, or a lot of it; the things I consumed ended up consuming me. My circumstances are unusual (not everyone gets an Internet windfall before turning 30), but my relationship with material things isn't."
Click HERE to read the entire NY Times article.
I usually include a third link, but it's late and I have to be at work at 7:00 A.M., (which sure feels like 6:00 A.M. this week.) So I want you to include your own links in the comments section. Even if it's just a link to your own blog.
Have a great day, and I look forward to coming home from work and reading through everyone's links!
Katy Wolk-Stanley