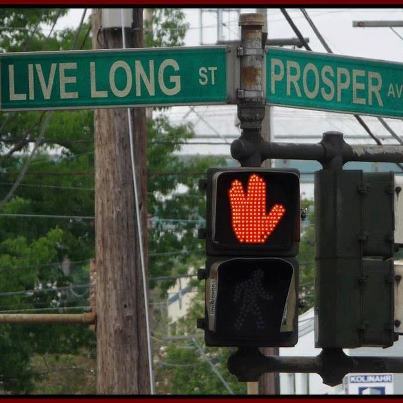 Like 2.7 million others, I like George Takei on Facebook. He's absolutely hilarious, yet also thoughtful and kindhearted. So yes, you could say that I ♥ him. So when he posted the above photo this morning, I got a warm fuzzy feeling in my heart.
Perhaps a little background information is in order. My father is an English professor, and one of his areas of expertise is Science Fiction. (Specifically Philip K.Dick and Ursula LeGuin.) So Star Trek and I go waaaay back. My sister and I even produced an audio play in 1977 riffing off The Trouble With Tribbles, featuring the Starship Enterprise toilets malfunctioning at a time when they're being attacked by a Romulan Warbird. And instead of transporting Tribbles to the enemy ship, instead they transport their bodily waste. 
It was hilarious!
The Vulcan greeting of "Live long and prosper" got me thinking this morning. What does it mean to prosper? Is prosperity necessarily synonymous with monetary wealth? Can a person be prosperous without piles of cash?
I say yes.
To me, prosperity equates success in lifelong endeavors, even when it that success has nothing to do with money. Even when goals are not actually achieved. Because the process of trying and failing includes life lessons that help to give a better chance of success with the next project.
I do not have a goal to become rich. However, I do have a goal to grow my blog and widen my readership. Sometimes my methods garner next to nothing, (Interviews where the websites omit a link back to the blog) and sometimes the tiniest effort pans out big time. (My Tea Towel Salad Dressing recipe that ran in the Simple Living Network newsletter!)
Should an effort be categorized as a failure just because there was no immediate benefit? I say no. Answering interviewers' questions helps to coalesce my message, and often sparks new ideas. So yes, there is value to these efforts. They're helping me to prosper, irregardless of my bank account balance.
So I am prospering, even though I'm far from wealthy. (And hopefully I will live long.)
Thank you, Sulu.
Click HERE to read my Everything I need to learn in life, I learned from Star Trek essay. It's an oldie but a goodie.
Katy Wolk-Stanley
"Use it up, wear it out, make it do or do without."
Click HERE to follow The Non-Consumer Advocate on Twitter.
Click HERE to join The Non-Consumer Advocate Facebook group.
Click HERE to follow The Non-Consumer Advocate on Pinterest.