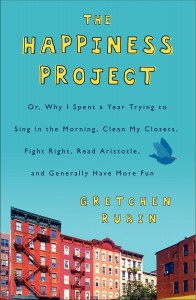 I was walking to my car after work the other day, and suddenly realized that I was actually looking forward to my rush hour commute. Not because I'm a connoisseur of car exhaust and stop and go traffic, but because I was in the middle of a really good audio book. This got me thinking about the power of having something to look forward to in one's life.
I recently read Gretchen Rubin's The Happiness Project, and have been more analytic about what it is that makes me happy. Rubin does write about how having something to look forward to is an integral part of the whole happiness equation. (I would quote something here, but I actually lent my copy of the book to my step-mother, so I guess I'll just have to look forward to its return.)
I look back to the only time in my life when I would characterize myself as having an issue with depression, and that would be when my kids were around three and five years old. I was working full time, the kids were a never ending handful, the house was always grimy, there was never enough money, (my husband was in school) and the only thing I had to look forward to was more of this unsatisfying grind.
It was not a good year.
But I pulled through, and I think the key was that I added activities that gave me pleasures and something to look forward to. I began buying Hanna Andersson girl's clothing, which I then sold on eBay. (The company is based here in Portland, so it's really easy to find the dresses at area thrift stores.) I became closer with my friend Sasha, and we would get together for walks in the morning, and I began to get more exercise.
These activities got my out of my funk, and gave me something to look forward to besides the never ending cycle of mothering small boys, cooking and cleaning and feeling like I was never doing any of it very well. (Give the boys my full attention and the house would be a wreck plus there would be nothing for dinner. Or conversely, park the boys in front of the TV so that I could cook and clean only to feel like I was being a crappy mom!)
Happily, these days are far behind me. I am far from perfect, (my house is always a bit grimy and the challenges of mothering young teenage boys are a mystery to me) but I have much in my life to look forward to. I have a fresh new lawn growing in my backyard, a summer's worth of hosting English soccer/football coaches and an unlimited number of walks with my friend Sasha to look forward to.
Plus, I still have a disc and a half of my Marian Keyes audio book left to listen to.
Katy Wolk-Stanley
"Use it up, wear it out, make it do or do without"