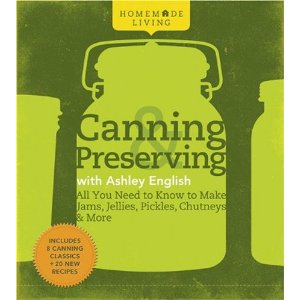 Don't bemoan the start of another work week, as Mondays are cause for celebration here at The Non-Consumer Advocate. Because, yes, it's time for another Monday Giveaway. Today's prize is a lovely and autographed hardback copy of:
Canning and Preserving with Ashley English: All you Need to Know to Make James, Jellies, Pickles, Chutneys & More.
This beautifully crafted book is the first in English's Homemade Living series, and is published by the lovely people over at Lark Books. (Seriously, the books arrived with a hand written card that was a fancy as a wedding invite!) There's also a book on Keeping Chickens, (which will be next week's giveaway) as well as books on Keeping Bees and Homemade Dairy, which are scheduled for publication March of 2011. Ms English also writes the blog Small Measure, which is a darling chronicle of her projects and thoughts.
This book is fantastic, and would be appropriate for either the beginner or expert canner. It's chock full of concrete canning information, as well as creative ideas and recipes. The photography is gorgeous, yet informative. And the best part is that Ashley is married to my friend Glenn, with whom I attended Antioch college. They are expecting their first baby any day now, and I can only imagine how lucky their little Nugget will be to grow up with such loving parents.
To enter to win this book, please write something about canning in the comments section below. I will randomly choose a winner on Wednesday, October 13th at midnight. U.S. Residents only, please enter one time only. Good luck!
Katy Wolk-Stanley
"Use it up, wear it out, make it do or do without"